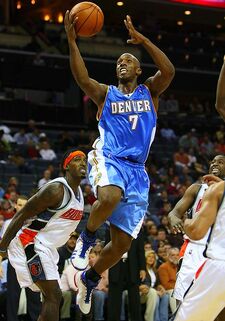 I have often been described as the eternal optimist. Despite terrible odds, I generally believe good will emerge from dire situations. But as our Lakers get set to face the Denver Nuggets in the Western Conference Finals Tuesday night, I instead find myself questioning whether they will in fact earn a trip to the NBA Finals this June. Don't get me wrong; the Lakers are a plenty good team. Just look at the team's 65 regular season wins and two series victories this year. But too be honest, I am absolutely terrified at what awaits the Lakers, the Denver Nuggets. While the Lakers did sweep Denver one year ago, this is an entirely different Denver squad that poses a serious threat to the Lakers' championship aspirations. Here are a few reasons why:
Carmelo Anthony is a legitimate franchise player
When Carmelo entered the league in 2004 with LeBron James, many expected 'Melo and James to quickly become the two most dominant players in the league. The Magic and Bird of the modern era. But that did not happen as expected. While Dwyane Wade won a championship with the Heat in 2006, and LeBron took home the MVP this season, Carmelo has enjoyed little success. Prior to this season, he had yet to win a playoff series, and many were beginning to label him a Vince Carter type of player, who had plenty of highlights but lacked the maturity to lead a team deep in the playoffs.
However, that has all changed this year. Carmelo became a more focused player on the defensive end and more disciplined offensively. Just take a glance at his playoff numbers. In ten games this postseason, he has averaged 27 points on 48% shooting, 6.4 rebounds, and 4.3 assists. In comparison, Kobe has averaged 28.6 points on 46.4% shooting, 4.8 rebounds, and 4.5 assists. Their numbers are nearly identical.
I'm not suggesting that Carmelo is as good as Kobe, because that clearly isn't the case. However, I think their similar numbers really emphasize the point that 'Melo is clearly among the game's top players.
Chauncey Billups is in town
Lakers fans should all remember Chauncey Billups. In 2004, Billups, then playing for the Detroit Pistons, led his team to a five game series victory over the Lakers, who boasted four future hall-of-famers in the starting lineup. He was eventually named NBA Finals MVP for his dominating performance. Since capturing the title with the Pistons, Billups has remained one of the top point guards in the association. Even with his excellent skill set, Mr. Big Shot is most revered for his leadership and experience, as this will be his 7th straight conference finals appearance. A year ago, the Nuggets fizzled out of the playoffs in round 1 with Allen Iverson at the helm, but have undergone a complete transformation since acquiring Billups early in the season.
But what makes Billups even more threatening is who the Lakers are sending out to guard him. Derek Fisher and Jordan Farmar will be given the assignment of trying to contain the Nuggets' star point guard, but if the Houston series is any indication, that won't be easy. Rockets point guard Aaron Brooks, who averaged just over 11 points per game in the regular season, completely torched the Lakers, as he averaged 18 points per game while shooting over 45%. I'm thinking that Billups will be a little tougher than Brooks.
Denver plays defense
As crazy as that sounds Denver actually plays defense nowadays, especially against jump shooting teams. The Nuggets had two favorable early round matchups against, New Orleans and Dallas, two teams that like to play on the perimeter. Luckily for George Karl and company, that played right into their hands. Generally speaking, Denver plays jump shooting teams extremely well, as they help steer the opposition into a living on the perimeter. The Lakers are unquestionably a jump-shooting team, and with the way Denver plays defense, it is entirely possible that they could be forced into taking jump shots more often than they might like.
The Lakers' demeanor
I can't stand the Lakers attitude so far in the playoffs. As evident by the series against Houston, they have lacked the focus and competitive drive needed to put teams away. Denver is an entirely different story. The Nuggets have a swagger about them that suggests that they are more than ready to make a serious playoff run. Half the time the Lakers look disinterested and nonchalant (see: Game 4 and Game 6 against Houston). In comparison, the Nuggets have had the most consistency, the most energy, and the most focus out of any team in the Western Conference. Often times, it seems as if they just want it more than the Lakers do.
The Last Word
Look, I'm not necessarily saying that the Nuggets are going to defeat the Lakers. Denver does struggle on the road (21-20 in the regular season and 2-2 in the playoffs), but they do pose a dangerous threat to L.A.'s title hopes and should not be taken lightly.
Ad blocker interference detected!
Wikia is a free-to-use site that makes money from advertising. We have a modified experience for viewers using ad blockers

Wikia is not accessible if you've made further modifications. Remove the custom ad blocker rule(s) and the page will load as expected.