The LA Sports Blog
By: Nate Gordon
Jackie Robinson Day at Dodger Stadium
Today is Tax Day for many Americans, but for those lovers of The Pastime, it's Jackie Robinson Day. I don't need to rehash the story of Robinson, other then to maybe remind people that he was also an All-American at UCLA in Football and Basketball as well as Baseball. The great Robinson was a leader both on the field and in the community. The day has been gimmicked up as documented in Trizz's opinion piece on Jackie Robinson Day. It can never be forgotten that Jackie wasn't just picked by Branch Rickey because of his skills, he was picked because he had the demeanor, personality, strength, courage, character, class, civility and dignity to take on such a burden as being the first player to integrate Major League Baseball. However, despite MLB doing their best to screw it up, take a moment to appreciate what Robinson and Rickey accomplished in 1947, and what Robinson did after his playing days for the Civil Rights movement.
Saito Blows Save, Dodgers drop 6 of last 7
The Dodgers pitching let it down again as they blew a 4-3 lead in the ninth to lose 4-6 to the Pittsburgh Pirates. Although it's early April and much to early for concern in a baseball season, it would be disingenuous of me if I didn't say I was upset by the last week of baseball. The Dodgers have given up 38 runs in their last 7 games which is 5.4 runs a game. The pitching staff has not been getting it done. Chad Billingsley and Esteban Loaiza have been the most notable struggler's to start the season. However, Takashi Saito's blown save last night, conceding a 3 run homer to Nate McLouth doesn't mean it's time to hit the panic button. There is still ample time for Joe Torre to right the ship, but time will run out quickly if current trends continue.
Galaxy Fall 3-2 To Toronto, Toronto Dances In Streets
With the Blue Jays, Raptors and Toronto FC not exactly playing like the Red Sox, Celtics, and Revolution, it leaves Toronto fans celebrating any chance they get. So I guess I shouldn't of been too surprised when I received two separate messages of trash talk about Toronto FC's 3-2 victory over Los Angeles Galaxy. Landon Donovan scored twice including a penalty kick in minutes 43 and 58 respectively. However it was only enough to equalize the 42nd minute and 53rd minute efforts of Danny Dichio and Jarrod Smith. In minute 88 Jeff Cunningham tossed Greg Vanny to the ground while wrestling for an air ball and proceed to finish neatly past Galaxy goalkeeper Steve Cronin for the win. The whole season David Beckham will be wondering what superstars Galaxy GM Alexi Lalas plans to play in midfield along side him. Against Toronto those hard hitting names were Pires Alvero, Ely Allen and Brandon McDonald… who???
Lakers Need Win To Finish Season Number 1
With a win tonight over the Sacramento Kings the Lakers (56-23) can wrap up the Western Conference number 1 seed and home court advantage throughout the playoffs. How much does "Home Court" really help you might ask? The Lakers will end the season 30-11 at home with a win tonight, while their predicted first round opponent, Denver, is 17-24 on the road. Houston (seed 5) is 24-17 on the road and Utah (seed 4) is 37-4 at home 17-23 on the road. It would appear to me that Home Court" can be quite an advantage to several teams, and the reason some teams may advance to round 2. Houston may sweep their 3 home games against Utah, but will have to come up with a rare win in Salt Lake City. Some hope for Houston, they beat Utah in November 95-106. The Nuggets won't be so lucky – they were swept by the Lakers this season. Match that with the Lakers peeking late in the season going 28-7 down the stretch and Carmelo Anthony will have plenty of time to fight his DUI in May.
Status Of Los Angeles Sports: C+
While the recent disappointments by the Dodgers disallow me from giving the sports scene a B-. The surprising season put on by the Lakers, along with OJ Mayo foolishly declaring for the NBA Draft, saves the cities overall grade. However, more lackluster play from the Blue Crew and Galaxy will drag the grade down. Take a moment today to reflect on just how much has changed as a result of Jackie Robinson, I'm sure you're life has been affected, even if only in the smallest way.
Cartoon Quotes
Lois Griffin : [ referring to Peter ] This from a man who thinks the plural of goose is sheep.
FCC officer : [ at a urinal ] Two shakes, that's the limit. Adam West : Why thank you, tinkle fairy.
[ Homer, Lenny & Carl are standing at the Power Plant window waiting for Mr. Burns to leave for the day]
Lenny: Ah, we can't go home until Mr. Burns leaves.
Carl: Oh no! He's stopping to talk to that old mail room guy.
Homer: [Calls Mail Room Guy's cell phone] Hello, I have kidnapped your wife, and if you don't have one I have your brother. If you understand, step away from Burns if you want your dog back alive. [Man steps away] Now dance like a happy prospector [Man starts dancing] Happier. [Man dances happier] Happier! [Man dances happier] Happier!!! [Man does dancing handstand for Mr. Burns who is now clapping merrily]
Lenny: Homer!!!
Homer: Oh right, now walk away from Burns and kick like a Rockette. [Man walks away kicking legs]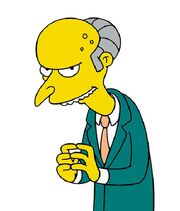 Ad blocker interference detected!
Wikia is a free-to-use site that makes money from advertising. We have a modified experience for viewers using ad blockers

Wikia is not accessible if you've made further modifications. Remove the custom ad blocker rule(s) and the page will load as expected.