The LA Sports Blog: The One in a Million – Jordan Farmar
By: Nate Gordon
It is estimated that (+- a couple hundred thousand) about 6 million kids grow up in the Los Angeles area, the top two sports are basketball and soccer. We all aspire to be either Magic Johnson or Cobi Jones in my generation. Cobi taught us soccer could be mixed with Pop Culture, and that a top American athlete can not only play and be successful overseas, but also Stateside. Magic taught us that 1.2 million dollars, 15 years and an ear-to-ear smile can help you beat AIDS – but more importantly he is the only player I ever witnessed who could play all 5 positions better then each of the other teams starters at their respective positions. We all grew up with dreams of playing in the Rose Bowl in front of 100,000 crazed soccer fans after the 1994 World Cup and I still get chills when I watch this clip of Larry Bird in complete disbelief after the 1987 NBA Finals:
"Magic… what can I say? He's the greatest player I've ever seen… just unbelievable. I don't know what else to say."
Out of all those millions of kids in and around the City of Los Angeles only 10 or 20 in each generation will be so lucky as to achieve winning the City Championship (aka CIF City Section Championship.) Moreover, only 1 or 2 will get the chance to play for UCLA or USC on scholarship. Those 2 kids can dream of the NBA, and if they are so fortunate will make a roster. However for two kids in my generation the NBA was destiny – for Jordan Farmar it's a destiny he takes with a strong grasp on reality.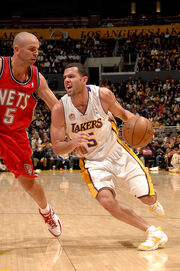 Jordan grew up in the San Fernando Valley's Woodland Hills on the northern part of Los Angeles. Like the rest of us he played basketball and soccer growing up, with his basketball skills developing at a quick pace. By the time we we're seniors in high school a childhood friend from Jordan's rival high school was summoning me to come watch him play.
"Yo man, this kid over at Taft is incredible dude." Anthony would explain "he can shoot from anywhere and can get anywhere on the court anytime he wants – he's a real gamer."
I was skeptical naturally. I'd seen lots of great players my senior year, including 6 D1 girls prospects split between mine and our rival high schools. So I was holding on to those inhibitions and not buying into the hype, however I was soon to be proven wrong. We had to arrive 2 hours early at El Camino High School to get seats at the tiny gym, and we almost were forced to stand! People flooded in from Taft High School, which was Jordan's – not to mention the numerous college scouts who also showed up. Jordan was the star of the game that night putting up 33, 11 and 8 in a route of the home side. Here I was watching the greatest player in the City in my High School Class and he is an inch taller then me and 11 days younger. It was natural for me to get a hold of other prep standouts after I watched them play to exchanged good will handshakes and invite them to watch my teams when they came to their respective schools. Not Jordan though, the mob of people trying to get a word with him was absurd, scouts, girls, fans, everyone.
Jordan would enroll the next fall at UCLA where in 2 seasons he led the Bruins to the National Championship game. In the Elite 8 he led the Bruins from down 17 to comeback against Gonzaga, making the game winning steal and assist. As he stuck him thumbs behind the UCLA on his jersey to pop it with pride, Adam Morrison, the celebrated "Next Larry Bird" fell to the floor in a pile of tears and vagina juice – with time still on the clock to win the game. It was clear who the true winner and cold blooded performer was on the floor, and it wasn't Morrison.
That spring Jordan would sit with his family in Woodland Hills for an NBA draft party. He knew he was projected to be drafted around the Lakers draft position in the first round, and that the Lakers needed a point guard, but kept his hopes down. Plenty of players came out of UCLA, Baron Davis and Reggie Miller both were big time Bruins and neither had ever suited up for the Clippers, much less the Lakers. However pick by pick came and went and finally the Lakers were on the board, and Farmar's cell phone rang. His agent was conference calling with Mitch Kupcheck, Jordan wasn't leaving home this summer.
So he had made it, 6 million or so kids and Jordan was the one. The one whose dreams became a reality, he was a Los Angeles Laker. Not only that but he was a first round pick so with a little work his roster spot was all but a lock.
Jordan had two paths he could go down. With his name already known throughout Los Angeles he could of taken being drafted by the Lakers as the end of the road, where he kicks his feet up and calls it day. Jordan isn't that kind of guy though. Eagar to impress a childhood idol Phil Jackson, Jordan was like Visa, everywhere Phil wanted him to be. If baggage needed carrying Jordan was there. If Phil's dog needed grooming Jordan would be there. If Phil needed Jordan to play a D-League game in the afternoon and play 20 minutes for the Lakers that night, Jordan would ask to play 48 in both games (that last one is a true story.) Jordan seemed to "get it". Even if it was "I can be Kwame Brown, or I can be Brian Shaw" he had picked the right road to get what he desired. Only Kobe worked harder then Jordan in training and only had more confidence in their pull up jumper other then Fisher and Bryant then Farmar. One practice rookie year he pointed out Smush Parker as he came up the floor, gave him a head fake and then crossed over and drained a 25 footer with Parker's fingertips covering his eyes. As Farmar back peddled down the court to play defense his demeanor never changed – he always expected that shot to fall.
During a recent interview Jordan was asked if he every had taken the time to put his good fortune in perspective. Jordan responded: "Everyday man. I know how fortunate I am and how special this is for me. I know that I am representing the dreams of millions, I'm living the life man, and I want to live it the best I can."
Jordan gets it. He gets that this opportunity is more special then winning the lottery or inheriting a Billion dollars or living the life of a prince. Because we all went to bed at night with the same dream: have a great prep career, go to UCLA/USC and star in soccer or basketball and then get drafted by the Lakers or Galaxy and be the star in your hometown. When Jordan is successful it is our dreams also being successful, he refuses to take that for granted; and I refuse to take Jordan for granted as well. Here's to many more NBA finals with Our "One in a Million" running the point.
Ad blocker interference detected!
Wikia is a free-to-use site that makes money from advertising. We have a modified experience for viewers using ad blockers

Wikia is not accessible if you've made further modifications. Remove the custom ad blocker rule(s) and the page will load as expected.