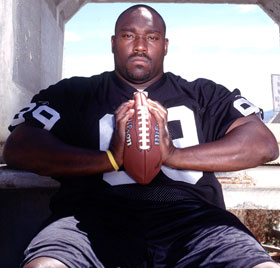 By: Nate Gordon
ArmchairGM Burns
First things first - ArmchairGM did not catch a STD, nor is it on fire. These are rather my burns on ArmchairGM. I have gotten several messages encouraging me to do this so we are going to give it a whirl. Basic premise: I do a lot of commenting at work on other peoples stuff, and some of these nuggets of wisdom and quirky ideas/thoughts get buried with the articles I attach them to. So instead I am going to give you guys my thoughts each afternoon on the previous days happenings in the news and on AGM. This will be a bias, most likely prejudice, and politically incorrect series. However, if it allows you to laugh, debate and take a second look at some of the things going on at ArmchairGM, then I have done my job. So without further B.S., here are my burns for 3/6.
SSR's Caption Contest League:
I don't think I participate in a more lackluster event in '08 on ArmchairGM. The concept sounded like a lot of fun, but the format is a bit confusing and the community participation has been minute. The captions all sound like the user is trying too hard to be funny because they only have one shot at winning each day. Moreover, I'm confused on when I'm suppose to vote for any given days winner, or when the deadline is. What the hell is 12:00 AM local time? Is that your local time SSR, or my local time? If it is my local time - how can you tell I'm not cheating. Even if you say "Your in LA, it's in your username and your always talking about living there." I can say, "I'm on business in Aus. so I still have time." I know that would be pointless and quite insignificant to do, just to win a caption contest, but our maturity level isn't always at it's highest. It just seems like something you could easily avoid by making the deadline 12:00 PST or EST or something universal. Oh - and let's be funnier with our entries, we are freaking struggling.
Save Our Sonics? Save Your Own Damn Sonics!!!!
I am tired of the bitching, complaining, moaning, douching, whining and temper tantruming (new word - tantruming?) First, don't get me wrong, I believe the Sonics SHOULD stay in Seattle. Seattle is embedded into NBA History and deserves to lose their team no more then the Bucks do (another team with 1 NBA Championship.) However, the city stubbornness and fan apathy leading up to losing the franchise was disgraceful.
You're watching your franchise flounder, a displaced franchise is flourishing in a make-shift NBA City (OK City) and you continue to sit idle. No headway can be made with the city or state for a new arena and fingers are pointed and temper fits are thrown, yet you sit idle. The franchise changes hands to a man based in OK City, and only then do the alarms start to ring. The team is on its way out of town, and yet you sat idle for 2 years before hand and now it is too late. You want to blame David Stern and Clay Bennett for this???
Legislative bills were passed (I-91) to shove the fact that the public didn't want to fund a basketball arena into Clay Bennett's face. They complained that they already funded Safeco and Quest Fields in the past and didn't want to fund another stadium/arena. Well that's too damn bad! You already set a precedent with the Seahawks and M's that you publicly fund stadiums in Seattle, but when the Sonics need an arena you're over-leveraged? No! You're showing Clay Bennett that you don't want your team, and it worked.
This is a travesty in stubbornness and the city of Seattle and fans of the Supersonics should be ashamed that they let this happen. It looks like terrible business practice to fund 2 stadiums and not take care of the 3rd, regardless of your excuses. The NBA didn't take the Sonics away from Seattle - Seattle let the Sonics walk away.
There's A Guy Named Sapp Over Here:
While the AGM World (along with ESPN and the entire state of Wisconsin) beat-off Brett Favre all day yesterday, another great player retired unnoticed, Warren Sapp. Sapp ended a borderline Hall of Fame career with 7 pro bowls, Rookie of the Year honors and the 2003 Super Bowl in a 12 year career. Often noted for his brash personality and endless trash talk with the aforementioned Favre, Sapp racked up 96 1/2 sacks in his career. He redefined how Defensive Tackle is played, mixing a stout frame with uncanny quickness. Take a moment today and reflect on the memories Warren Sapp gave you, because you'll be hard pressed to find another DT that so firmly places himself in NFL Lore and History Books alike.
SRR Does Friday Fryer - Frank Not Included?
Our friend StupidSidelineReporters guest hosted the Friday Fryer this week like Tyrone Briggs and Manny Stiles did the previous 2 weeks. Somehow, infamous user Frank Stevenson didn't make it in. Frank and SSR are known to disagree on a myriad of topics, mostly who's the bigger douche. That's neither here nor there, I'm simply surprised that SSR had a chance to take a cheap shot and didn't. Good for you SSR, way to set an example of how to act following the Code of Conduct.
Oakland Gives Money Away:
The Oakland Raiders signed DT Tommy Kelly to a 7 year 55 million dollar contract. They then encored that with a 6 year 55 million dollar deal for WR Javon Walker. ......I'll be in my room crying if you need me.
Quotes In The Crowd:
This is a group of one-liners from articles, comments or one-liners of my own in response to an article or comment. This is light-hearted and like this entire article, meant to be fun.
The best article of the last 24 hours is an interview by JuTMSY4 with "Wolf" of American Gladiators on the day Brett Favre and Warren Sapp retired... I love my generation. (This is not to discount the great work Justin did on that article.)
As BigPPup put it best under that article: "That's pretty badass JT, you're making it look like the Chair has real journalist or something." It beats the hell out of Meet The Users that's for sure AGM Linebacker.
Niteowl49 has been around the last few days. Send him a gift and a message for support, we're happy to have him around when we do.
Rawbeezeitz "Life as a Sports Usher" series should be on ESPN.com or SI.com. If you haven't read it you should, he writes from a great perspective. If it was slightly more concise in wording and written with a little more of Robby's personality I could see it blowing up big for sure. Keep up the good work.
Our friends at TheSportsApple take a look at current NFLers who are borderline Hall of Famers, including the aforementioned Warren Sapp, Ty Law and Torry Holt. Holt seemed to get community approval, while Sapp and Law got mixed results. Either way we can be sure that TheSportsApple will format pictures poorly and give all our computers massive headaches.
Finally We'll see what other users think of the Sonics impending departure from Seattle:
JuTSMY4: "Yeah, but if the Sonics leave can I keep making fun of SSR?"
TheSportsApple:"I feel bad for you guys out in Seattle. Although if the Sonics do leave, do you want the Knicks? I know its a tough thing to do, but i will part with the Knicks. Part of the deal is you must take Isiah, James Dolan and Starbury"
Good Point, no one... NO ONE wants the Knicks at this point.
SSR Concurs with me: "TSA, we want a basketball team, not the Knicks."
Romiezzo: "Let's put it this way: at least they're doing better than the Miami Heat."
Ya, but Romi, the Heat won't be leaving Miami this year.
Ad blocker interference detected!
Wikia is a free-to-use site that makes money from advertising. We have a modified experience for viewers using ad blockers

Wikia is not accessible if you've made further modifications. Remove the custom ad blocker rule(s) and the page will load as expected.