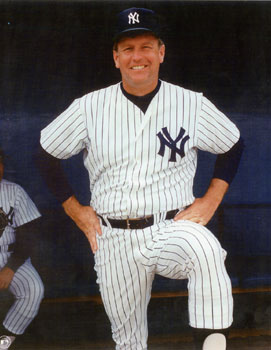 After the Curt Schilling debate on this list, I looked more into what it meant to be a Hall of Famer. While doing this, I came upon Tommy John, a longtime veteran, I figured maybe he would give me some insight into this. Instead, he gave me the second person to look at in this regard. Personally, I'm quite surprised not just at the lack of an HoF ticket, but that his percentage hasn't been all that great. As a result, the second installment of the Keltner list series, Tommy John.
1. Was he ever regarded as the best player in baseball? Did anybody, while he was active, ever suggest that he was the best player in baseball? During this time, Steve Carlton and Tom Seaver were in their prime, so as a result the answer here is no.
2. Was he the best player on his team? For the Chicago White Sox the answer is no, since those clearly weren't his best years. For the Los Angeles Dodgers, I'd actually argue him on par with Hall of Famer Don Sutton. In 6 seasons with the Dodgers, John was 87-42. In those same 6 seasons (72-74 and 76-78), Sutton was 106-57. This gives John a winning percentage of 67% and Sutton a winning percentage of 65%. Sutton's highest ERA during this time was 3.55, his lowest 2.08. John's highest was 3.30, lowest 2.59. So while Sutton's numbers look nicer from a distance, a bit of grinding shows that they are pretty equal, Sutton only slightly better at best (and he's in the hall, remember). For the New York Yankees, the answer would be yes. The only person approaching his numbers was Ron Guidry, and he was getting similar Cy voting totals to Rich Gossage (another hall of famer).
3. Was he the best player in baseball at his position? Was he the best player in the league at his position? See #1.
4. Did he have an impact on a number of pennant races? In the postseason, John was 6-3 with a 2.65 ERA. He wasn't on any world series winners, but a 2.67 ERA during those World Series shows it wasn't his fault his teams lost them.
5. Was he good enough that he could play regularly after passing his prime? He went 13-6 with an ERA of 4.03 at the age of 44. Randy Johnson's struggling to put up numbers like that at 44.
6. Is he the very best baseball player in history who is not in the Hall of Fame? His win total and career ERA are nearly identical to Bert Blyleven, who's generally considered the best non Hall of Famer. Granted, Blyleven's strikeout, shutout, and complete game totals are higher. If Bert were to be in the hall though, John would be the best, or very close to it.
8. Do the player's numbers meet Hall of Fame standards? (see also: Black Ink Test) John has a 44 on the HoF Standards, and 114 on the HoF Monitor. As a result, the answer seems to be yes.
9. Is there any evidence to suggest that the player was significantly better or worse than is suggested by his statistics? This is a tricky one. He played much better after his surgery, which could be taken into account. His record pre-surgery was 124-106. Not terrible, but not a hall of fame percentage. After surgery, it was 164-125, which is somewhat better. Looking through his stats, he wasn't consistently good until the age of 29, which burdens his stats a bit and hurts him overall.
10. Is he the best player at his position who is eligible for the Hall of Fame? See #6.
11. How many MVP-type seasons did he have? Did he ever win an MVP award? If not, how many times was he close? He finished second in Cy voting twice and fourth once, but never won. He lost to Steve Carlton in his prime, and Mike Flanagan in his one career year (though their stats were similar).
12. How many All-Star-type seasons did he have? How many All-Star games did he play in? Did most of the players who played in this many All-Star games go into the Hall of Fame? He played in 4 all-star games, and had 5 or 6 all-star type seasons (77-80, maybe 73. he was one in 67 though I don't know about that one). Four isn't an automatic hall of fame bid, but it's more than Blyleven (2) and Jenkins (3) had.
13. If this man were the best player on his team, would it be likely that the team could win the pennant? I'd say yes, seeing as how his teams did win the pennant in 77, 78, and 81.
14. What impact did the player have on baseball history? Was he responsible for any rule changes? Did he introduce any new equipment? Did he change the game in any way? Tommy John surgery. That's all I need to say to answer this question.
15. Did the player uphold the standards of sportsmanship and character that the Hall of Fame, in its written guidelines, instructs us to consider? He won both the Lou Gehrig Award and the Hutch Award, so I'd say absolutely.
CONCLUSION: The conclusion here is actually rather tricky. His stats suggest a borderline Hall of Fame career. He's 25th in career wins, 26th in shutouts with 46 (and led the league three times in this), only Bobby Mathews has more wins but isn't in the hall, and only Luis Tiant has more shutouts but isn't in the hall. The fact that his surgery pretty much revolutionized the careers of many should give him a fairly easy ride, but it hasn't done much for him. While Blyleven's numbers have suddenly started to climb, John is stuck at around 29%, to my surprise. Reading through this Keltner list again, it seems rather favorable for him to be in the hall. Will he get in through the veterans' committee? Absolutely. However, with only one year of eligibility left, how he is slipping though the cracks so easily is beyond me. Blyleven, Rickey Henderson, John, and Rice. Sounds like a pretty nice Class of 2009 to me.
Ad blocker interference detected!
Wikia is a free-to-use site that makes money from advertising. We have a modified experience for viewers using ad blockers

Wikia is not accessible if you've made further modifications. Remove the custom ad blocker rule(s) and the page will load as expected.