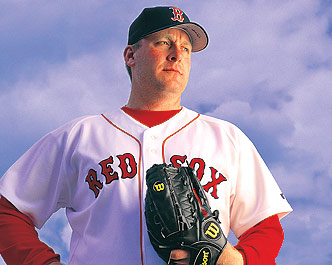 The Keltner List, for those that may not know, is simply a method of determining whether or not a player is deserving of the Hall of Fame. As Curt Schilling is the subject of talks of being borderline of late, I thought I'd pose the question to myself, and see the results that came up. I plan to do this with other players if this catches on.
1. Was he ever regarded as the best player in baseball? Did anybody, while he was active, ever suggest that he was the best player in baseball? The answer to this is certainly a no. Roger Clemens, Randy Johnson, and maybe a couple others could've laid claim to being the best active player.
2. Was he the best player on his team? Yes and no. He was probably the best player on the Phillies in the late 1990's. He was among the best players in Arizona, but again Johnson likely holds claim to being the best. For Boston he may have been the best pitcher, but he wasn't the best player, I'd say, with David Ortiz winning there.
3. Was he the best player in baseball at his position? Was he the best player in the league at his position? The first question is no (no Cy Young awards), second question is no as well for the same reason.
4. Did he have an impact on a number of pennant races? The answer to this is definitely yes. His career postseason record is 11-2 with a 2.23 ERA. 1993, 2001, 2002, 2004, and 2007 were all impacted by him. Even if you take 2002 (lost in the NLDS despite an ERA under 2 from Schilling), that's still impressive.
5. Was he a good enough player that he could continue to play regularly after passing his prime? His best seasons seemed to come after the age of 33, so yes.
6. Is he the very best player in baseball history who is not in the Hall of Fame? Is Bert Blyleven still not in? Then no.
7. Are most players who have comparable career statistics in the Hall of Fame? Kevin Brown, Bob Welch, and Orel Hershiser are not in the Hall, so no.
8. Do the player's numbers meet Hall of Fame standards? 216-146 with a 3.46 ERA? 83 complete games and over 3000 strikeouts? Very nice numbers, but I don't know if that's Hall of Fame numbers.
9. Is there any evidence to suggest that the player was significantly better or worse than is suggested by his statistics? He had some arm trouble in the mid-90s, but he never had a "bad" year (except maybe 1994), his statline is relatively consistent.
10. Is he the best player at his position who is eligible for the Hall of Fame but not in? See #6.
11. How many MVP-type seasons did he have? Did he ever win an MVP award? If not, how many times was he close? At least 4 times he had an MVP-type season, 5 if you want to add in 1993. No MVP awards (or Cy Youngs), but he finished 2nd in Cy voting 3 times, and 4th once. Not bad.
12. How many All-Star-type seasons did he have? How many All-Star games did he play in? Did most of the other players who played in this many go to the Hall of Fame? He's a six-time all-star, and a 7th or 8th all-star type season could be argued. Jim Palmer was a six-time all-star and he's in the Hall, and Lefty Grove also had six appearances. So the answer to that question would be yes.
13. If this man were the best player on his team, would it be likely that the team could win the pennant? I'd say absolutely yes, looking at his postseason numbers.
14. What impact did the player have on baseball history? Was he responsible for any rule changes? Did he introduce any new equipment? Did he change the game in any way? I don't think he really did anything to change the game or have an immense impact. The bloody sock may go down in Red Sox lore, but that would be it.
15. Did the player uphold the standards of sportsmanship and character that the Hall of Fame, in its written guidelines, instructs us to consider? He had some problems with speaking his mind, however he didn't cheat like a lot of others seem to have done. He did do a lot of humanitarian work as well, from the looks of it. It may have been a no decades ago, but it's a yes now.
CONCLUSION: I'll admit that I was thinking he would probably be a good candidate for the Hall originally. After writing this and deeply looking at his stats, as well as the questions above, I don't think that he passes this test. He has pretty nice numbers, and was great in the postseason, but was he ever considered the best, or a true great? It doesn't seem like it. Is he a possible candidate for the Veterans' Committee after we historically look back at the Steroid Era? I would say so, but a candidate now, I would have to pass up on him. I don't think playing another season or two would have helped him either, he needed to have been a more dominant pitcher early in his career to have been considered a Hall of Famer. That being said though, assuming Randy Johnson's a shoo-in, maybe once that happens a door will open for Schilling. But that's a tale to be told later. For now, he can relax as a retired pitcher and not worry about the Hall just yet.
Ad blocker interference detected!
Wikia is a free-to-use site that makes money from advertising. We have a modified experience for viewers using ad blockers

Wikia is not accessible if you've made further modifications. Remove the custom ad blocker rule(s) and the page will load as expected.