I used to work with a guy named Carlos Blanco and for fun we nicknamed him "Chuck White". This is because his name when Englishized was roughly Charles White. I later found out it was more akin to Carl White, but whatever... I used to ask him "what's it like to win a Heisman?" and other esoteric references. He had no idea what any of it meant, but it was fun to me and my co-workers.
Everyone knows Jose Mesa has a fun name. When translated from Spanish into English he becomes "Joe Table".
And thus, he is the patron saint of the fun game of translating people's names...
The Joe Table Game
Here's a list I started, mostly of guys who have nouns for surnames. Feel free to add some you have found. Some are debatable due to variations, but I tried to stay true to the names they are known by and the closest equivalents. Feel free to adjust my mistakes, my Spanish is not muy bueno.
And don't add fake ones like: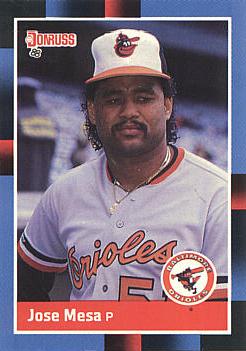 Eric Gagne - Eric Saves Records are Bogus
Eric Lindros - Eric Made of Glass
John Kruk - Jose Gordo
or
Derek Jeter - Sucks
Straight translations only, please!
English/Spanish Category
Grant Hill - Concesión Colina
Pete Rose - Pedro se Levantó
Tiger Woods - Tigre Maderas
Jim Brown - Diego Marrón
Jerry Rice - Geraldo Arroz
Reggie White - Riccardo Blanco
Michael Jordan - Miguel Jordania
Larry Bird - Lencho Pájaro
Reggie Miller - Riccardo Molinero
Alex English - Alejandro Inglés
Tom Chambers - Tomás Compartimientos
Johnny Bench - Juan Banco
Larry Walker - Lencho Caminante
David Wells - David Pozos
Jeff Weaver - Godofredo Tejedor
Dwyane Wade - Dwyane Bamboleo
Mark Grace - Marco Tolerancia
Prince Fielder - Príncipe Centro Campo
Lefty Grove - Zurdo Arboleda
Catfish Hunter - Siluro Cazador
Bob Lemon - Roberto Limón
Urban Shocker - Urbano Escándalo
Jimmy Key - Diego Llave
Jerry West - Geraldo del Oeste
Philip Rivers - Felipe Ríos
Vince Young - Vincente Joven
Spanish/English Category
Roberto Clemente - Bob Merciful
Miguel Tejada - Michael Tiled
Sammy Sosa - Sam Soda
Jorge Posada - George Inn
Guillermo Mota - Bill Speck
Pedro Guerrero - Pete Soldier
Miguel Cabrera - Michael Goatherd
Roberto Alomar - Bob To Ridge
Melvin Mora - Melvin It Dwells
Jose Cruz - Joe Cross
Carlos Pena - Carl Pain
Tony Oliva - Tony Trims Off Lower Branches
"Other" Category
Jean Luc Grand-Pierre - John Luke Big Peter (from French)
Go Ahead! Add More! You know you want to!
There's plenty I didn't think of or haven't listed. This was just a start!
Ad blocker interference detected!
Wikia is a free-to-use site that makes money from advertising. We have a modified experience for viewers using ad blockers

Wikia is not accessible if you've made further modifications. Remove the custom ad blocker rule(s) and the page will load as expected.