From: http://www.afraidofedhochuli.com (that's right, I got a .com!)
Everyone is talking about it, so it is time for my two cents.
Jim Mora has been named as the next Head Coach of the Seattle Seahawks.
Give me a second while I jump up and down with joy.
...keep waiting...
If you couldn't tell, I am less then thrilled.
Why?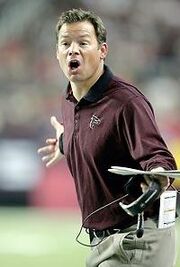 Jim Mora (I refuse to call him Jim Mora Jr. since his middle name is different then his father's; which is sort of a prerequisite) has yet to prove to me he is an NFL Head Coach.
"But, Matt, he took the Falcons to the NFC Championship."
That is the worst reason. Why? It was a different coaches team and the next few years were downgrades, with the team going 8-8 and then 7-9.
"But, Matt, the players love him."
Great. I love my brother but don't want to work for him. The "players' coach" works in college when you need to coddle the players, but in the pro game the players need discipline, not a friend.
"Look what he did to the secondary this year."
Look at what Jim Zorn did for Matt Hasselbeck or what Gil Haskell did for the Offense (even after the switch to pass heavy game) and neither of them have the chance. And from what I have heard the players love both of them.
My other main problem is that this is terrible timing. You have a "lame-duck" Head Coach who can ride the players until they understand, and the future coach who treats the players like celebrities. What happens when Mike Holmgren gets mad? There is no guarantee that the players won't mutiny.
Also, you have a franchise that has one of the top-5 owners (Paul Allen), a new facility on its way and four consecutive Division Titles. Who doesn't want that job? They could have had the pick from any candidate after the season. (And don't try to tell me that no one wants to come to Seattle because of where it is, that is just ignorant.)
Even then they could have signed Mora, but at least they would have known.
A press conferenece is scheduled for today at noon ---according to Jay Glazer of Fox Sports it is to name Mora as the coach of the future. I guess all I can do as a fan is cross my fingers and hope that it works.
In other news: A 45-mph wind was recorded coming from the coaches offices over in Montlake. My guess is a sigh of relief.
Ad blocker interference detected!
Wikia is a free-to-use site that makes money from advertising. We have a modified experience for viewers using ad blockers

Wikia is not accessible if you've made further modifications. Remove the custom ad blocker rule(s) and the page will load as expected.