Who: Washington Redskins @ Seattle Seahawks
When: 4:30 PM EST/ 1:30 PM PST
Where: Qwest Field
Why: To anoint the Redskins as Super Bowl contenders
TV: NBC
Commentators: Tom Hammond and Cris Collinsworth
Weather: Rain (yep, shocker right), low to mid 40s, sustained winds at 20-30 MPH S, gusts reaching 40-50 MPH S.
It's playoff time! The Seattle Seahawks host their 2nd wild card game in a row against an NFC East opponent, and this time it's against the Washington Redskins, the hottest team in the NFC. Winners of 4 straight, the Redskins seem to be the sexy pick to represent the NFC in the Super Bowl, but it's not going to be easy. Qwest Field has seen just 4 visiting teams in the last 3 seasons victorious. But many people seem to believe that QB Todd Collins and that suddenly potent Redskins offense will propel them to victory. I say otherwise, here are some keys to the game.
Seahawks Offense
1. Running game in short yardage. The last 2 weeks, Seattle has been using the split back formation on 3rd and 1 and 4th and 1, which usually means Leonard Weaver on one side of Matt Hasselbeck, and Mo Morris or Shaun Alexander on the other side. That seems to be the most successful formation for them, running Weaver on a fullback blast type of play. They need to continue that instead of off tackle plays with Morris or Alexander to keep the drives going. They are going to have to throw everything at the 4th best rush defense in the league.
2. Exploit the secondary. The Redskins' defense is a middle of the pack team as far as the pass goes (13th). Matt Hasselbeck cannot afford to have a bad game because this Seahawks team is horrible when he is having an off day. Deion Branch, Nate Burleson, and Bobby Engram also need to step up, as they are Hasselbeck's main targets.
3. Offensive line. This is the 26th ranked pass rush in the NFL this o-line is going up against, and although the pass blocking has improved, and Hasselbeck has rarely been sacked (and when he is, it's his fault for not throwing the ball away when he knows he is being chased), this is a make or break game to show how much they have improved from last season, and if you protect Hasselbeck, he is an elite QB in the NFC.
Seahawks Defense
1. Force turnovers. Seattle in their 10 wins have forced 28 turnovers, and in their 6 losses, have forced only 3, and that is frightening. This should be a big day for Seattle's D though because Washington has a -6 turnover ratio, and keep Todd Collins and company off the field. It's going to be very slippery tomorrow as the weather is going to be wet and windy.
2. Don't give up the big play. The Seahawks have had a lot of trouble defending deep down the field in the last few weeks. I'm not sure Kelly Jennings or Marcus Trufant can keep up with speedsters like Antwan Randel El or Santana Moss.
3. The trick play. Again, Seattle has played against teams that have either a west coast offense, or a "conventional" offense. Al Saunders, offensive co-ordinator of the Redskins, has a lot of trick plays in his play book, like Randle El throwing a deep ball, or Portis throwing in short yardage situations. If you remember, the Steelers delivered the knockout blow in Super Bowl XL to Seattle on a trick play.
4. Sack the hell out of Collins. Todd Collins can't run if his life depended on it, so Patrick Kerney and Julian Peterson better take advantage of facing yet ANOTHER immobile QB.
Redskins Offense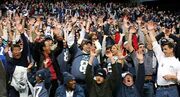 1. Sean Taylor Pound it with Portis. The Seahawks rushing defense has given up the big running plays time and time again for 2 months now. Clinton Portis is a strong running back that you need to gang tackle, and he could have a big day against a quick but small Seahawk defense.
2. Trick plays. See Seahawks defense #3.
3. Protect Todd Collins. See Seahawks defense #4.
4. The 12th Man. Mike Sellers said that the crowd noise is piped in at Qwest.....the last time someone said that, the Giants lost 42-30 (42-3 at one point before garbage touchdowns). Let see if Washington can handle an atmosphere like Seattle's.
Redskins Defense
1. Sean Taylor Take away the passing game. This is really the only key for the defense of the Washington Redskins, because Seattle waited until week 16 to run the football efficiently against bad teams. When Hasselbeck isn't clicking, the passing game isn't clicking, and the Seahawks offense is a mess.
Final Prediction
The Redskins have a good shot at winning this game, but the problem is, it's going to be at Qwest Field. As much as you think the Redskins are doing it for Sean Taylor, emotions don't win a football game, better quality of play wins a football game, Seattle will take a trip to Green Bay with a low scoring win.
SSR's Pick
Seahawks 17 Redskins 10
Afraidofedhochuli's Pick
Seahawks 24 Redskins 17
Now go pick for the Redskins because Sean Taylor died.
Ad blocker interference detected!
Wikia is a free-to-use site that makes money from advertising. We have a modified experience for viewers using ad blockers

Wikia is not accessible if you've made further modifications. Remove the custom ad blocker rule(s) and the page will load as expected.