From: http://afraidofedhochuli.blogspot.com
Steve Kelley wrote a really interesting article in the Seattle Times today called: "All that matters is forgetting this game". 
He points out the aspects of the game that hinged the ability to win or lose, and then tells you to forget it.  
I don't usually agree with Steve, especially when he calls for the firing of a coach ( Replace Ty for new look) but I recommend the read.  
For the busy: I will give you a few good pieces of it and extrapolate in my own way.  

Forget the 44 points this supposedly staunch defense allowed to an offense that had scored more than 16 points only once in its previous six games.  
I would love to forget this, but I would also like to point out that the Defense was there in name alone. Brock Huard was on KJR this morning and I agree with his point that if the Defense was going to play that "lack-luster" then they should have sat the starters. The Defense that was on its way to setting a franchise record for least points (needed less then 14 points allowed) allowed in a season crumbled as fans watched.  
Will this make a difference Saturday at 1? I hope so. I think the Hawks will come out angry. They will, again, be the "other" team as they go against the Redskins who are still winning under the emotional power of Sean Taylor.  
The Seahawks may be angry.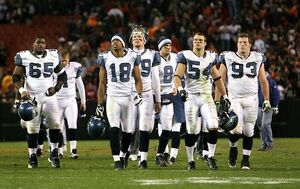 Forget the 44 points this supposedly staunch defense allowed to an offense that had scored more than 16 points only once in its previous six games.  
I wish I could, Steve, but as we have said the last 5 weeks: "Matt is the engine of this defense." If he is unable to play his best, the Seahawks will have to rely on a run game that (while starting to get a bit better over the last few games) has failed to live up to expectations.  
I do have see a bit of a silver-lining in the knowledge that (after his early struggles) Seneca Wallace was able to lead the team down the field and get some points on the board, even coming an off-sides away from possible leading a WINNING drive.  

The reviews are in.
"Appalling," defensive end Patrick Kerney called the Hawks' performance.
"Frustrating," said safety Brian Russell.
"Embarrassing," said safety Deon Grant. It was all of the above and still it meant nothing.  
I can't comment on this, I just think that it is very well said by three of the guys that I believe were on their heels the entire game.  

Shaun Alexander finally got his 100th career rushing touchdown. Bobby Engram made a Ken Griffey-esque over-the-shoulder catch for a 30-yard touchdown in the first half. Josh Brown reminded us he is clearly out of his slump, nailing 54- and 51-yard field goals. And Nate Burleson caught two late-game touchdown passes from Wallace. Forget all of that, too.  
I did, because there were some bad plays as well. Shaun failed to rush for 50 yards again and Burleson was the culprit of the aforementioned off-side. Engram at least had a solid game and Josh Brown was able to come up big (albeit in a dome).  

"This was a hard game to play," Holmgren said. And, to prove his point, the Seahawks didn't play hard.  
Yup.  

Pro Bowl left tackle Walter Jones didn't play, which meant Hasselbeck got hit continuously, like a padded piñata. Wideout Deion Branch rested his sore calf. And the defense looked so vanilla, you would have thought this was August, not December. Forget all of the blown coverages and missed tackles. Forget the penalties. Forget the extra split-seconds Redman had in the pocket because of the Hawks' lethargic pass rush. Consider this one a defensive anomaly. Forget this game, because the Seahawks had forgotten it by the time their plane crossed the Mississippi.  
I agree that the lack of you Hall of Fame Left-Tackle will cause some problems and it is difficult to get your Offense rolling when you are missing your #1 WR. But they had fought it out before. They had gone on without Branch before and did fine.  
The Redman thing scares me, though. Why? Matt Moore did the same thing and next week we will be playing another QB that wasn't the team's starter at the beginning of the season in Todd Collins.  
I don't like that omen.  

Yesterday doesn't count in January.  
I would agree. If we come out and win on Saturday, no one will remember yesterday's game. Can you name the losses in the Super Bowl season (other then the Steelers)?  
The team has a lot to work on before coming home and defending their home field against an emotionally driven and hard-nosed Washington Team. Let's hope the Defense shows up.  
Dear Defense: Take I-5 exit marked Safeco Field (exit 164 from the north and 164B from the south) Follow the signs to Fourth Ave South and turn right. Turn right at the first light on to South Royal Brougham. Occidental runs north and south off of South Royal Brougham.  
Hopefully that will get you there.
Ad blocker interference detected!
Wikia is a free-to-use site that makes money from advertising. We have a modified experience for viewers using ad blockers

Wikia is not accessible if you've made further modifications. Remove the custom ad blocker rule(s) and the page will load as expected.