From: http://afraidofedhochuli.blogspot.com/

"That place has to be miked up because the last time we played there, it was ridiculous — we couldn't hear ourselves talk. For a stadium that small, it can't be that loud."
- Fullback Mike Sellers claiming that  the Seahawks pipe in crowd noise.

Really? I want to say something to Mike Sellers: You haven't heard anything yet. This is going to cause some problems for your team this weekend. When you tell the 12 th Man that he isn't the one making the noise, it hurts his feelings…and no one likes an angry 12th Man. Right, Tom Coughlin?
Architect firm Ellerbe Beckett designed the award-winning structure that was originally called Seahawks Stadium but is now known as Qwest Field.
The plans included two large, over-head "roof" structures that would keep up to 70% of fans dry if it rained, but also worked as an acoustic amplifier. It was built to aim the sound directly on field.
Also, the Hawks' Nest.
If you don't know what this is, you will recognize it when you watch the game. The Hawks' Nest is the fan section in the North End zone that is separated from the bulk of the main structure.
To fans, the Nest is seen as the "die-hard" section. It is the section that sells out first when tickets open up. And it is also the section that is the loudest.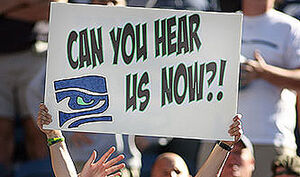 It was built hollow to create a big drum.
All of that aside, Mike Sellers is a doofus. Why?
1)The 12 th Man reads message boards and blogs, and they will NOT like being disrespected.
2)Sellers attended Walla Walla University, a Junior College about an hour and a half from Seattle. This guy knows how loud Seattle football fans are.
3)Washington's Right Tackle is a rookie. In his first playoff game, he will be going against the NFC Sack Leader, on a Defense that FEEDS off of the fans.
4)The first false-start of the game will create a deafening uproar that not even the great Todd Collins will be able to hear through.
5)This just proves that we are in his head, and by "we" I mean the fans, the team and the city.

I'm excited to see how he deals under the pressure.

From: Noisy Qwest Field not a top concern
Quarterback Todd Collins: "It sure is pretty loud, but you just deal with it. You can't do anything about it. Guys have to pay attention. Listen and try to make plays in your favor to quiet them down."
Opponents have 68 false start penalties (2.83 a game) at Seattle. The Redskins had two in their playoff loss in January 2006. The teams play Saturday in an NFC wild card game.
The Redskins are 4-4 on the road this season, silencing crowds in Philadelphia, Minnesota and the Meadowlands (twice).
The Redskins have 23 false start penalties, including 12 on the road. In their first road game (Philadelphia), they had four false starts. They had three against Minnesota but none at Dallas.

I think that the 12th Man will accept this challenge.
Center Casey Rabach: "I'm not touching that one."
Ad blocker interference detected!
Wikia is a free-to-use site that makes money from advertising. We have a modified experience for viewers using ad blockers

Wikia is not accessible if you've made further modifications. Remove the custom ad blocker rule(s) and the page will load as expected.