http://dcprosportsreport.com/?p=1694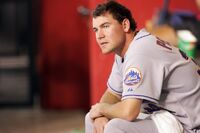 With
Washington's
bye week now in the past, CB
Shawn Springs
and DE
Jason Taylor
return to the Redskins lineup. BUT, the Redskins also come out of the Bye Week with a boosted secondary that now feature
DeAngelo Hall
. The Redskins secondary has been the strong point of the defense and Hall gives that defense an even bigger shot in the arm.
Hall may also be in line to take over punt returning duties from an ineffective Antwaan Randle El. Hall is very good at it and has blazing speed and could boost a punt returning unit that, besides one TD return by WR Santana Moss, has been disappointing at best.
But, the signing of Hall also led to the release of CB Leigh Torrence. The move of releasing Torrence was not that popular in the locker room and with several analysts,. Torrence has been superb on special teams, and despite the one long pass that cost the Redskins the game against St. Louis, Torrence has played fairlry well in the secondary.
Several players said Torrence was an important part of the secondary, a unit that has been the strength of the defense this season. Torrence and oft-injured veteran Shawn Springs were the only cornerbacks who played the slot on inside receivers, and Torrence earned praise for his coverage skills and was a standout on special teams. Some veterans assumed the Redskins would release rookie cornerback Justin Tryon, a fourth-round pick who has rarely been used and struggled in the preseason, and said they were stunned that Torrence was gone.
Two things here. First, should the Redskins have sent 4th rounder Justin Tryon to the practice squad and kept Torrence? Possibly. BUT, teams prefer draft picks over others, that the business of the NFL. Second, I don't completely buy into the Torrence and future thing. Ok, Torrence may have been popular in the locker room, and that is fine, but this stuff where Torrence has shown great promise and such, well, I simply would not go that far. Torrence has been average, much what you would expect from a 4th corner back. Hall or Torrence? Must you really answer that. Talking about the future, well, look to Tryon or next year's daft anyway, Torrence wasn't going to move up the depth chart here. Remember Chris Horton? If they need depth CB next year, they will likely draft depth corner help.
Have your say …
Ad blocker interference detected!
Wikia is a free-to-use site that makes money from advertising. We have a modified experience for viewers using ad blockers

Wikia is not accessible if you've made further modifications. Remove the custom ad blocker rule(s) and the page will load as expected.