Since early November, I've been running of fumes and not because of those impending finals and major reports, which also whooped my ass, but because I haven't seen a new and legitimate episode of well-written (or performed TV) since about mid-November, when the writers' strike took its grip on American laziness. Since then, there's been no new "The Office" episodes, no new "Heroes" episodes and no new "Grey's Anatomy" episodes (for you ladies…and guys I suppose). I've managed to survive of the typical dosage of Monday Night Football (for fantasy needs) and some reality garbage, namely a CBS production of "Kid Nation," which, with any luck, will have a 10 year reunion on MTV (Think Real World!). Now, with the new Spring season underway, we're getting the lean portions of "Law and Order" or "Lost" but it can only last so long before our nation's reserves of produced TV taper off to nothingness.
But reality can fill the void, right? No, not actual reality, Reality TV (which, isn't reality at all). I'm sure MTV has received an up tick, not to mention I've begun to enjoy "Little People, Big World" a lot (mostly because the dad reminds me of the midget from the south park episode…"Words are like bullets"), Deal or No Deal, because I absolutely enjoy Howie Mandel avoiding touching people, and even turned to LA Ink, because I might have an unhealthy obsession with Kat Von Dit (maybe). But what has really sparked my Television conundrum is the Philadelphia failure (now boasting 25 years and counting). The Philadelphia Eagles are out, the 76ers were never in, the Phillies flopped and the Flyers play in the NHL. There's not a god damned thing for me to enjoy in the sports world. Except those 7 th ranked Northeastern Huskies, but I attend Hockey games live, because lord knows hockey doesn't get on TV. So with my attention of a sabbatical, I truly have nothing left. But there is hope…
On July 17, 2007, it was reported that American Gladiators would make its return to NBC. When I caught news of this, I was elated. With reality TV being as strong as it was, sports being at an all-time high and NBC basically not having anything interesting on (besides Deal or No Deal), I felt as though the iron was hot. Moreover, It was almost destined to happen, namely because of the way things had shaken down. Unfortunately, NBC shelved the idea for a few months and it seemed destined to die.
Then, almost by the grace of God, the writers' strike happened, killing shows; remaining episode by remaining episode until nothing was left except Jerry Orbach's corpse (God rest his soul). NBC began pumping out Deal or No Deal episodes, creating game shows that baffled the laws of entertainment and had no choice but to pull the trigger; American Gladiators got the queue as soon as Jon Stewart and Jay Leno left, the time was now.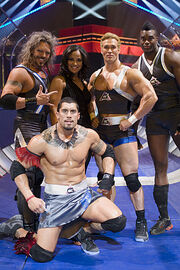 So, on Sunday, January 6, 2008, American Gladiators made its long overdue return. Not only in prime-time, but not on the USA Network, as NBC's fading fast programming needed a boost; and Gladiators jacked them up big time. NBC started off the season with a 2 hour episode on Sunday Night (right after the Wild Card of the NFL playoffs to ensure no competition) and added its new usual time slot show on Monday at 8:00PM. Three hours of Gladiators in two days, the perfect way to start of the new year if you ask me.
And from the start, the show was spectacular, in its essence, everything I had hoped for. The gladiators had hilarious personas, Hulk Hogan and Laila Ali were clueless and the Challengers had no business being there. Some of the events were spectacular, such as "Powerball" which involved contestants attempting to place foam balls into buckets (both contestants at the same time), while three gladiators stop them or "Pyramid" which requires both contestants to climb a foam pyramid while two gladiators prevent them from doing it. Needless to say, "Powerball" resulted in one contestant having her ACL torn (not lying!) within the first 20 seconds and "Pyramid" sent one man down to the bottom in a heap, but it was good fun.
Of course anyone who watched the full expanse could tell you there were some major hiccups. For one, the new events, such as "Hit and Run," where a contestant traverse a suspended bridge as many time as they can in one minute while gladiators attempt to knock them off with what appears to be large, 100 pound heavy bags. It was a total joke, as contestants (with intelligence) easily avoided the bags. The coup-de-grace of crappiness, however was "Assault." In the original, "Assault" basically, involved a contestant attempting to cross a large area, while a gladiator shot at him/her with tennis balls. The Challenger could make certain stops and utilize his/her own weapons (a slingshot, turret gun and cross bow), but the weapons now required loading, aiming and firing, which can be difficult when a gladiator is constantly shooting tennis balls at them. This becomes even more difficult when they must acquire the ammo for the crossbow in a previous stop (in a sand pit). I'm not sure what happened, but I have a feeling that the contestants were never briefed about the events prior to seeing it on TV fifteen years ago or what we, the viewers, heard only a few second before.
But the joke of the show is, of course, "The Eliminator", which is the final course, in which the contestants compete against each other in an obstacle course race. It, basically, involved climbing over a wall, swimming through a pool underwater (avoiding fire!!!) climbing up a 30' cargo rope (which is apparently very hard), rolling down a 10 foot expanse via what looks like a giant spindle, utilizing the "hand-bike" to cross a 15 foot empty area (no one ever completes this), walking across a balance beam, climbing the pyramid mentioned earlier, propelling across the expanse again on a zip line and to a conveyor belt (going in the wrong direction and up a hill) and finally breaking through a wall to complete the course. Of issue is the fact that the cargo rope apparently is very difficult (ridiculously tiring), the spindle roll is confusing, the hand-bike kills you (and can't really be done) and once you're about half way, you're apparently very tired (in about one minute). Then, you come back and once you hit the conveyor belt (The travelator as they call it…), its essentially impossible. This killed me, I could not believe that people couldn't do this. I mean, I'm an out of shape 23 year old, but honestly, how many views of this show does it take before people realize you need to skip the hand-bike all together. And after the first experience of the new "Eliminator" I was baffled. The poor woman who won, actually collapsed before climbing up the pyramid to propelle down it. I just couldn't believe she stopped (because she was getting crushed by her opponent, who was on to the travelator). Fortunately, the glorified tread-mill dominated her opponent as neither could make it up and finally she finally arrived after an amazing comeback (I guess).
But there was a major plus and that was the gladiators, with such names as "Titan," "Wolf," "Fury," "Justice," "Hellga," and "Crush." In all honesty, I have a crush on Crush, who's real name is Gina Carano, an MMA fighter from Las Vegas Nevada. The American Beauty is a 5-0 in MMA fights who hasn't been taken longer than the 3rd round (with 2 knock-outs and 1 submission) and is, admittedly, there for the money. I have a feeling this minor celebrity will be propelled through the Gladiator status quickly, as many men have recognized her as the cream of the crop as far as hot gladiators go. Keep an eye of Carano, as I see her moving up in the future, as she increases her exposure.
Besides the hosts, Hogan and Ali, the most famous person on the show is Al Kaplon a former MLB Umpire and the referee from "Dodgeball." And he made his presence felt during the first few episodes, first calling out a challenge for essentially fighting and ripping a gladiator (unfairly) and second for catching a mistake in the third episode as a gladiator cheated to prevent a challenger from scoring an extra two points.
The overall experience was excellent. The crowd was starting to get into it (thanks to some obnoxious songs) the gladiators played up their personas and boasted effectively and the challengers came off as total bitches. Not to mention my crush of "Crush" and my enjoyment of the "Joust," which made "Crush" all that more appealing. I still felt as though the show, in all its glory, unintentional humor and polarity was missing something.
Where's Joe Theismann?
Ad blocker interference detected!
Wikia is a free-to-use site that makes money from advertising. We have a modified experience for viewers using ad blockers

Wikia is not accessible if you've made further modifications. Remove the custom ad blocker rule(s) and the page will load as expected.