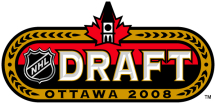 With the NHL draft set to take place next week in Ottawa and nobody rushing to perform the obligatory mock draft, I decided that I would take a shot at previewing this exciting event. I've compounded a scouting report of the top 5 prospects skill-wise in this years draft. 
5) Alex Pietrangelo
Team- Niagara Ice Dogs
Position- D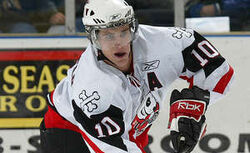 Many of this years prospects have relatives that are former or even current NHLers and    Alex Pietrangelo is no exception. His uncle is Frank Pietrangelo, a former goaltender who played 7 NHL seasons between the Pittsburgh Penguins and Hartford Whalers. Pietrangelo is one of many smooth-skating defensemen available in the draft. He excels at both ends of the rink. He showed that he can score, producing 53 points in 60 games, but he proved that he is also responsible in his own end when he posted a regular season +40 rating. Pietrangelo stands tall at 6-3, 206 lbs. and uses his big frame to protect the puck and keep the opposition away from his net.  A finesse player by nature, Pietrangelo has been working on his Physical game. Once his physical game develops, look for him to be getting more hits than
walker-sports.com
</obligatory
AGM LB
reference>. Pietrangelo has great hockey sense and is rarely out of position. He will make a great powerplay quarterback and will be a excellent addition to any lineup.  
4) Drew Doughty
Team- Guelph Storm
Position- D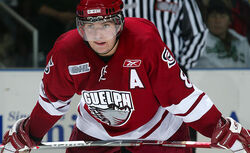 In November of 2006 Doughty was ranked as the top prospect coming into this years draft. A lot can happen over the course of two years; an injury or stall in development, but it's now June 2008 and Doughty has proved that he is still one of the top prospects in the draft. Doughty may have been removed from his seat as the top prospect, but he's still happy to be in the running. Doughty said, "Coming into my first OHL year I didn't think I was going to be much of anything, to tell you the truth." In three OHL seasons Doughty has amassed 157 points in only 190 games. He was also pivotal on Canada's blueline, with defense partner Karl Alzner, in helping the Canucks capture their fourth World Junior Championship in a row. Doughty grew up playing soccer, developing great speed and quick feet. Like most Junior defensemen he has to work on the defense aspects of the game, but he has made great strides since a rookie season where he finished with a -11 rating. Doughty posses a booming shot and can log 30+ minutes a night. He could potentially be a franchise defenseman.
3) Zach Bogosian
Team- Peterborough Petes
Position- D   
Bogosian is the lone American in this years top 5. Compared with last year, when Americans Patrick Kane and James Van Riemsdyk went first and second overall, this years draft includes only two Americans in the top 20 (the other is Colin Wilson). If you had of told scouts at the beginning of the year, that Zach Bogosian would be ranked third overall at the end of the season, they might have asked you if you had been getting enough sleep lately. Bogosian has been ranked as low as 32nd overall by International Scouting Services. After a great year that saw him collect over a point per game, Bogosian now finds himself ranked third in the draft. Bogosian is a very similar player to Doughty. Both have similar skills and personalities. Who will be taken first is basically a coin flip. Bogosian will bring a heavy shot (clocked at 98.1 MPH), great speed and a physical game to whoever drafts him. Bogosian has been compared to Chris Pronger, but hopefully he's not as dirty.

2) Nikita Filatov
Team- Central Army
Position- LW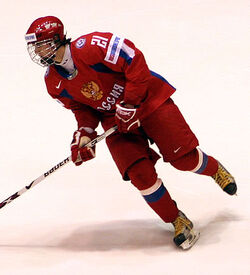 Some say that life isn't fair, I think the NHL would agree. Nobody questions Filatov's skill, personality or work ethic. If this draft was based solely on skill, Filatov might find himself as the number 1 pick. Unfortunately, there is another variable scouts are looking at. It is the reason Filatov will almost undoubtedly drop from number 2 and maybe even the top 5. It is called a transfer agreement (or lack thereof). This means more Russian Junior players are now choosing to stay home and play for in excess of $1M tax-free, as opposed to a $300k-$400k minor-league contract. Because of this NHL teams don't want to waste a high pick on a player who may not ever play for them. If Filatov does end up playing in the NHL, brace yourself. This guy is a
highlight reel on skates
(welcome to my world indeed). Filatov has blazing speed, a deadly shot and an uncanny ability to find the open man. He's next in a long line of Russian snipers. He is the only player in this years draft to average over 1 goal-per-game and 2 points-per-game. Remind you of
anyone
?
1) Steven Stamkos
Team- Sarnia Sting
Position- C
Finally we've made it to the cream of the 2008 crop, Steven Stamkos. If anybody has been living under a hypothetical rock and doesn't know who Stamkos is, I suggest that you take a look at
this video
. It is a perfect example of Stamkos' ingenuity and skill (well maybe not ingenuity since he admitted he got the idea from
Rob Schremp
). Stamkos has piled up an incredible 197 points in 2 OHL seasons. The same number of points he scored in 1 year with his Midget AAA team, Markham Waxers. The Tampa Bay Lightning have done everything but shout out that they intend to draft Stamkos with the first overall pick. Stamkos is the epitome of a complete player. You would have to look with a microscope to find a flaw in this guy's game. He is a goal-scorer, set-up man and a defensively-sound player, but he is also equally proud of the fact that he collected 88 penalty minutes without a single fighting major. Expect to see a lot of Stamkos next year as he looks to make the immediate jump to the NHL.
Other players to watch for

Jared Staal- Last of the Staal brothers. Will follow in the footsteps of Eric, Jordan and Marc.
David Toews- Brother of Chicago Blackhawks rookie Jonathan. 
Kelsey Tessier- Two words. Hometown player.
Tyler Myers- Hard to miss him. The tallest player in the draft, he stands at 6-7.
Chet Pickard- He's the top goalie in the draft, but where will he go?
Ad blocker interference detected!
Wikia is a free-to-use site that makes money from advertising. We have a modified experience for viewers using ad blockers

Wikia is not accessible if you've made further modifications. Remove the custom ad blocker rule(s) and the page will load as expected.