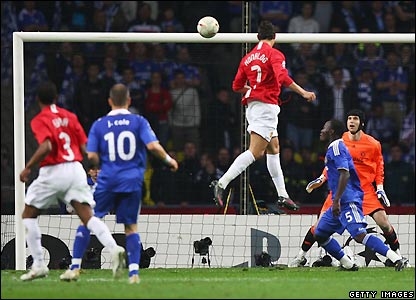 Photo courtesy of Getty Images, BBC

I know what this looks like. I know what some of you may be thinking...What?!?! She's a Chelsea fan! She's a bandwagoner! She's rubbish!' You are all perfectly entitled to thinking this. I would probably think the same thing if I was in your shoes.
In a sense, I view being a sports fan as a progression. There are definitely some cases where you attach yourself to a team, and they perform in such a profoundly awesome way, win or lose, that you live and die with them. This is often the case with geographical proximity (for me, BC, the Sox, Pats and Syracuse).
But there are other times when you already have a team, and you fall in love with another. People change, teams do too. I don't believe in the one-and-only concept, where a fan is limited to one team per sport. You can primarily root for one, but enjoy watching another. Some inconceivably great game occurs between two teams you care nothing about, and you are riveted by them. This is kind of what happened to me this afternoon during the UEFA Champions League Final, between Chelsea and Manchester United.
I came to London determined to not be a ManU fan. From what I heard, they were basically the Yankees of the Premier League. Some of my friends were already ManU fans, and I wanted to have something unique. That came in the form of Chelsea, a chic West London powerhouse, and Fulham, a lovable loser on the banks of the Thames. Opposites attract, I guess.
ManU and Chelsea performed very well over the course of the Premier League season. It wasn't the performance that changed my views of Chelsea and ManU, it was their history. A book I read, How Soccer Explains the World, had a revealing chapter about Chelsea's hooliganism and history of anti-Semitism. Although my professor revealed to me that the primary source for this chapter may have been full of shite, it still turned me off. In the same class, we watched a film on three famed football managers, Jock Stein, Bill Shankly, and ManU's Matt Busby. Busby is known for rebuilding ManU after a 1958 plane crash killed eight players and some team personnel. Ten years later, United became the first team to win the European Cup. The heroic aspect of it all made me rethink my choice of Premier League team.
Chelsea and ManU went down to the wire in the race for the Premier League title, highlighted by a thrilling 2-1 win for Chelsea at Stamford Bridge on my final days in London (only surpassed by Fulham's inexplicably exhilarating escape from relegation with a 2-0 win over Birmingham). ManU edged out the Blues for the league title, and both teams continued to advance in the UEFA Champions League tournament, but in different ways. Chelsea did it with the help from a Liverpool own goal that forced a draw in the semis. As opposed to ManU, which did it with the help two particularly spectacular goals, one a magnificent soaring header by Cristiano Ronaldo against Roma and another a flat-out rocket off the foot of Paul Scholes in the semi-finals against Barcelona (another team I became fascinated by at the hands of the aforementioned book). Another thing...in the Roma match, ManU wore white jerseys that I absolutely loved. They were so simple, but so intimidating. I returned stateside excited for their matchup in the final.
Which brings us to this afternoon. My mom repeatedly asked me who I was rooting for, and I continued to tell her I liked both teams, that I was neutral. But as the game went on, I realized I was anything but. I can't really explain it, but I wanted ManU to win. I just did. I tried to convince myself otherwise, to root for Chelsea, but I couldn't. It was impossible.
Maybe it's because Edwin Van Der Sar is perhaps the greatest name meant to be given to a pirate, but given to a goalie instead.
Maybe it's because Cristiano Ronaldo scored ManU's only goal in regulation, then missed his penalty shot, then proceeded to convulsively sob at the center of the pitch after Van Der Sar saved Nicolas Anelka's shot to clinch the win. I hope he wasn't acting. If he was, I was still undeniably turned on. All I wanted to do was grab one of those white fluffy towels, fly to Moscow, dry the rain and tears off his face, and give him a hug. Moving on...
Maybe it's because Didier Drogba gave Nemanja Vidic the wimpiest bitch slap in world history, and got a red card when he knew his team would need him for penalty shots.
Maybe it's because I didn't like Chelsea's new shirts.
Maybe it's because both teams missed so many opportunities, I became frustrated to the point where I wanted ManU to win because they got closer each time.
Maybe it's because Frank Lampard wasn't nearly as attractive as I thought he was.
Maybe it's because I kept thinking Petr Cech was a member of security and not the goalie in his neon orange kit.
In the end, I knew I didn't feel the same about Chelsea as I used to when John Terry fell to his knees. Normally, I would feel sorry for the Chelsea captain, who had the chance to win the game on his penalty shot, but slipped on the turf and missed.
But I didn't feel any sympathy. I could only be happy for ManU. I was mesmerized by the efficiency and resiliency of the Red Devils, and the exuberance with which they played the game. I had seen it all season, but denied myself appreciating it because a) I already had my teams, b) I didn't want to root for the football version of the Yankees, and c) I didn't want my liking of the team to be solely based on Ronaldo. I like them all. I really do. I just didn't realize it.
I can't decide if I like Chelsea anymore. Would I feel the same way if Chelsea had won, if Terry's shot had gone in? I think so. I fell in and out with a team in the span of four months. I think I fell in love with London and Chelsea's ambiance and novelty more than the team itself. I've never been in this position of indecisive fandom. It's an awkward feeling, but it's overshadowed by a new love.
I am a Red. Deal with it.
Ad blocker interference detected!
Wikia is a free-to-use site that makes money from advertising. We have a modified experience for viewers using ad blockers

Wikia is not accessible if you've made further modifications. Remove the custom ad blocker rule(s) and the page will load as expected.