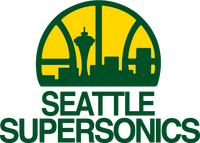 What feeling should be going through the heads of Seattle sports fans this week regarding the all most for gone conclusion that the Sonics will be leaving town for Oklahoma City.  First there is the immediate sadness that sets in followed by utter embarrassment.   It's embarrassing that such a great city like Seattle should lose a professional sports franchise to a city with relatively no professional sports history in Oklahoma City.  The Sonics just wanted their fair share of the city when it comes to a new arena, the Mariners have Safeco and the Seahawks have Qwest field, so why not the Sonics?
Sure they have gone downhill from their success in the 90s where they won four division titles in a five year span between 1994 and 98, but who doesn't.  They have had success as recently as 2005 with a division title and there should be a little glimmer of hope after last years draft.  Kevin Durant isn't the answer but he is a building block, it would have been interesting to see what would have happened if Rashard Lewis was still a Sonic.  But city as a whole should be embarrassed; the Sonics seem like a reasonable draw when it comes to the economy and population surrounding Microsoft, especially, and Starbucks.
I live Richmond, VA and a similar situation just took place where Richmond's Triple-A baseball team the Braves, who have been in the city since 1966, we're told they were being relocated to Gwinnett, GA next season by the Atlanta club.  As a Richmonder I was immediately embarrassed that our city would lose a club full of tradition and a staple of the city because of the mayor and city council's incompetence to get a new stadium deal done.
It just a shame the Seattle's only professional sports championship (Sonics 1979)  will be leaving town for the plains of the Midwest, along with memories of great players like Nate McMillan , Lenny Wilkins, Shawn Kemp, Jack Sikma, and others; along with maybe the birth of a great Pacific Northwest rivalry in Durant vs. Oden.The city of Seattle needs to find a eleventh hour solution to the loss of a key piece of its city's heritage and sports history.
Ad blocker interference detected!
Wikia is a free-to-use site that makes money from advertising. We have a modified experience for viewers using ad blockers

Wikia is not accessible if you've made further modifications. Remove the custom ad blocker rule(s) and the page will load as expected.