This article should be more appropriately be entitled "The Late Mock" because it has been an extremely long time since I last updated the draft. Sadly, real life calls and this has been the only time I've had in the past two months.

To make up for it, this week's Early Mock has two rounds worth of mock. Enjoy! 
1       Miami: Jake Long, OT, Michigan: Jake Long is one of the best tackles I've ever seen play, and I've had the pleasure of watching him on Saturdays for four years and he is probably the best lineman, offensively or defensively, in the draft. Watch out for him in years to come.
2       St. Louis : Chris Long, DE, Virginia: Chris Long is another very talented player and him with Adam Carriker on the same defensive line should be deadly.
3       Atlanta : Matt Ryan, QB, Boston College: Ryan is the standard pick here, but it's the correct one. Mike Smith and Tom Dimitroff need a new starting point for their franchise and Ryan is a good choice. Between Ryan and Michael Turner, Atlanta is set to have a much better offense next year.
4       Oakland : Darren McFadden, RB, Arkansas: There's no excuse for Oakland not making this pick. They need the offensive help and McFadden is a truly stellar runningback.
5      Kansas City : Glenn Dorsey, DT, LSU: If he falls this far, the Chiefs have to pull the trigger. They need a strong presence in the middle to bring strength and a presence to their defensive line.
6       New York Jets: Vernon Gholston, OLB, Ohio State: The fact that this pick makes the Patriots mad only reinforces their already-present desire for Gholston, who will fit perfectly in the Jets defense.
7       New England (from San Francisco ) : Keith Rivers, ILB, USC: This is high for Rivers. However, adding a top ILB to their aging linebacker corps will help their team more in the long run than adding a top corner will.
8       Baltimore : Ryan Clady, OT, Boise State: With Jonathan Ogden on his way out, the Ravens need a replacement and Clady is the best tackle left on the board.
9       Cincinnati : Sedrick Ellis, DT, USC: The Bengals looked in the offseason for a big tackle for their line. They couldn't find one, so they took Ellis in the draft instead.
10     New Orleans : Domonique Rodgers-Cromartie, CB, Tennessee State: The addition of Randall Gay was a good one in the offseason, but with Cromartie still on the board the Saints have to pounce.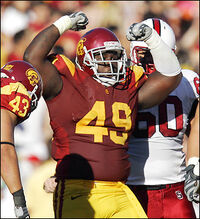 11     Buffalo : Leodis McKelvin, CB, Troy: The Bills need a corner to support Terrence McGee, and McKelvin is a good player to match up beside him.
12     Denver : Chris Williams, OT, Vanderbilt: The Broncos' offensive line is collapsing, and with the retirement of Matt Lepsis they need to address it. Williams is a strong offensive tackle who will immediately improve either the left or right tackle spot.
13     Carolina : Jonathan Stewart, RB, Oregon: The Panthers need to be honest: DeAngelo Williams isn't doing so hot. Stewart is a tough power back to replace Williams if he can't hold up or to contrast Williams if he explodes this year.
14     Chicago : Malcolm Kelly, WR, Ohio State: Many people are screaming "runningback" here but the Bears have other needs too, and adding a runningback in the second round makes it less of a crapshoot and also gives less pressure to succeed if Cedric Benson falls apart.
15     Detroit : Rashard Mendenhall, RB, Illinois: The Lions released Kevin Jones but haven't really replaced him. Now they bring in Mendenhall, who should give them an all-around running threat for years to come.
16     Arizona : Derrick Harvey, DE, Florida: The Cardinals take advantage of the recent offensive run on the draft board and snap up Harvey, one of the better defensive prospects in the draft who will give them an immediate presence on the defensive line.
17     Minnesota : Phillip Merling, DE, Clemson: The Vikings were so bad against the pass last year not only because they had an extremely strong interior line, but also because they got no pass rush. Merling should give them a much stronger all-around defensive line to protect against the run and against the pass.  
18     Houston : Branden Albert, OG, Virginia: Here's a secret for the Texans. You can't run the ball with any offensive linemen. Albert can fill in at ANY position on the offensive line – meaning, wherever it is weakest at the moment. His versatility is a huge plus for the Texans.
19    Philadelphia : Kenny Phillips, S, Miami: Besides Phillips being an excellent prospect who should prevent the deep threat alongside Brian Dawkins, he also gives the team more leeway to trade Lito Sheppard in later rounds.
20     Tampa Bay : DeSean Jackson, WR, California: No brainer. Next.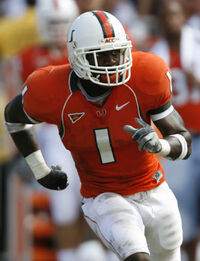 21     Washington : Mike Jenkins, CB, USF: Cornerback is a need for the Redskins. The entire secondary is a need for the Redskins. Jenkins fills that need.
22     Dallas (from Cleveland ) : Felix Jones, RB, Arkansas: The Cowboys are excited to have a speed threat to contrast with Marion Barber at runningback. Jones is too good to pass up here.
23     Pittsburgh : Jeff Otah, OT, Pittsburgh: The Steelers bring in the local prospect to give a boost to their offensive line.
24     Tennessee : Devin Thomas, WR, Michigan State: Some would say Limas Sweed here. Frankly, Vince Young and Sweed didn't have much chemistry at Texas. Seems like Devin Thomas is the correct call here.
25     Seattle : Kentwan Balmer, DT, North Carolina: With Darby and Wyms leaving the team, the Seahawks need support at tackle. Balmer is there to give it to them.
26     Jacksonville : Calais Campbell, DE, Miami: Campbell's stock has gone down, but he's still a legitimate prospect for the Jaguars, who somehow never seem to address their need at defensive end properly.
27     San Diego : Aqib Talib, DB, Kansas: Talib's versatily will serve him well in San Diego, which needs help all across the secondary.
28     Dallas : Limas Sweed, WR, Texas: The Cowboys need to begin getting younger at WR, and Sweed is the obvious choice here.
29     San Francisco (from Indianapolis ) : James Hardy, WR, Indiana: The 49ers need to increase their depth at WR. Bryant Johnson and Isaac Bruce are good pickups but they're not enough. Hardy will bring youth and potential to the 49ers' wide receiver corps.
30     Green Bay : Brandon Flowers, CB, Virginia Tech: The Packers have two excellent corners in Al Harris and Charles Wilson, but they're far too old to last much longer. Better to address the need now rather than when it's too late.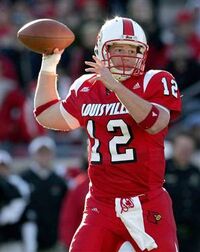 31    New York Giants: Dan Connor, OLB, Penn State: The Giants make an excellent pickup in Connor, who won't need to contribute immediately but should be involved in the rotation.
32     Miami : Brian Brohm, QB, Louisville
33     St. Louis : Gosder Cherilus, OT, Boston College
34     Atlanta (from Oakland ) : Sam Baker, OT, USC
35    Kansas City : Jerod Mayo, LB, Tennessee
36    New York Jets: Antoine Cason, CB, Arizona
37    Atlanta : Reggie Smith, CB, Oklahoma
38     Baltimore : Joe Flacco, QB, Delaware
39     San Francisco : Quentin Groves, DE, Auburn
40     New Orleans : Pat Sims, DT, Auburn
41     Buffalo : Mario Manningham, WR, Michigan
42     Denver : Chilio Rachal, OG, USC
43     Carolina : Lawrence Jackson, DE, USC
44     Chicago : Ray Rice, RB, Rutgers
45     Detroit : Curtis Lofton, ILB, Oklahoma
46     Cincinnati : Fred Davis, TE, USC
47     Minnesota : Justin King, CB, Penn State
48     Atlanta (from Houston ) : Trevor Laws, DT, Notre Dame
49    Philadelphia : Earl Bennett, WR, Vanderbilt
50     Arizona : Chris Johnson, RB, East Carolina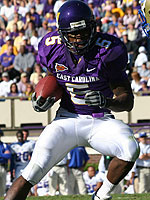 51     Washington : Carl Nicks, OT, Nebraska
52     Tampa Bay : Dre Moore, DT, Maryland
53     Pittsburgh : Tracy Porter, CB, Indiana
54     Tennessee : Charles Godfrey, CB, Iowa
55     Seattle : Jamaal Charles, RB, Texas
56     Green Bay (from Cleveland ) : Erin Henderson, OLB, Maryland
57     Miami (from San Diego ) : Dustin Keller, TE, Purdue
58     Jacksonville : Early Doucet, WR, LSU
59     Indianapolis : Roy Schuening, OG, Oregon State
60     Green Bay : Chad Henne, QB, Michigan
61     Dallas : Patrick Lee, CB, Auburn
62    New England : Dajuan Morgan, FS, N.C. State
63     New York Giants: Tyvon Branch, CB, UConn
Ad blocker interference detected!
Wikia is a free-to-use site that makes money from advertising. We have a modified experience for viewers using ad blockers

Wikia is not accessible if you've made further modifications. Remove the custom ad blocker rule(s) and the page will load as expected.