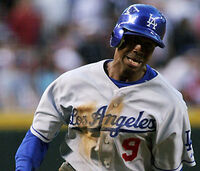 Because of his great work ethic, Los Angeles Dodgers outfielder Juan Pierre (pictured) is one of my favorite baseball players. However, the Dodgers' center fielder's starting spot could be in jeopardy this season. When the Dodgers begin spring training next month they will have four everyday-caliber outfielders: Pierre, Andre Ethier, Matt Kemp, and the newly acquired power hitter and 10-time Gold Glove winner Andruw Jones. Yesterday, new Dodgers manager Joe Torre made a rare visit to Dodger Stadium and seemed to suggest that Pierre, who is entering the second season of a five-year, $44-million contract, does not have a guaranteed spot in the regular lineup. By not including Pierre in the everyday lineup, Torre would be making a huge mistake. Pierre is one of the top table setters and base stealers in the league and his presence would be surely missed if he didn't play every day.
Juan Gonzalez's Return Two-time Texas Rangers MVP Juan Gonzalez is looking to return to baseball after a three year absence. So far there aren't too many interested in Gonzales outside of the St. Louis Cardinals, who have discussed extending him an invitation to spring training. The 38 year old Gonzalez has been working out at Eduardo Perez's Winter Training Program in his native Puerto Rico. What makes Gonzalez for attractive for the Redbirds is the fact that he has been impressive in workouts and that the team lacks a legitimate power hitter outside of Albert Pujols.
An Owner could be Suspended According to the Houston Chronicle, there is an excellent chance that MLB commissioner Bud Selig could suspend San Francisco Giants owner Peter Magowan and general manager Brian Sabean for ignoring the fact that Barry Bonds likely took steroids as a Giant. At some point, Magowan and Sabean had to have suspected that Bonds was doing something. However, it's easy to understand why they would have ignored the suspected steroid use as Bonds was great for business. Balco Barry was one of the reasons that the beautiful new AT&T Park got built and the biggest reason for those seats being hot items. However, didn't most of the owners ignore the steroid issue? It wasn't just Magowan. Is Bud going to suspend all of the owners?
Bronson Arroyo is an Idiot What is Bronson thinking? At the recent 2008 Hot Stove, Cool Music fundraiser at the Paradise in Boston, Arroyo sang a set of songs including Augustana's "Boston." In the final chorus Bronson inserted his own lyrics:
I said I think I'll go to Boston
I think I need to come back
I think I need a ballpark
Where all the fans are there
I gotta get out of Cincinnati
I'm tired of the summer
I think I need the Olde Town
To fill my heart again
Ah yeah
Did Arroyo do this to pump up the crowd or was it a plea to GM Theo Epstein, who was on hand? Regardless, it was a pretty dumb move on his part. Did he really think this would just slide by unnoticed? Whether he was just joking or not, it was a low blow to the Cincy fans. I feel for you Ryan Parker.
Ad blocker interference detected!
Wikia is a free-to-use site that makes money from advertising. We have a modified experience for viewers using ad blockers

Wikia is not accessible if you've made further modifications. Remove the custom ad blocker rule(s) and the page will load as expected.