Let me ask you guys a question: What can happen to a team in less than two years? Well, a team can go from a 52-30 record, to a 44-38 record, to an 11-46 record. It's official now: with almost 3/4 of the season done, the Miami Heat have become the worst team in the NBA. That's right; the Minnesota Timberwolves are now 12-48, while the Heat still have 11 wins. This is just down right despicable. On top of that, one of the best players in the NBA today (both as a team player and as a "one man show", so to speak), Dwyane Wade, is still on this team scoring 24 points per game. How the heck can a team become so "victoriously challenged" in such a short amount of time?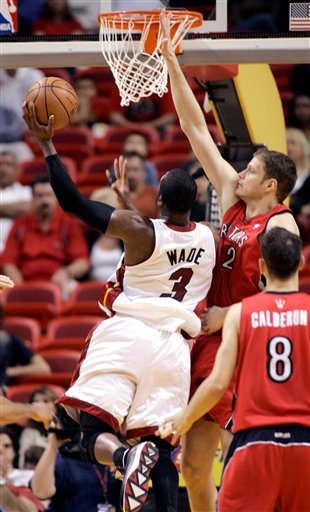 Last night, the Heat lost against the Toronto Raptors by a margin of 25 points. The Raptors are a good team, but 25 points!? This is the seventh time the Heat have lost by (at least) 20 points, and it is also the Heat's 29 th loss out of their last 32 games! Obviously, the Heat's head coach, Pat Riley, was not happy about the result of the game, or the season as a whole for that matter. Losing so many games in such little time is definitely tough for him. He says, "It is about habits. Not playing well on a regular habit, not playing hard, and losing all becomes a habit. After a while, it gets into your seasonal DNA." He is absolutely right. I was watching some of the highlights of last night's game, and the Heat just didn't do anything right. Bad passing, being lazy on the court, and all of the little things that many players and teams, as a whole, should not even think about in order to win ball games. They had 20 turnovers, which was 11 more than the Raptor's 9, and a key factor as to why they lost by a huge margin.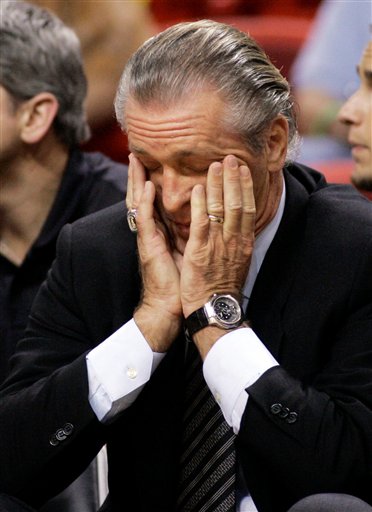 After the game, he said that he should personally refund checks to season ticket holders to save their effort. The Heat's own coach has lost complete faith in this team, and why not? When you are dominating a game 69-49 in the first half, and the game results in their favor, you would be pretty angry, wouldn't you? Imagine if you were in Riley's position. He witnessed his team lose to the Sacramento Kings 120-109 (without Mike Bibby, when the Kings were trailing by 20 by the end of the first half! RIDICULOUS! Riley has seen and coached this team to a championship win only 1 1/2 years ago. The players currently on the team might not be the same players on the team the year they won the whole enchilada, but there's just as much talent. For instance, Shawn Marion is a man who has averaged 15.8 points, 10.9 rebounds, and 2.2 steals since he moved to Miami. Udonis Haslem is another forward who averages pretty good numbers playing down low: 11.9 points, 9.1 rebounds per game. Those are two decent forwards right there.
Now, moving on to the problems that they have. Even though they've got a pretty good amount of talent, they need to become ONE UNIT! They are the Heat; they aren't the "Ricky Davis"! I know this is probably not going to happen, but Davis pretends to be LeBron James or Kobe Bryant sometimes just because he can dunk the ball. Remember, the guys have Dwyane Wade! Pass the ball to him more often. If he's not open, give the ball to Marion or Haslem; they're pretty strong and can take it to the hole pretty well. This also goes to Marcus Banks. I know he hasn't gotten much playing time, but in order to become successful, you've got to rely on your teammates more. Averaging 2 assists per game isn't going to do it. There's usually an open guy, especially on the Heat since the opposing team will double team Wade pretty often.
I know there have been several injuries on the team that have affected Miami in the worst possible way. Shaq got injured pretty early, and never played for the Heat after that since he got traded to the Phoenix Suns. Alonzo Mourning is still injured, but he's getting up there in age too. He will probably put the same numbers current starting center Mark Blount does, so they can't really use his injury for much of an excuse. The blow to this downtrodden team that I believe has and will be affecting the team chemistry the most is Dorell Wright's season ending knee injury. I think he had (or shall I say still has) a lot of potential to become a pretty good ball player, and it's a shame that injuries happen so often for the Heat. I probably find an article saying that a player for the Heat has been injured every other week. So, that could be another issue that could be talked about as to why the Heat are doing disgracefully bad.
The next and final reason as to why the Heat are not as hot as they used to be is because of the fact that they are being lazy. Sucky passing, not playing good defense, not hustling when the other team is rushing for a fast break… these are all things that many team have mastered to ignore in order to become successful. Not turning over the ball is key to a win. I mean, they haven't turned over as much as the Seattle Supersonics have, but they are finding other ways to win, like beating the other team on fast breaks. Finding a weakness in another team and accomplishing it better is an important thing to think about when playing basketball.
The season is pretty much over for the Heat now. What Pat Riley needs to do is get them pumped up. Make them care more than the other team. He has already said, "I've got to ferret out guys who really don't care. I've got to ferret them out of here and just put them on the bench and bring in a bunch of new guys." The Heat just need to want the ball more than the other team. Get those rebounds, make good passes, shoot well, etc. "The season's over for them. That's how they're playing, some of them anyhow," Riley said. If your coach is quitting on you, make him think twice. Don't quit, even if you're 0-81. Show the other team that you can beat them. There's always next season to redeem yourselves. Good things will come to you eventually.
Ad blocker interference detected!
Wikia is a free-to-use site that makes money from advertising. We have a modified experience for viewers using ad blockers

Wikia is not accessible if you've made further modifications. Remove the custom ad blocker rule(s) and the page will load as expected.