The Jets have big shoes to fill. Now that Brett Favre is done making Wrangler commercials, Rex Ryan and the Jets need to figure out who will take over the mighty task of replacing the league leader in interceptions. If he listens to the mass media, he'll realize the Jets would've somehow finished 0-17 if Favre wasn't the quarterback last year.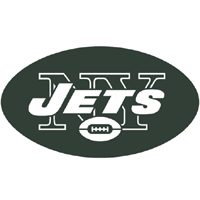 With that said, there are many people who could end up starting for that "other team" in New York in 2009.
Now for the contenders.
The Incumbents
He goes in as the presumed favorite since he's the only quarterback on the roster with any experience. His career started good as he showed flashes of the leadership and grittiness needed to make it at the position.
However, he's been nothing short of horrendous over the last year and a half. Based on how the crowd reacted to his play in the last preseason, Roger Clemens is more popular in New York right now.
Unless things change in a hurry, Clemens won't be the frontrunner in this competition for very long.
If things don't work out, Clemens can return to being the emergency kicker after being trained by an injured Mike Nugent in the season opener against Miami last season.
The entire Jets front office wanted Brett as their quarterback. They still have a chance.
Ratliff was a practice squad guy for a long time and has worked his way up with some impressive play in preseason action.
The problem is simple: Ratliff isn't good enough to be a long-term starter.
He's kind of like Shaun Hill in San Francisco. He can man the ship until the new savior arrives.
If the Jets can retain their success running the ball without a huge threat under center, Ratliff can get the Jets to 8-8 as long as Ryan gets the most out of the Jets defense.
He was a successful quarterback at Missouri, but has struggled as a receiver in the NFL. It's a sure thing he'll be used in some wildcat-type plays, and maybe he can do something in training camp to get Coach Ryan's attention.
He is a better prospect under center then at least one quarterback on the Jets depth chart.
He's Chad Pennington without the leadership and the accuracy. He was suspended for steroids use last year.
Despite going A-Rod on his arm, he doesn't have an arm. Danny Ainge has a better chance of getting this job. I'll be shocked if he's still on the team in September.
The Rookies
The Jets have the 17th pick in the draft and Sanchez might be an option if he slides to them. He's unproven and was given an army of weapons to work with last year. He was bombing the likes of UCLA, Washington, Washington State, and Stanford.
His best wins were against the Big Ten, which is a third world country compared to the top conferences in college football.
Even though it could make sense to take Sanchez, the Jets took Kellen Clemens instead of Matt Leinart a couple of years ago, and Leinart was a better prospect going into the draft then Sanchez is right now.
Coach Ryan probably wants to solidify his defense and build around Kris Jenkins, Kerry Rhodes, David Harris, and Darrelle Revis. If a good free safety or outside linebacker is available, that's where the Jets are going in the first round.
He's the guy that isn't a household name but has all the combine numbers and measurables (6'6", 250 lbs) to attract scouts. He's a good quarterback but played against many suspect defenses in the Big XII. He didn't have a ton of weapons to work with, but he didn't exactly lead Kansas State to anything of major importance.
He's likely a first round pick, so odds are the Jets will pass on him.
Davis is a guy who will definitely need to work with a QB coach on his mechanics. As it is now, he's the Joe Flacco of this draft. He can throw a ball 65 yards effortlessly.
Based on the fact that he didn't play well against non-MAC teams overall, his ability to read coverage and adjust to the game speed of the NFL are questionable at best.
The MAC conference can get you a quarterback from time to time, like Byron Leftwich in his Jacksonville days or Ben Roethlisberger in Pittsburgh. The Jets dipped into the MAC pool before when they drafted Chad Pennington.
If the Jets can't address its secondary or linebacker needs, Davis could be the quarterback in waiting. And that wait might not be long. Flacco's success could have an impact on Coach Ryan in this situation.
Coach Ryan has seen someone from the FCS division turn into a productive quarterback. Oklahoma star signal caller Sam Bradford would be the top QB in this class if he declared, and this guy beat him out at Oklahoma when they were both freshman. He has the talent and could be a steal in the fourth round of the draft.
The Jets best quarterback at the moment was undrafted, so it's not far fetched for Bomar to come in and win the job if his potential shows up.
There are also plenty of car dealerships in New York and it's perfectly in the rules for him to work at one in the NFL, so he shouldn't be much of a problem child.
I've got to admit, this is the wrong year to be hunting for franchise QB's in the draft.
Free Agents
The Jets have spent a ton of money and draft picks to create a solid offensive line. If they can get the right pass blocking scheme in place, they might be able to keep Leftwich upright.
He showed in Pittsburgh last year that he's not completely washed up. If he gets the time in the pocket, he can still fling it with almost anyone in the league. If the Jets don't draft a quarterback, Leftwich is at least good enough to force teams to respect the deep ball, which will help them establish the run as the basis of their offense. Leftwich could get the Jets above .500.
With Favre out of the league (I hope), Garcia is the next oldest stop-gap guy available at 39. He'll go anywhere that gives him a starting job.
He was awful last year in Tampa Bay but some of that is because of Tampa's offensive scheme and the frosty relationship between Garcia and former head coach Jon Gruden.
If the Jets went this route, it's another Brett Favre year; it's a complete waste of time.
Seeing his Playboy wife in a Jets jersey would get the fan base excited... for about ten minutes.
Then Garcia will throw a pick and the crowd will have flashbacks of Favre crumbling in December.
Tradable Commodities
It's possible the Jets will entertain the thought of bringing in someone who has thrown for over 3,000 yards in a season. The Jets do have the kind of weapons which Anderson utilized during his breakout season.
Then the Jets will watch some film and realize Anderson can't read coverage. Unless the Jets get out of the AFC East, this is a major problem.
Darth Belichick is licking his chops at the thought of Anderson wearing a Jets uniform.
Cassel had a monster year last year and emerged out of nowhere in Tom Brady-esqe fashion. He's a one year starter and is probably a one-hit wonder. More likely than not, Cassel is the next Derek Anderson.
He's a system quarterback and the Jets can't afford to give the Patriots two future first round picks and start someone who Belichick knows this well.
The Patriots might be plotting to let Cassel go to the Jets now that video espionage has been outlawed by the league. Cassel the informant could spell doom for the Jets against the Patriots for years to come.
Just kidding.
While it would certainly take a pretty penny to pry him out of Houston, it might be worth it when he doesn't decide to take on defenders in Indianapolis. He's not nearly the best at anything, but there's an endearing factor to him and he just finds a way to make positive plays most of the time.
There were rumors floating around last season that some in the Texans organization wanted to make him the guy permanently over Matt Schaub.
Sage has more of a mix of upside and possible immediate success than anyone else on this list.
He is the Sage Rosenfels before Sage Rosenfels. He inexplicably can come in at anytime in the season and throw for 300 yards. He's a hit or miss guy in games, but when he shows up, he hits home runs. He did lead the Chargers to a game winning drive in the playoffs a couple of years ago.
With Coles, Cotchery, Keller, and a healthy speed receiver named David Clowney, the Jets have the weapons Volek needs to be a serviceable quarterback. The Chargers have groomed Charlie Whitehurst to become the backup to Philip Rivers, so Volek's days are numbered.
It wouldn't cost the Jets a lot to get him and he would put up better numbers then Favre did last season.
The Surprise Waiting to Happen
If Smith didn't get sick during the preseason, he would've started for the Ravens in week one. He is small for a quarterback and struggles to stretch the field at times, but he is someone Ryan is familiar with.
At the very least, it wouldn't be surprising to see him competing for the Jets job in the preseason. If the Jets draft someone late and want to give them a year to learn on the bench or don't trade for an established QB, there's a good chance Troy Smith will start for the Jets next season.
He did make plays when he was given the chance with no passing weapons. Perhaps he can do something with some pieces around him.
---
The odds are the next starter for the Jets won't be a rookie, especially when comparing the QB class of this year to the potential class of 2010.
With that said, one of these players will hope to make Brett Favre an afterthought next season. Aaron Rodgers ultimately failed at that task last season.
As a Jets fan, I wish the winner of this sweepstakes the best of luck.
Whoever he might be.
Ad blocker interference detected!
Wikia is a free-to-use site that makes money from advertising. We have a modified experience for viewers using ad blockers

Wikia is not accessible if you've made further modifications. Remove the custom ad blocker rule(s) and the page will load as expected.