From: http://www.afraidofedhochuli.com
If you are a fan of professional sports then you are probably a fan of the drama and the challenge that is reached each and every play.
That is what I love about sports and why I love the NFL Scouting Combine. What is the Combine?
My First answer: Very Entertaining.
My Second answer: Pointless.
Okay, hear me out.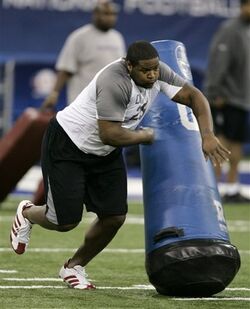 The Combine brings together 300+ of the best college football players in the country and works them out in a standardized way. The Combine is to the Draft as the SATs are to college enrollment: standardized. But unlike the SATs, it is by invitation only.
There are a lot of problems with the Combine, though, and these problems come in to play with each of the individual evaluations.
The Events ( Wikipedia):
- Vertical jump
- Broad jump
- 20-yard shuttle
- three-cone drill
- 60-yard shuttle
- Position-specific drills
- Interviews
- Physical measurements
- Injury evaluation
- The Cybex test
- The Wonderlic Test
A few of these (vertical jump, 20-yard shuttle, three-cone drill, 60-yard shuttle) can show a lot of actual, good information. A lot of them show acceleration, breaking speed and stopping ability. The vertical jump shows just that: how high a player can jump. The position-specific drills, obviously shows the players skills at what they do.

But there are a few things that aren't as useful as you would hope.
Let's start with the 40-yard dash. This is a standard speed test, except that it is not in the format that would actually test a player's "game speed". It is set up to test their "track speed".
ESPN made a list of the top scores on several of these tests since 2000.
The top 40 time? WR Jerome Mathis ran a 4.28 in 2005. He was then drafted in the 4th round by the Texans. Where is he now? 6th on the depth chart. As Mike Sando points out, so poignantly: "Thanks largely to injuries, he has more known arrests (one, this week, for allegedly choking his pregnant common-law wife) than NFL starts (zero)."
The Bench Press is one that you would expect would help with the choosing of players, right? The purpose is to see how strong a player is by lifting 225 pounds as many times as they can. If a Lineman is strong he will be able to block or break blocks, right? Ask Leif Larsen a DT who bench pressed 225 pounds 45 times (a record which has been tied but not broken) in 2000. His name links to the Bills (who drafted him in the 6th round) but good luck finding him on the depth chart. Of the top-6 since 2000, only one is a starter: Brodrick Bunkley DT in Philadelphia.
The Wonderlic has been attacked by a lot of skeptics due to the inability to actually judge a players on-field aptitude. The test is 12-minutes long with 50 questions and is used to judge someone's intelligence. It is even used by some companies for potential employees.
Where the fault begins is that it is never 100% accurate. A player may be smart and fail or vice versa.
Good Score/Failed Player
Chris Weinke scored 32, Jason Maas 42, Akili Smith 37.
Bad Score/Good Player
Ben Roethlisberger scored 25, Antwaan Randle-El 17, Donovan McNabb 12, Dan Marino 14.
All of this aside, it is still fun to watch. It is great to watch these guys compete for the one thing that means the most to them: a shot.
I know where I will be all weekend.
Ad blocker interference detected!
Wikia is a free-to-use site that makes money from advertising. We have a modified experience for viewers using ad blockers

Wikia is not accessible if you've made further modifications. Remove the custom ad blocker rule(s) and the page will load as expected.