A quick check of the calendar will reveal it isn't 1993 and a quick check of the rosters shows no Eisenreich, no Nails and no Dutch. In fact, its been ten years since the Philadelphia Phillies moved Kevin Stocker for wall-fearing Bobby Abreu, almost two years since Abreu was then moved to the New York Yankees for six bags of peanuts and a case of beer, almost three years since slugger Jim Thome was moved for much-maligned Freddy Garcia and eight years since the Curt Schilling Trade, which yielded such Phillies greats as Travis Lee, Omar Daal, Vicente Padilla and Nelson Figueroa (The latter of whom only showed up in 2001, while the first overstayed their welcome).
And yet, since each of those trades, the Phillies have actually been better. With Schilling on the team, the Phillies were 641-751 (.460) and since the trade they've been a respectable 638-559 (.533). Since the Thome trade, the Phils have been 212-176 (.546) and since the Abreu trade, which quite literally yielded nothing, the Phils are 160-122 (.567). Better late than never I suppose.
But it sure feels like 1993. The Phillies are off to the best start since 1993 and sport .593 winning percentage, which would give them just over 96 wins if they continue at this pace.
They won 97 in 1993
No-doubt Team MVP Chase Utley is simply en feugo, being amongst the league leaders in the triple crown categories. Last year's MVP Jimmy Rollins is the spark plug for the Phils and even Ryan Howard has gotten into it with the long ball (making up for his mendoza-esque average).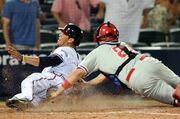 But it isn't the raking that makes this team special.
Take Friday night's game against the Atlanta Braves in aptly nick-named "Hotlanta." The Phillies took an early 1-0 lead on a Shane Victorino triple and an Utley ground out to score 1 off Atlanta starter Tim Hudson. Hudson and Jamie Moyer would battle for six straight innings until Moyer yielded a two run blast to Brian McCann resulting ina 2-1 Atlanta lead. Then in the top of the ninth, down 1 after two walks, a ground out and a strike out, catcher Chris Coste steps into the box and prompty pops it up behind first base. Atlanta second baseman Kelly Johnson runs over to make the catch and stunningly drops it! The result, a 2-2 tie which leads to extra innings. The Phils score two in the top of the 10th to allow Brad Lidge to close it out. Lidge allows two singles inbetween the two outs he records before watchinbg Yunel Escobar step in. Escobar drives one to centerfield scoring one and setting up a play at the plate for the potential Braves tie. But thanks to Victorino's strong arm and impossibly perfect play, Brave Gregor Blanco is tug out at home. The Phillies win.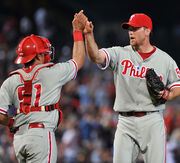 At this point, the Phils aren't good. They're charmed.
The MVP shortstop decides not to run out a popup and gets benched. Young James puts up little argument when taking a seat. The all-star slugging first baseman continues to press, batting a hair above .200, but players like Chase Utley and Pat Burrell prop up the team in need of a power surge. And the manager, often deamed a southern hick, too stupid to manage a team or at one point almost fighting a radio personality has a team clicking on all cylinders and playing at a level no one thought possible.
Sure feels like 1993.
And in a city dazed after 100 seasons of "no way" and "not quite" maybe this is the time? Maybe it doesn't take good anymore? Maybe it takes luck, love (a little skill) and the chance to be the charmed ones. A team that makes you feel that they can win each and every game. A team that is charmed into winning it all.
Hopefully there's no Joe Carter
Citations
1. Statistics from Baseball-Reference
2. Photos by Erik Lesser of the Associated Press

Ad blocker interference detected!
Wikia is a free-to-use site that makes money from advertising. We have a modified experience for viewers using ad blockers

Wikia is not accessible if you've made further modifications. Remove the custom ad blocker rule(s) and the page will load as expected.