Over the past couple of months Chad Johnson has made it public knowledge that he wants out of Cincinnati. He's even went so far as to state that he would not participate in strength and conditioning workouts if he had to in order to land himself on a new squad.
Although Marvin Lewis has said numerous times that Chad isn't going anywhere, this whole thing is very reminiscent of the T.O. fiasco in Philadelphia back in 2005. What does that mean? It means that Chad Johnson is going to be traded before draft day most likely so we need to take a look at the teams he could possibly be traded to!
Oakland Raiders
With the acquisitions of Javon Walker, DeAngelo Hall and the 4th pick in the upcoming NFL Draft, the Oakland Raiders landing Chad Johnson would be huge. Scratch that, it would be monumental. The Raiders fan base would likely have collective aneurisms -- albeit happy ones.
They would have to hope JaMarcus Russell could manage to get Ocho Cinco and Javon the ball though, but seriously, taking a look at their team coming right out of last season and looking at it now, I don't think anyone will be complaining.
Philadelphia Eagles
After losing out on signing Randy Moss last month the Eagles are still in desperate need for a #1 receiver. They showed last year that their offense can still be potent without one but landing Chad Johnson would transform them back into the old Eagles we all know and love. Not to mention it would make the NFC East so competitive that they might just have to make it it's own league.
Dallas Cowboys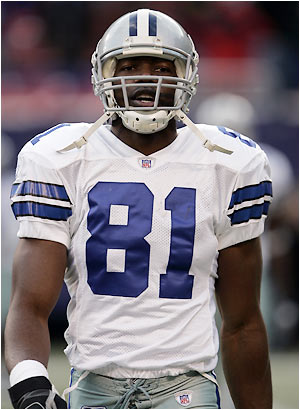 Definitely the most intriguing option. The Cowboys offense would immediately transform into the best in the NFL heading into the next season. But with two very needy ball catchers on the same squad there would be a definite opportunity for drama. When T.O. went to Dallas by himself people were watching the sidelines since Week 1, waiting for him to explode. Although he did have his problems, he never had a Philadelphia-esque episode. Because of their similar desire to get the ball I think Terrell Owens is the only person in Dallas hoping the Johnson trade doesn't happen.
Looking at the Cowboys cap space and spending amounts, it would appear difficult for them to sign Chad Johnson however if Jerry Jones wants it to happen, it will. Let's just hope they don't land both Johnson and McFadden because then the rest of the league will just have to forfeit next years games.
Washington Redskins
Jason Campbell showed us last year that he has what it takes to be the starting QB. Santana Moss and Antwaan Randle El had great seasons but are in no way number one receivers. The Redskins acquiring Chad Johnson would assure them one of the most potent offenses in the NFL. Plus, it will give Clinton Portis a couple less players to worry about in the 'box'.
Cincinnati's Fate
Johnson leaving the Cincinnati Bengals would be disastrous. It would cripple the team more than it already has been with decline of Rudi Johnson and the release of Chris Henry. T.J. Houshmandzadeh, as great of a receiver as he's proven himself to be won't be nearly as effective with no Chad Johnson on the field. Ocho Cinco's departure would effectively put the Bengals organization into a rebuilding state in which it would take a year or two to recover from on the offensive side of the ball.
However as with most divorces it seems it might have to happen -- and it has to get worse before it can better; for both parties.
Ad blocker interference detected!
Wikia is a free-to-use site that makes money from advertising. We have a modified experience for viewers using ad blockers

Wikia is not accessible if you've made further modifications. Remove the custom ad blocker rule(s) and the page will load as expected.