It's been a long time since I've written anything of substance about the Milwaukee Brewers, but there hasn't been a lot to report that Niteowl hasn't covered in his Spring Training Notebooks. However, now that the rotation and roster seem set, the baseball season is officially upon us, and in three days I get my eight months of heaven. And I certainly need it after Wisconsin was hit with record snowfall numbers this winter.
(Another reason why I haven't written a lot is because I am extremely busy again. Being a full-time student with a close to full-time job and also writing a screenplay for a senior writing project doesn't leave a lot of time for this stuff, but I did it just for you guys.)
First things first, let's catch up on a few things you may or may not have heard about the Crew this spring:
If I've missed anything else, forgive me. Moving on:
ROTATION (2007 stats in parentheses)
Lowdown:
The injury to Capuano nearly guaranteed Parra a position in the rotation since he's the only other southpaw starter. Parra is considered one of the top prospects in the Brewers organization and had a strong spring, with the exception of his final two starts. This rotation will change in two weeks once Gallardo (9-5, 3.67 ERA, 101 SO, 110.1 IP) finishes his rehab assignments. Bush and Villanueva may be considering that time an extended Spring Training because one of them will most likely be headed to the bullpen upon Gallardo's return.
Strengths: Talent, for sure. With the exception of Suppan, this staff has some electric stuff. Sheets' curveball is one of the best in baseball and Gallardo's isn't far behind. Parra's first start in Triple-A last season resulted in a perfect game. Sheets is probably the only one of these guys who has the ability -- this season, at least -- to contend for a Cy Young, but the numbers should be above average.
Weaknesses: Inconsistency and injury. Sheets hasn't started more than 24 games since 2004 and Parra would've probably been in the majors two years ago had he not battled injuries throughout his minor league career. Though Parra's nagging injuries seem to be behind him, although he was knocked out of the season last year after a pitch broke his hand on a bunt attempt, the jury is still out on Sheets, which we'll consider a nice segue.
X-Factor: Without a doubt, Sheets. Still considered one of the National League's top pitchers, he is by far the ace of the staff -- when he's healthy. An injury knocked him out last year in the thick of the playoff race, and he was not around as the Cubs took over the NL Central lead in the closing months of the season. Had he been healthy, the fortunes of those months may have been different.
BULLPEN
Lowdown: Ok, let's get past the jokes about Gagne, Mota and Turnbow; this staff has some serious potential. The 'pen received the biggest overhaul of any portion of the team. Only two -- Shouse and Turnbow -- were on the Opening Day roster last year. With the loss of Francisco Cordero, the Brewers had no choice but to stock up on potential replacements, but the closer position was still in question until Gagne was signed. He will be given the role out of the gate, with Turnbow and Shouse trading 8th inning duties. Should any of these men falter, Riske should be next in line.
Strengths: Power. Most of these guys can bring the heat. Ok, so that's not always a good thing if you consider that said heat often winds up in the tenth row of the bleachers with some of these guys.
Weaknesses: Uncertainty. Yikes, what could be a terrific staff could also be a disaster. I can't think of another bullpen in baseball with a larger separation between risk and reward.
X-Factor: Which Eric Gagne will show up? The Dodgers/Rangers Gagne or the Red Sox Gagne? If it's the former, this team could be unstoppable if you also consider the team's offensive prowess. If it's the latter, the Brewers will continue their search for Cordero's replacement, and when you expect to be in the thick of a pennant race, that's not a good thing.
STARTING LINEUP
1. Rickie Weeks, 2B (.235/.374/.433, 16 HR, 36 RBI, 25 SB)

2. Tony Gwynn Jr., CF (.260/.326/.317, 0 HR, 10 RBI, 8 SB)

3. Prince Fielder, 1B (.288/.395/.618, 50 HR, 119 RBI)

4. Ryan Braun, LF (.324/.370/.634, 34 HR, 97 RBI, 15 SB)

5. Corey Hart, RF (.295/.353/.539, 24 HR, 81 RBI, 23 SB)

6. Bill Hall, 3B (.254/.315/.425, 14 HR, 63 RBI)

7. J.J. Hardy, SS (.277/.323/.463, 26 HR, 80 RBI)

8. Pitcher

9. Jason Kendall, C (.242/.301/.309, 3 HR, 41 RBI)
Lowdown: Already one of the best offenses from a year ago, most of the lineup returns again this year completely healthy. Gwynn, who will replace Mike Cameron (.242/.328/.431, 21 HR, 78 RBI, 18 SB) for the first 25 games while Cameron serves a suspension, has had one of the better springs of any Brewer. Gwynn hit .388 in 49 at-bats in spring and also boasted a ridiculous .456 on-base percentage. He also cracked a home run, something he has yet to do in the regular season.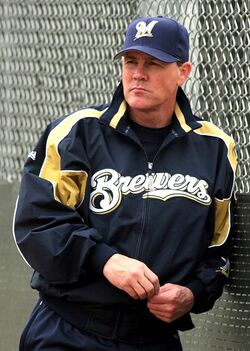 Ned Yost decided to place Fielder ahead of Braun in the lineup in hopes of preventing other teams pitching around Fielder. With Braun's strong spring (five homers, 16 RBI), the strategy might work. Yost also plans on batting the catcher's position ninth to help offensive production. Weeks possesses home run power, and Yost hopes that Kendall will get on base enough to give Weeks someone to drive in, rather than giving up an out immediately in front of the top of the lineup. Makes sense to me, mostly.
Strengths: The long ball. This team could make a run at the record books with its home run potential. Fielder should at least come close to duplicating his 50, that is of course if the lack of red meat in his diet hasn't hurt his bat. Now that he'll be in the bigs the entire year, you should expect Braun to near 50 as well, along the way pissing off pitcher after pitcher as he walks to first base. It will be interesting to see if Hardy can duplicate his monster year of 2007, in which he was one of the best offensive shortstops in the league.
Weaknesses: Lack of contact. While none of these guys will whiff as much as some other NL Central team, there will be some guys putting up big time strikeout numbers, including newcomer Cameron. And I thought I was done watching Brewers outfielders strikeout in pressure situations when Geoff Jenkins was released. Making contact is key with this team. Weeks, although his strikeout numbers were still high, at least also learned to be patient and take his walks, something a guy like Bill Hall could learn.
X-Factor: Hall. Home runs in 2006: 35. Home runs in 2007: 14. The rest of the team should produce similar numbers as they did in 2007, but Hall needs to decide whether he wants to be a 35 homer potential All-Star or a 14 homer role player. If he decides to produce numbers like those in 2006, the only sure out on this team could be the pitchers' spot.
BENCH
Lowdown: Let me be the first to say that I'm extremely pleased that Rivera was given the backup catcher's spot. He's been with the team a few years, and every time he's been brought up from the minors he's proven to be a valuable option behind the plate. Gross will split a couple starts with Gwynn in center in Cameron's stead, as he also had a decent spring, hitting four home runs. Joe Dillon received the team's final roster spot, and if he contributes in limited action like he did last year, could be one of the most valuable players on the bench. It's a very unproven bench filled with a lot of scrappy players, and if the injury bug hits, especially to the outfield, we may get to catch our first glimpses of Matt LaPorta in a regular season uniform.
Strengths: Not many. As stacked as the starting lineup is, the bench doesn't seem all that deep. But Rivera will help at the catcher spot, and Dillon and Gross should help elsewhere.
Weaknesses: Everything the starting lineup has, the bench seems to be lacking. If the starting lineup can't stay healthy, the Brewers may be in trouble. However, the Brewers have several options of younger players in the minors that could get a call should this situation arise, like LaPorta and infielders Abraham Nunez, Alcides Escobar and Hernan Iribarren.
X-Factor: Gross. Of all the players on the bench that need to come through with a strong showing to warrant a return next year, it's Gross. When Cameron returns from the suspension, Gross may not receive a lot of playing time, so he better make the 25 games count.
PREDICTION
The Brewers have a strong nucleus of players, arguably one of the best in the league. The lineup is strong from top to bottom, and the pitching is filled with potential, but answers will have to be provided to the numerous questions that surround the staff. Jeff Suppan needs to pitch like he did in April, August and September, rather than like he did during the summer months, Ben Sheets obviously needs to stay healthy, and Manny Parra needs to prove he belongs in the majors for more than simply being the Brewers only lefty starter.
This is a potentially volatile team that could mesh very well with one another, or it's a team that could let their youth get the best of them. Ned Yost is no mediator -- I'm looking at you, Johnny Estrada -- so he better hope for the team to mesh, otherwise he may be out of a job. One Yahoo! Sports "expert" already has him pegged as the first manager fired this season.
I think there's too much talent on the team and too much firepower on offense for this team to miss the playoffs. This team is resilient when they fall behind and relentless when they jump ahead. I fully expect this team to reach the playoffs for the first time in 26 years.
Projected record: 91-71
Projected finish: First place, NL Central
Corey Kempf covers the Milwaukee Brewers beat for AGM. His other articles can be found here.
Ad blocker interference detected!
Wikia is a free-to-use site that makes money from advertising. We have a modified experience for viewers using ad blockers

Wikia is not accessible if you've made further modifications. Remove the custom ad blocker rule(s) and the page will load as expected.