On the same day that the Bears add a new quarterback, they get a new offensive tackle.
First things first.  The Chicago Bears, a team known for it's defense and special teams, has made some major strides on the offensive side of the ball over the last couple of years.
It starts with the running game.  In the second round of the 2008 NFL draft, the Chicago Bears selected Matt Forte, running back from Tulane University.  Forte went on to rush for 1238 yards (1715 yards from scrimmage) and 8 TDs.  That's the most yards since Thomas Jones gained 1335 in 2005. It is the most for a Bears rookie running back since Anthony Thomas gained 1183 yards in 2001. Even more than statistics indicate, Forte gave the fans hope. He showed flashes of elusiveness and bursts of speed that indicate he could be the franchise running back they have been looking for since Walter Payton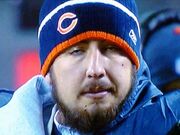 The problem in 2008 was the passing game.  I know from watching the Nov 16 game against the
Packers
at Lambeau Field that Chicago's inability to generate any sort of passing attack was instrumental in the 37-3 loss.  The Bears went on to have a pathetic 5.5 yards/attempt on the year.
Some people feel that the next marquee quarterback in the NFL is 25 year old
Jay Cutler
.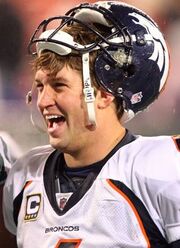 I don't know what the Bears think, but they certainly must consider him a near franchise level quarterback at a minimum.  The Bears worked a deal where they sent their current starting quarterback and two first round selections for Jay Cutler.  The total details of the trade are:
Denver gets:
Bears 2009 1st round pick (#18)
Bears 2009 3rd round pick (#84)
Bears 2010 1st round pick
Chicago gets:
Jay Cutler
Broncos 2009 5th round selection (#140)
The trade leaves Denver with 11 picks in the 2009 draft.  I have a feeling they will be rebuilding their defense.
Now that the Bears have franchise quarterback, they need to protect him.  The same time Chicago was working the deal for Jay Cutler, they signed free agent Offensive Tackle Orlando Pace.  Pace was the top selection of the 1997 NFL draft and was a blocker for three straight NFL MVPs (Kurt Warner in 1999 and 2001, Marshall Faulk in 2000).
One has to believe that the Bears are retooling to win now.  The loss of two first round draft selections and a third round draft selection means they have mortgaged the future.  They need to win now because their stout defense is aging and Orlando Pace has only one or two more years in him before he will be forced to hang 'em up.
With the additions made this season, many people have the Bears favored to take the NFC North Title. I have one question though...who will Cutler throw to?