With the NBA Playoffs nearing it's start, and AGMers selecting their starting lineups with robots only and DC comic books, I've decided to take a new route. Ladies and gents, the all classic cartoon starting five. I'll give the name, position, height, weight, strengths and weaknesses.
Bugs Bunny, PG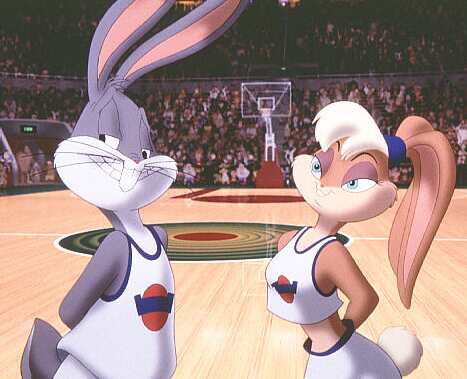 Ht: 5'8
Wt: 140 lbs
Vertical leap: 50 inches
Notable achievement: Scored 105 points and grabbed 36 rebounds in 105-96 win over Sonics.
Strengths: Bunny has the speed, the ball control and the agility. Great shooting percentage, and a deadeye from three point range. Bugs also has incredible vertical leap as stated above, and is not afraid to have a charge called on him, he'll take it to the basket and dunk on you silly.
Weaknesses: Not a born leader, if a foul is called on him he will argue with the ref quite a bit, and like Kobe Bryant, he'll get called for many technicals. Tries to do too much at times to impress the ladies and ends up turning the ball over, but that can be fixed. Due to his small stature, he'll get pushed around a lot and boxed out for rebounds....so the Sonics game was just a special day for him.
Outlook: He hustles, shoots very well, I'd put him in the starting line-up.
Roadrunner, SG
http://www.gamasutra.com/features/20010309/fig6_roadrunner.jpg
Ht: 3'4
Wt: 57 lbs
Vertical leap: 25 inches
Notable achievement: Went from one end of the court to the other in 1.5 seconds.
Strengths: Holy crap is the bird quick! I am impressed by his speed, he's a passable shooter but is actually better than you think from the paint. Almost perfect from the foul line when given 100 FT shots, and is unselfish. Willing to not drive to the basket and instead kick it out to one of his teammates for an open three. Because of the fact that he is short, he can literally go in between your legs like the basketball (that didn't sound so good did it? Well it's all I could think of!). Steal machine as well...although there is one flaw to that as shown in the weakness section.
Weaknesses: A little too quick. Like Bugs Bunny, when he drives to the hole he sometimes goes past everything and out of the arena. A sucker for bird food so at time he has lapses in concentration. Not a very good defender for obvious reasons, and occasionally mistimes his jump on the ball and ends up allowing an easy two instead of a steal.
Outlook': You may be wondering "He is in your starting five?". Yes he is, and I like him a lot because of his quickness and stealing abilities, which would obviously lead to many fastbreak points as well.
Foghorn Leghorn, C
http://members.aol.com/howardsays/foghorn/foghorn_.gif
Ht: 7'0
Wt: 451 lbs
Vertical leap: 22 inches.
Notable achievement: Caused Shaq to flop.
Strengths: This rooster isn't chicken (ba-dum-cha). He is enormous, and would be one of the most feared centers in my book. He's like Shaq only better. Although not a great shooter, he's the tallest man on my roster, you pretty much have little shot against him as far as rebounds, and that would certainly lead to several second chance points on the offensive end. He knows how to set up screens, and has what Wile E. Coyote doesn't have, and that is a brain......and plans that work. Foghorn could essentially be a player/coach a la Bill Russell.
Weaknesses: Slow, definitely can't keep up with Bugs and Roadrunner. Horrible shooter, and can barely dunk. Has occasional smart alec comments towards the referee (I say boy I said I say boy that you're as dumb as a bell). A little too one dimensional on the offensive side.
Outlook: Strengths outweigh weaknesses in this one....much better than Shawn Bradley.
Popeye, PF
http://www.cornichon.org/archives/popeye.jpg
Ht: 6'9
Wt: 288 lbs
Vertical leap: 35 inches
Notable achievement: Hammered Chuck Norris in 1 on 1...Norris put Popeye in the trash can later on in the day.
Strengths: Good jumping ability for his size, powerful and a dangerous perimeter shooter. Not afraid to take the charge when on defense...mainly because the attacker falls down after running into him. Good use of the backboard on some of his attempts. Very slick when driving along the baseline, as he will draw the defender into the restricted zone, then get the blocking foul called on him.
Weaknesses: Short temper, fatigues way too easily once spinach wears off. Useless essentially if given no spinach before or during the game.
Outlook: As long as he develops as good enough eating habit that he doesn't need to eat spinach to boost his energy then he is fine.
Bluto, C/PF
http://www.characterlandwa.com.au/blutoCol.JPG
Ht: 6'10
Wt: 432 lbs
Vertical leap: 14 inches
Notable achievement: Became stunt double for Pierre Niles of Memphis.
Strengths: Can you imagine a team like mine that has 2 big men and one muscular one? Dominate the paint, dominate the glass, which is what Bluto does. The reason why I selected him is that generally as long as Olive Oyl is out of sight (I.E, toothpick for David Wells), he and Popeye will get along. If he, Foghorn, and Popeye are all out there then you have box out city. The wideness of Bluto makes it hard for any offensive player to see and picks up the slack of Roadrunner, who is short and is nothing more than someone who can steal a pass defensively.
Weaknesses: Worst...dunker....ever. Can't jump, fatigues easily as well...but food does him no good. Recent anger management classes have prevented him from being one who is hot tempered.
Outlook: He's huge, he and Foghorn Leghorn could be the Dual Double Deckers.
Who Didn't Make the Cut
Daffy Duck. Too selfish with the ball, ongoing fighting with Bugs Bunny.
Elmer Fudd. I was going to put him on the team, but PETA got mad at me after Fudd's recent animal cruelty charge.
Yosemite Sam. See previous.
Sylvester the Cat. Sadly, his tail is too long and I don't want the teammates tripping over it.
The Hamburger Eating Guy From Popeye. Ate too much and exploded.
So to summarize how my starting five would work out....
Hot tempered, sometimes some are a little overweight....but can play some B'BALL!!!!
Ad blocker interference detected!
Wikia is a free-to-use site that makes money from advertising. We have a modified experience for viewers using ad blockers

Wikia is not accessible if you've made further modifications. Remove the custom ad blocker rule(s) and the page will load as expected.