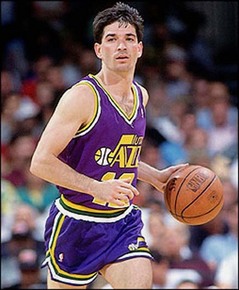 John Stockton emerged from a little university, that nowadays is an NCAA tournament regular, Gonzaga University.  During his senior year at Gonzaga he averaged 21 points and 7 assists a game.  Little did anyone know that this skinny kid would go on to help coin one of the most popular sayings in professional sports.  "Stockton to Malone!"
John Stockton was never a recognizable face to a casual basketball fan.  Heck, even people who knew basketball probably wouldn't be able to pick him out on the street.  He didn't have any problem with that though.  John led a very unassuming basketball career, a career that spanned 19 seasons, all with the Utah Jazz.
John Stockton was picked by the Utah Jazz 16th overall in the 1984 NBA draft.  This was the same draft in which Charles Barkley, Hakeem Olajuwon, and Michael Jordan were drafted in.  Some players that were picked in front of Stockton include [Mel Turpin], Leon Wood, Jay Humphries, Lancaster Gordon and Terence Stansbury.  I don't believe any of those players ended up having better careers than Stockton did.
John accomplished many feats during his storied career. He missed only 22 games in his career. Eighteen of those came in one season when he hurt his MCL.  He is the all-time leader in both assists ( 15,806 ) and steals ( 3,265 ).  Both of those records are sure to never be broken any time soon.  Stockton's assist record, much like [Wilt Chamberlain]'s 100 points scored in a game, are virtually untouchable.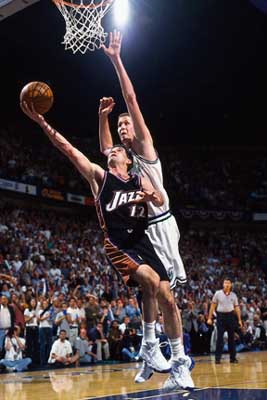 The 2nd leader in assists, Mark Jackson, has only 10,323.  Jason Kidd is currently the highest assist man still actively playing; he has 8691 over 13 seasons.  Even if Kidd averaged 1,000 assists a year for the next 6 years, he still wouldn't even reach 15,000.  John only averaged 670 assists his last 4 years in the league so I don't think Kidd would suddenly become a more proficient passer in his twilight years.  Call it a hunch.
The late, great Michael Jordan is 2nd in career steals with 2,514.  And grant it, Stockton played in 4 more seasons than Jordan, Jordan would still need to average 200 steals over 4 years to own the record.  Michael never had more than 200 steals after the 1992-93 season.  The next closest active player would again be Jason Kidd, with 1,902.  He would need about 1,400 steals in 6 years, or an average of 235 steals a year if he wants to break it.  I'm not a betting man, but I'd be pretty damn confident to let my life savings ride that Kidd won't be pulling that off.
I think John's greatest accomplishment in his career was that he never gave up on the Jazz and stuck around with the team that drafted him throughout his career.  His sense of loyalty to the franchise is something lacking from today's game.  Heck, a perfect example would be all this talk about LeBron James and whether or not he'd be better off in Madison Square Garden in a Knicks uniform.  Why are we talking about this?  He's on the Cavs, under contract, and has already been to an NBA Finals.  Stop it with the Knicks talk already.
Stockton was offered more money to play elsewhere and he didn't.  He even took a salary hit so that the Jazz could have more cap room to spend on better players.  Talk about a team player.  Not only did his selflessness help the Jazz financially, but it helped exponentially on the court.  His basketball IQ might be the best of all-time.  He knew where his pass was going before he even had the ball.  Hall of Fame PF Karl Malone was on the receiving end of many of those passes.  He credits a lot of his success to John for putting the ball in the best position for himself.
John's anticipation was uncanny.  That anticipation helped him not only become the most prolific passer in NBA history, but it also helped him be a nasty defender.  Not too many people associate great defender with John Stockton.  He was a terrific on-ball defender and probably was even better off the ball.  Some ex-NBA players even went as far as saying Stockton was a dirty defender.  Something Stockton never admitted…..or denied.
When Stockton retired from the NBA, it was similar to how he entered it.  When a reporter asked Stockton when he might pick up a basketball again," Tomorrow, probably, out in the yard," he said. "It's still a great game."  A game that sorely misses his fundamentals, his toughness, his kindness and his heart.
Feel free to visit my blog Sports Wise Guys to comment as well.'
Ad blocker interference detected!
Wikia is a free-to-use site that makes money from advertising. We have a modified experience for viewers using ad blockers

Wikia is not accessible if you've made further modifications. Remove the custom ad blocker rule(s) and the page will load as expected.