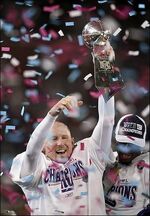 After finally capturing the elusive Super Bowl ring, Jeff Feagles will be back on the New York Giants for two more seasons. Financial terms of the deal were undisclosed, though his $1M salary last year could give us a rough estimate of how much he'll be earning. The 41-year old set a record by becoming the oldest player to compete in the Super Bowl, and currently holds the record for most consecutive games played with 320, a mark he will be able to continue. He also holds the records for punts (1,585), punting yards (65,793) and punts inside the 20 (508). To see him continue these records will be quite the sight. And now with a ring, who knows what the 21st season holds for Feagles. Feagles is also one of the few punters in the league to utilize the coffin corner punt to its advantage, solidifying himself as one of the best directional punters in history. He actually would have retired had the Giants decided not to re-sign him.
Jeff Feagles is the last remaining regular from Tecmo Super Bowl as well (Who knows if Morten Andersen will be back, and Testaverde may be legitimately retired now. Plus who knows if Junior Seau will be back). One thing that we can certainly say is that we hope Feagles continues to play for as long as he can. For someone who's going to be inducted into the University of Miami Sports Hall of Fame later today, fresh with a new contract, everything continues to look up for the soon to be 42-year old punting great.
"Certainly I considered riding off into the sunset after winning the Super Bowl. But I still have a fire to play football. Making my decision to stay easier was having my family living here. The wild card in the whole decision was the Giants, and they wanted me to come back. I can't say enough about the organization." - Jeff Feagles
Ad blocker interference detected!
Wikia is a free-to-use site that makes money from advertising. We have a modified experience for viewers using ad blockers

Wikia is not accessible if you've made further modifications. Remove the custom ad blocker rule(s) and the page will load as expected.