Playoff time is finally here, and as promised, I'm going to run a COM-vs-COM sim of every matchup using Tecmo Super Bowl and the rosters found here (with some tweaks to reflect current depth charts). But first, there's some business to attend to...
I just did the article last week for a larf, but it was picked up by Deadspin and Football Outsiders, among others. And, like the idiot I can be sometimes, I forgot to give proper credit where it was due. So, special shout-outs go to:
Thanks again, guys, and sorry for not mentioning you last week!
Now, to the games. Tecmo was abysmal at picking last week, selecting the winner only once (Chicago over New Orleans) in five tries! Hopefully, the game will do better this time around. For each game, I'll tell you what Tecmo's simulated score was, as well as what I think the outcome will be -- you should take each with a grain of salt. At Alex H.'s suggestion, I uploaded the entire games to Youtube, so you can watch them and pretend Chris Berman is narrating the action (that goes double for you, Corey). Oh, and the new "Matchup Breakdown" charts are based on a percentile ranking of each team using Football Outsiders' DVOA metric. Enjoy!
GAME OF THE WEEK: NY Giants vs. Tampa Bay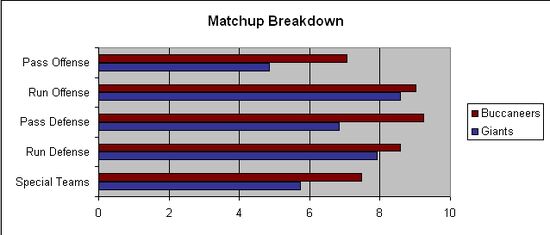 First Half
Second Half
Game Summary:
The
Tampa Bay Buccaneers
won the opening toss and it was off to the races, as
Jeff Garcia
and
Earnest Graham
moved the Bucs down the field on an 82-yard drive that ended with Garcia finding
Ike Hilliard
for a 14-yard TD strike. After the kickoff,
Eli Manning
was immediately intercepted, and Tampa quickly turned the turnover into points when Graham raced in for a 6-yard TD to end the first quarter. On the following drive, Manning finally started making plays, scrambling for a big gain and then firing a 23-yard TD to
Plaxico Burress
in the back of the end zone. But after a Tampa punt, Manning was back to his old ways, throwing a bad interception to
Ronde Barber
. Tampa would use the field position to make a field goal, and the teams went to the half with the Bucs leading 17-7. After a New York punt to start the 3rd, Tampa maneuvered into field goal range and had a chance to go up 20-7, but
Matt Bryant
missed a 47-yarder. The G-Men would make TB pay for this missed opportunity when Manning heaved a 55-yard bomb to Burress to make the score 17-14 as the 3rd quarter came to a close. When Tampa sputtered on offense to start the 4th, Manning stepped onto the field with 3:01 remaining in the game and a chance to pilot NY to their first playoff win since
Kerry Collins
took them to the Super Bowl in 2000-01. Despite his miscues earlier in the game, Manning was calm and decisive on the final drive, and his arm combined with the legs of
Brandon Jacobs
to move the Giants down the field for the go-ahead score. Tampa would take the ball with just under a minute to play, but their final drive stalled at New York's 15 yard line, and the game ended with
Osi Umenyiora
batting down Garcia's pass with 0:00 on the clock.
21-17 Giants, final score.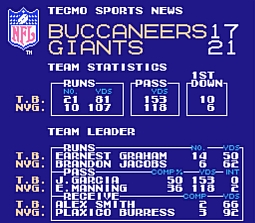 My Prediction:
New York 24, Tampa Bay 21.
Seattle
vs.
Washington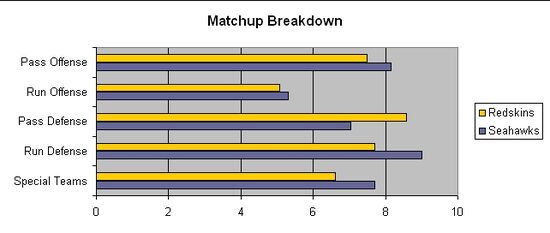 First Half
Second Half
Game Summary:
This simulation surprised me, because it was a rare case of COM-vs-COM Tecmo domination. The
Seahawks
were forced to punt four times (a whopping total for tecmo), were intercepted once, and gave the ball away on downs once as well. They only amassed two first downs and 131 total yards all game, with
Shaun Alexander
struggling badly against Washington's strong defense. Meanwhile,
Clinton Portis
ran wild on Seattle, racking up 69 rushing yards on 12 carries and another 112 (with a TD) through the air. It was as complete a victory as a computer team could have against another computer in Tecmo.
24-7 Redskins, final score.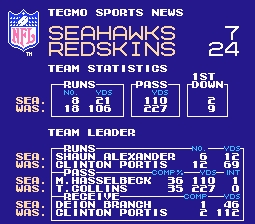 My Prediction:
Seattle 24, Washington 21.
Pittsburgh
vs.
Jacksonville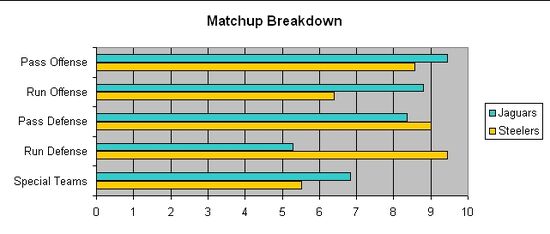 First Half
Second Half
(Note: I have no clue why Jacksonville's uniforms are red and yellow. Maybe they found some old 49ers unis and decided to go with them. Who knows? Such are the mysterious ways of Tecmo.)
Game Summary:
This one was close... for about a quarter.
David Garrard
had the game of his life, tossing 5 TD passes with 0 interceptions en route to his first career playoff win as a starter. Pittsburgh kept things close early on, answering Garrard's first 2 touchdowns with a
Santonio Holmes
reverse for a score and a
Ben Roethlisberger
TD pass to
Heath Miller
. But after a
Maurice Jones-Drew
touchdown made it 21-14 in Jacksonville's favor midway through the 2nd quarter, a flea-flicker gone awry set up a Garrard TD to
Dennis Northcutt
to end the half with the score 28-14, Jaguars. Holmes cut Jacksonville's lead to 7 when he ran another reverse into the end zone to start the 3rd, but Garrard answered with a TD to
Marcedes Lewis
, and Pittsburgh would turn the ball over (INT, safety, INT) on each of their remaining drives.
44-21 Jaguars, final score.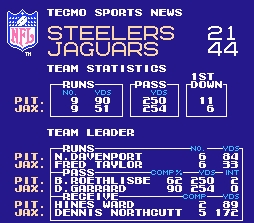 My Prediction:
Jacksonville 28, Pittsburgh 21.
San Diego
vs.
Tennessee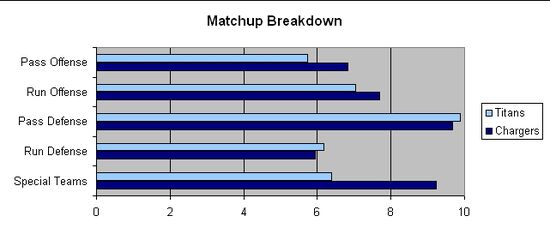 First Half
Second Half
Game Summary:
You just knew that this game would be a back-and-forth affair. With
LaDainian Tomlinson
leading the Charger attack, San Diego jumped out to an early lead (probably accompanied by Tecmo-
Philip Rivers
hurling cyber-insults at the opponent). But just as quickly,
Vince Young
hit
Justin Gage
on a 49-yard game-tying bomb, and after
Stephen Tulloch
recovered a Tomlinson fumble in the 2nd quarter, Young ran it in himself to make it 14-7 Tennessee. With 1:28 left in the half, San Diego struck back with a
huge
Rivers-to-
Vincent Jackson
connection that tied the game at 14, and Tomlinson tacked on 7 more when he scampered in untouched to start the 3rd. Young wasn't through, though -- he immediately engineered an epic 96-yard drive that ended with him finding
Bo Scaife
in the back of the end zone to tie the game as time expired in the quarter. This playoff game was beginning to resemble one of those NBA games where two superstars just take over, and Tomlinson did his part when he took a Rivers screen pass and ran 24 yards downfield, then capped the drive with a 5-yard TD run that put San Diego back on top. After a solid return by
Chris Henry
, it looked as though Young would have time for one more heroic drive... but his pass on 3rd-and-21 from his own 47 was picked off by
Quentin Jammer
, and that was the ballgame.
28-21 Chargers, final score.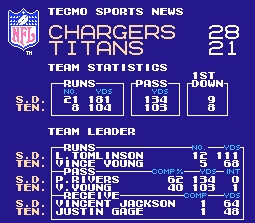 My Prediction:
San Diego 24, Tennessee 14.
Ad blocker interference detected!
Wikia is a free-to-use site that makes money from advertising. We have a modified experience for viewers using ad blockers

Wikia is not accessible if you've made further modifications. Remove the custom ad blocker rule(s) and the page will load as expected.