This weekend marks Week 17 of the NFL season, which means that the playoffs are almost here -- and not a moment too soon. I don't know about you, but I love the NFL playoffs. In a single-elimination tournament like this, every game is truly a life-or-death battle, and the different conditions posed by January weather only serve to add excitement to the games. In short, the NFL Playoffs are great, and I cannot wait for them to get underway.
In this space last year, I had a weekly series on the NFL in which I would use a complicated mathematical formula to predict the winners and losers of each game. It turned out to do a pretty decent job of picking the games (until the Super Bowl, that is -- remind me why I picked the Bears again?), but it was also pretty boring to me. I figure that if you want a formula to predict winners, you can go to Football Outsiders or Jeff Sagarin, both of whom do a better job of picking games than I did anyway. So with that in mind, I'm going to change things up for this year's playoffs.
Namely, I'm going to run a COM-vs-COM sim of every matchup using Tecmo Super Bowl and the rosters found here (with some tweaks to reflect current depth charts). How realistic are these going to be in picking winners? Probably not very. But it's going to be a lot more fun. I promise.
As a warm-up, this week I'm going to sim out the games with playoff implications: Cleveland-San Francisco (CLE needs a loss by Tennessee, or a win or tie and a Tennessee tie); Tennessee-Indy (TEN needs a win, or a tie and a Cleveland loss); Washington-Dallas (WAS needs a win, a tie and a Minnesota loss or tie, or a loss and a Minnesota loss and a New Orleans loss); New Orleans-Chicago (NOR needs a win and a Washington loss and a Minnesota loss); and Minnesota-Denver (MIN needs a win and a Washington loss). So let's get to it!
GAME OF THE WEEK: Cleveland vs. San Francisco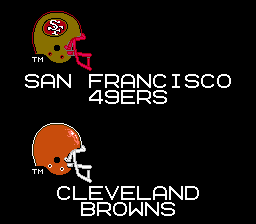 This one started out slow. San Francisco went three-and-out on their first possession, and the teams traded turnovers (a Mark Roman interception of Derek Anderson, a Frank Gore fumble, and another Anderson pick) on the next 3 drives.
The 49ers would draw first blood off of Anderson's 2nd INT, converting on a big 3rd-down to get in FG range and put 3 points on the board. 3-0 49ers.
Cleveland struck back quickly, though, after Jamal Lewis busted off a big run and Anderson hit Joe Jurevicius in stride for a long TD pass. 7-3 Browns.
But on the ensuing drive, a couple of Trent Dilfer completions led to a TD connection with Vernon Davis and a 3-point lead for San Francisco. 10-7 49ers.
With time winding down in the 1st half, Anderson hit Jurevicius again for a long gain, at least partially atoning for his 2 earlier interceptions by setting up a game-tying Phil Dawson field goal as time expired. 10-10 tie.
The second half started out just like the first -- sloppy, with plenty of turnovers. After a Cleveland punt to begin the 2nd half, Trent Dilfer was intercepted in San Francisco territory. But instead of capitalizing on the mistake, Cleveland gave the ball right back when Anderson threw his third pick of the game, resulting in a touchback. After SF went 3-&-out, Anderson promptly tossed INT number four on the game, giving the Niners great field position as the third quarter came to a close.
After struggling with Dilfer's passing throughout the third, San Francisco finally turned to Frank Gore in the 4th -- and the results were immediate. Gore led off the drive by picking up a critical 3rd-down conversion, and then finished it off by sprinting 20 yards to paydirt for a go-ahead TD. 17-10 49ers.
Starting their drive with 3:37 to play, Cleveland got back into the game with just two plays: a flea-flicker from Anderson to Jurevicius on first-and-10, and a huge Jamal Lewis run that tied the game and gave playoff hope back to the hometown faithful. 17-17 tie.
After a big return on the ensuing kickoff, San Francisco looked poised to retake the lead, but an untimely sack pushed them to the outer limits of Joe Nedney's FG range. The kick was up...
...And no good! New life for Cleveland! With under a minute to go, the fans even had reason to believe that Anderson might drive the Browns downfield for a shot at a game-winning FG... But after a big Jamal Lewis run, Anderson threw his fifth pick of the day, forcing the game to go to overtime.
Cleveland won the toss to start OT, but some things are just not meant to be... On the second play of the extra frame, Lewis coughed up the ball, giving SF possession in field goal range. An Orpheus Roye sack almost pushed the Niners outside of Nedney's preferred distance, but in a Dawson-esque twist, he was able to bounce the ball in off the upright for the game-winning kick. 20-17 49ers, final score.
New Orleans vs. Chicago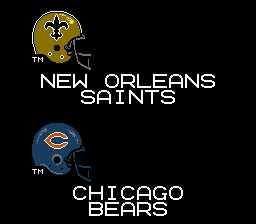 In a rematch of last year's NFC Championship Game, the Saints find themselves clinging to the last vestiges of their playoff hopes... If they lose, it's over. However, they roared out of the gates here, returning a Chicago fumble for a TD on the game's first play, and taking a 13-point lead at halftime thanks to the passing of Drew Brees, the running of rookie Pierre Thomas, and an uncharacteristically solid defense that hassled Brian Griese every step of the way. After a Griese interception set up a Martin Gramatica FG, the score at the midway point was 20-7, Saints.
As it turns out, that halftime score would be the high point of the game for New Orleans. Receiving the kick to start the 3rd quarter, Brees and the Saints continued to sling the ball downfield, but Brees got careless after several completions to Marques Colston and threw an interception. Griese capitalized quickly on the turnover, hitting Bernard Berrian with a 60-yard touchdown strike that cut New Orleans' lead to six.
The teams traded punts and turnovers until midway through the 4th quarter, when Griese led the Bears' offense onto the field with 2:44 to play for what was likely their final drive. It would be a rare success story for Chicago's offense this season: On a critical 3rd down, Griese scrambled 10 yards to keep the drive alive. Adrian Peterson then broke off a long run that put the Bears in New Orleans territory. Finally, Griese capped the drive by connecting with Muhsin Muhammad on an 11-yard TD that gave Chicago a 21-20 lead.
When the smoke cleared, the Bears had used up all but 0:38 on the clock, and Brees was unable to muster more than a single first down before the game ended. With Chicago's stirring comeback the Saints were eliminated from the playoff picture, ending a very disappointing year for them (for both teams, actually). 21-20 Bears, final score.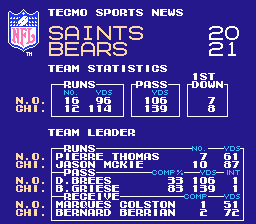 Minnesota vs. Denver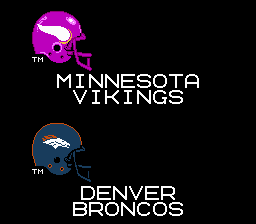 This one was never even close. Jay Cutler threw an interception on his first pass of the game, and it was all downhill from there for Denver, as is usually the case when your QB turns the ball over four times. Adrian Peterson and Troy Williamson each had a touchdown for Minnesota, and Ryan Longwell tacked on two field goals in the second half. 20-0 Vikings, final score.
All the Vikings had to do now was to sit back and see if Dallas could hand Washington a loss...
Washington vs. Dallas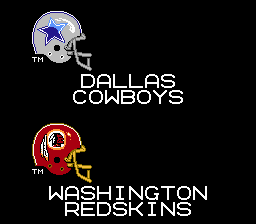 With Dallas coach Wade Phillips sitting many of his best players, this game turned out to be a real snoozefest. There was promise early after the teams traded TD runs in the first quarter (by Marion Barber and Clinton Portis), but the 2nd and 3rd quarters saw no scoring and many punts, as each team abandoned the running game that had been somewhat successful in the early going. After a Washington fumble to start the 4th, Dallas took a 14-7 lead when Barber broke 3 tackles on a spectacular TD run, and Washington quickly countered with a field goal that brought the Cowboys within striking distance, but Todd Collins fizzled late, throwing an interception on what could have been the game-winning drive. With the loss (and Minnesota's win), Washington was eliminated from the playoff hunt. 14-10 Cowboys, final score.
Tennessee vs. Indianapolis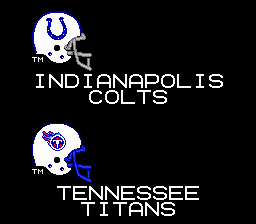 Indy coach Tony Dungy also sat the three guys who had been his most important players this season -- Peyton Manning, Joseph Addai, and Reggie Wayne -- but the Colts' regular-season finale against Tennessee was hardly a boring affair. During the first half, Jim Sorgi did his best Manning impression, connecting for an early TD with Marvin Harrison (who was returning from a bruised left knee after missing nine games) and leading another long drive that would have resulted in a 10-0 lead if not for Adam Vinatieri's missed field goal. At the same time, Indy's D shut down Vince Young and the Titans offense throughout the first half, and the Colts led Tennessee 7-0 at the break.
Things changed quickly, though, as the Titans took the ball to start the 3rd quarter. LenDale White carried the load on the ground for Tennessee as they marched downfield, and Young finished off the game-tying drive by finding White in the end zone for a touchdown. On the next drive, the Titans intercepted Sorgi's first pass, setting up a Young-to-Roydell Williams connection that gave Tennessee a 14-7 lead.
Getting the ball back at the start of the 4th, Sorgi and the Colts were forced to go for it on 4th down with 3:45 remaining, a gamble that didn't pay off for Coach Dungy when they couldn't convert. Tennessee used the good field position to move down the field and set up a field goal that probably would have put the game out of reach... but Titans kicker Rob Bironas shanked it, giving Indy another shot at a comeback with 2:01 left in the game. The Colts would not squander this opportunity, as Sorgi ran the 2-minute drill to perfection, ending the drive by hitting Anthony Gonzalez in the end zone with 8 seconds to spare, for a score that knotted the game at 14 apiece.
Indy won the toss to start overtime, and you could feel the life draining out of Tennessee's players. On the first play of OT, Sorgi went back to Gonzalez for a huge gain through the air, and after a couple of line plunges, Vinatieri stepped in and did what he does best -- hit game-winning field goals. The loss knocked Tennessee out of the playoffs, sending Cleveland in despite their own overtime defeat against San Francisco. 17-14 Colts, final score.
So, to recap, here's how Tecmo sees the playoff races shaking out:
IN: Minnesota, Cleveland
OUT: Washington, New Orleans, Tennessee
Check back next week for a whole new batch of Tecmo sims -- playoff-style!
Ad blocker interference detected!
Wikia is a free-to-use site that makes money from advertising. We have a modified experience for viewers using ad blockers

Wikia is not accessible if you've made further modifications. Remove the custom ad blocker rule(s) and the page will load as expected.