After the first weekend of the playoffs, the Final 12 have been whittled down to 8, and the postseason drama is just beginning to heat up. It's win or go home, and now the top 2 teams in each conference (including the Only Team To Go 16-0 In The Regular Season™) join the fun on the road to the Super Bowl... But you don't have to wait until Saturday and Sunday to take in these compelling showdowns -- I'm going to run a COM-vs-COM sim of every matchup ahead of time using Tecmo Super Bowl, to give you the 8-bit lowdown on which teams will survive to play again and which teams will be starting their vacations early.
But first, a few things I wanted to point out:
Okay, now we can discuss the games. Last time around, Tecmo bounced back nicely from a poor showing in Week 17 to pick 3 of the 4 Wild Card games correctly, and I think it's going to do a similar job this weekend. As usual, for each game I'll tell you what Tecmo's simulated score was, and also what I think the outcome will be -- but I make no guarantees as to the accuracy of either. Accompanying each game is the "Matchup Breakdown" chart, which is based on a percentile ranking of each team using Football Outsiders' DVOA metric -- remember, it is a measure of a team's real-life strengths and weaknesses, and has nothing to do with Tecmo per se. But I thought it would be cool to include nonetheless. Enjoy the games, people!
GAME OF THE WEEK: Jacksonville vs. New England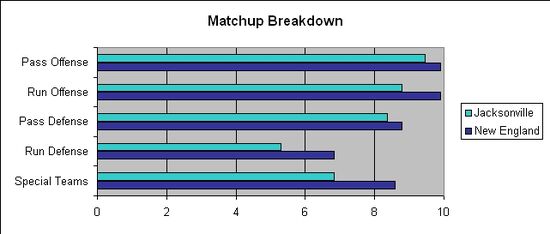 First Half
Second Half
(Note: I have no clue why Jacksonville's uniforms are red and yellow. I like to think that they found some old Joe Montana-era 49ers unis and decided to sport them for some good playoff luck. Whatever the reason, it worked for them last week!)
Game Summary:
After a two-week layoff, the undefeated
New England Patriots
returned to action against the upstart
Jacksonville Jaguars
with an
AFC Championship Game
appearance on the line. Jacksonville, with their power running game and mistake-free aerial attack, seemed custom-built to defeat the mighty Patriots, and they had passed their first tough playoff test against Pittsburgh a week earlier. Still, the Pats immediately thwarted the Jaguars' plan to play mistake-free football when
Rodney Harrison
picked off
David Garrard
on Jacksonville's second offensive play, an INT that would eventually set up a Patriots field goal. Garrard struck back quickly, though, connecting with
Dennis Northcutt
to give JAX the lead at the end of the 1st quarter. The 2nd quarter was full of mistakes (
Tom Brady
lost a fumble and Garrard was picked twice more by Harrison), but featured one big offensive play -- a huge Brady-to-
Randy Moss
TD that put New England up 10-7 at the half. On the first drive of the 3rd, the Pats used a big run by
Laurence Maroney
to set up another
Stephen Gostkowski
FG, making the score 13-7. On the ensuing drive, Garrard made a daring escape from pressure in his own end zone, sparking a long Jacksonville march downfield that ended with
Maurice Jones-Drew
running it in to give the Jags a 14-13 lead. But the Patriots proved once again that their talent is only matched by their resiliency, as Brady led the team down the field to set up a go-ahead FG by Gostkowski. Jacksonville coach
Jack Del Rio
decided to punt on the next drive, hoping that his defense could give them the ball again with time enough to score, but a Patriot first down meant the Jaguars' last hope was a punt return with 0:31 left in the game. Northcutt took the kick, motored upfield and shed several tacklers, but was tracked down before he could score, and the game was over. The Patriots didn't win pretty -- as has often been the case in the season's second half -- but they made the plays when they had to, and advance to the AFC title game.
16-14 Patriots, final score.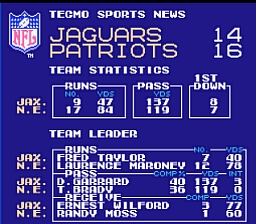 My Prediction:
New England 31, Jacksonville 17.
San Diego
vs.
Indianapolis
First Half
Second Half
Game Summary:
Indianapolis was heavily favored going into this matchup, but with
Marvin Harrison
still limited by a knee injury, the Colts came out of the gates sluggish on both sides of the ball, settled for too many field goals in the red zone, and were dispatched by the Chargers fairly handily in a game that wasn't as close as the final score would suggest. On San Diego's side, their defense hassled
Peyton Manning
constantly, never giving him time to throw, and forced an INT early in the game that allowed the Chargers to go up 14-0. Meanwhile,
LaDainian Tomlinson
looked like the second coming of
Bo Jackson
, racking up 87 yards on only 9 carries to go with 3 total touchdowns, and
Philip Rivers
limited his mistakes and threw 2 TDs. Next week, San Diego will face New England in the AFC Championship Game, a rematch of last year's ultra-close Divisional game (which the Pats won 24-21).
28-20 Chargers, final score.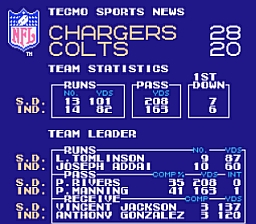 My Prediction:
Indy 28, San Diego 24.
NY Giants
vs.
Dallas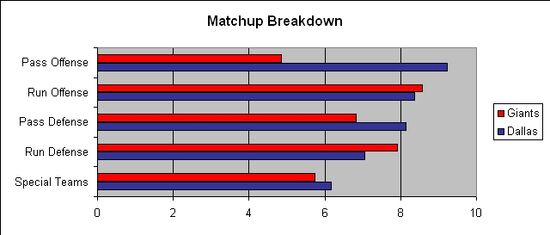 First Half
Second Half
Game Summary:
The Giants, coming off of an upset win at Tampa Bay in the Wild Card round, looked to continue their momentum against the
Dallas Cowboys
at
Texas Stadium
... And they're still looking. Just like the other two times these teams faced each other this season, the Cowboys broke the game open in the second half en route to a decisive victory.
Un
like the previous two matchups, though, Dallas did it on the ground, racking up 198 rushing yards (153 by
Marion Barber III
) and four rushing touchdowns. Embattled Giants QB
Eli Manning
played almost as well as he had in New York's November 11 game against Dallas (3 TD, 1 INT), but the result was the same in both outings -- a Giants loss.
40-21 Cowboys, final score.
My Prediction:
Dallas 31, New York 21.
Seattle
vs.
Green Bay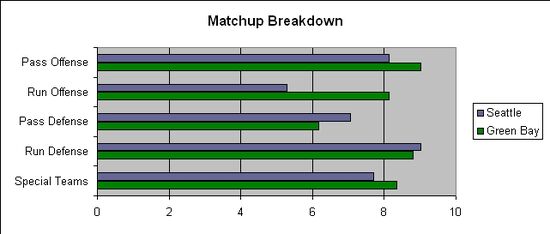 First Half
Second Half
Game Summary:
It's rare for Tecmo to produce an unmitigated red-assed beatdown in a COM-vs-COM simulation, but that's exactly what you had in the Green Bay-Seattle matchup. In a portent of things to come,
Charles Woodson
and
Aaron Rouse
intercepted
Matt Hasselbeck
on the Seahawks' first and second drives, respectively, and it would definitely be that kind of day for Hasselbeck... He was picked off three times and only completed 40% of his passes for 85 yards, numbers that are completely understandable when you realize what kind of pressure he was under -- he was sacked 10 times, an astronomical number for a non-
lurching
COM-vs-COM sim in Tecmo, and hurried on countless other occasions. Meanwhile,
Brett Favre
added to his legacy with an outstanding game (258 yards, 3 TD), and
Greg Jennings
added 118 receiving yards in the win. The victory gives Green Bay their first NFC Championship Game appearance since the 1997 season, and sets up a rematch of the 1995-96 NFC title game.
37-6 Packers, final score.
My Prediction:
Green Bay 27, Seattle 17.
Ad blocker interference detected!
Wikia is a free-to-use site that makes money from advertising. We have a modified experience for viewers using ad blockers

Wikia is not accessible if you've made further modifications. Remove the custom ad blocker rule(s) and the page will load as expected.