There are only four teams left in these 2008 NFL Playoffs, and while the remaining matchups aren't exactly what the network suits wanted (no Tom-vs-Peyton rematch?), there are still plenty of questions left to be answered during this weekend's conference championship games: Can the Patriots keep their perfect season alive and punch a ticket to Glendale? Can the Chargers, perhaps without their QB and the league's best RB, prove that their win at Indy wasn't a fluke? Will Brett Favre keep Green Bay's magical season going, and leave the game a winner? Or will much-maligned Giants QB Eli Manning finally emerge from his brother's shadow and lead NY to a Super Bowl? Fortunately, you don't have to wait until Sunday to get these questions answered... because I'm going to run a COM-vs-COM sim of every matchup ahead of time using Tecmo Super Bowl, giving you the 8-bit lowdown on which teams will advance to the Super Bowl and which teams will be starting their summer vacations early.
But first, here's the usual business that we have to take care of:
Okay, to the Conference Championship matchups! Last week, Tecmo called 3 of the 4 games correctly (including San Diego's upset of Indianapolis), the only slip-up coming when it picked Dallas to top the Giants. And, believe me, it's apparently learned not to pick against Eil and the G-Men again... Anyway, for each game I'll tell you what Tecmo's simulated score was, and also what I think the outcome will be -- of course, I make no guarantees as to the accuracy of either. Accompanying each game is the "Matchup Breakdown" chart, which is based on a percentile ranking of each team using Football Outsiders' DVOA metric -- remember, it is a measure of a team's real-life strengths and weaknesses, and has nothing to do with Tecmo per se. But I thought it would be cool to include nonetheless. Enjoy the sims, kids!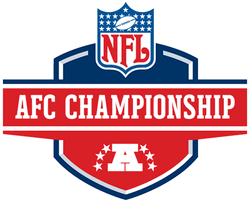 San Diego vs. New England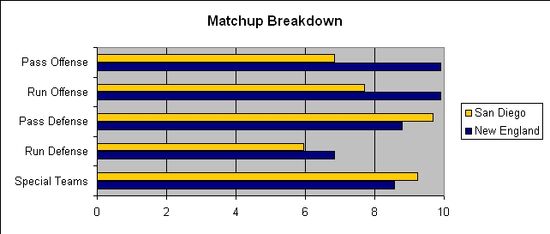 First Half
Second Half
Game Summary:
True to their dominating form (and perhaps inspired by
LaDainian Tomlinson
's
"classless" comments
a year ago), the Patriots sprinted out to a 14-0 lead on San Diego almost immediately. For his part, Tomlinson -- fighting the effects of the bruised right knee he suffered against Indy -- would answer with a spectacular 87-yard touchdown run early in the 2nd quarter, but
Tom Brady
immediately connected with
Donte' Stallworth
for his third TD pass of the day. After San Diego's final drive of the quarter only resulted in a
Nate Kaeding
field goal, New England found themselves up 21-10 at the half on a team without their QB and with their star RB at less than 100%. But much like he had done a week earlier against the heavily favored Colts, Chargers backup QB
Billy Volek
tried to will San Diego back into the game, this time capping the opening drive of the 2nd half with a TD pass to
Vincent Jackson
. San Diego was within striking distance at 21-17, but Brady and the Pats continued their pattern of answering
every
Charger touchdown with one of their own, closing out the 3rd quarter with Brady finding Stallworth for another TD, which pushed the lead to 28-17. The Bolts would not simply go away, though, and as the 4th quarter began, Volek connected with Jackson again, cutting New England's lead to 4. The Patriots would offer no hope for a San Diego comeback, however, embarking on a clock-killing drive that ended when
Laurence Maroney
scampered into the end zone to make the score 35-24 with 1:42 remaining in the game. Volek would end up tossing a meaningless TD to
Chris Chambers
as time expired (explaining the 35-31 final), but in the end, the Patriots simply did what they've done every week since the middle of August -- move on with a victory.
35-31 Patriots, final score.
My Prediction:
New England 35, San Diego 14.
NY Giants
vs.
Green Bay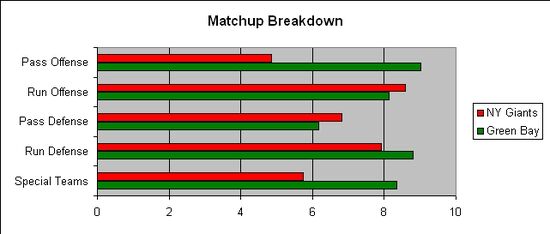 First Half
Second Half
Game Summary:
Favored by a touchdown and playing at home, the
Green Bay Packers
had every reason to expect a favorable result on this frigid Wisconsin Sunday. But what happens when your opponent believes they are a team of destiny, as
Eli Manning
and the Giants do? The Giants had gone on the road and won in each of the previous two weeks, and fully intended to make it three-for-three, single-digit temperatures or not. In a mistake-filled first half, the G-Men struck first when Manning found
Plaxico Burress
for a 72-yard score.
Brett Favre
would respond quickly, hitting
Greg Jennings
for a game-tying TD as the 1st quarter came to a close, but the cold conditions were really taking a toll on the offenses as the game wore on. Punts and interceptions abounded in the 2nd quarter, although
Lawrence Tynes
did find the time to hit a 27-yard FG and give the Giants a 10-7 lead at the half.
Mason Crosby
started the 2nd half with a chance to tie the game at 10, but he pushed his 55-yard field goal attempt wide left, and N.Y. maintained their slim 10-7 advantage. After the teams traded punts for the rest of the 3rd quarter, Manning and the Giants weighed their options to start the 4th, and then made the biggest play of the game. Starting at their own 20 after a touchback, and having run the ball reasonably well in the cold weather, everyone expected New York to lead off this drive by pounding the ball with the punishing
Brandon Jacobs
. Instead, Manning froze the defense with a great play-action fake, and lobbed an 80-yard touchdown pass to
Amani Toomer
that gave N.Y. a 10-point lead. Favre and the Packers were not finished, however, as #4 led Green Bay down the field on a 50-yard drive that ended only when
Ryan Grant
found the end zone. But the Giants continued to prove that destiny was on their side... New York pushed the ball into the red zone on the ensuing drive, and Manning uncorked an ill-conceived pass headed right for
Charles Woodson
. Woodson was in position to make the pick, but the ball bounced right off of his hands, giving the Giants a second chance to capitalize on the field position. They would not disappoint, as Jacobs found the end zone on the very next play, giving N.Y. a commanding 24-14 lead with 1:25 on the clock. Favre tried to work his magic and lead a comeback, but he had run out of miracles, getting sacked twice by
Michael Strahan
and turning the ball over on downs. With the win, the cinderella Giants make it to their first
Super Bowl
since 2000, and once again they will be facing a ferocious team with a take-no-prisoners head coach. Does this fairy tale have a happy ending? Only time will tell...
24-14 Giants, final score.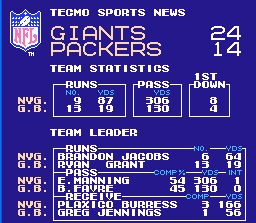 My Prediction:
Green Bay 24, NY Giants 16.
Ad blocker interference detected!
Wikia is a free-to-use site that makes money from advertising. We have a modified experience for viewers using ad blockers

Wikia is not accessible if you've made further modifications. Remove the custom ad blocker rule(s) and the page will load as expected.