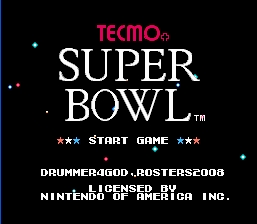 Welp, another week, another 1-3 showing by Tecmo. Like one commenter said, you could probably make some money betting against the results of these COM-vs-COM simulations at this point... Even so, it's all in good fun, so we're going to keep cranking them out anyway.
First, the usual shoutouts:
Okay, now get ready to wager heavily against these predictions...
Conference championships
Sunday, January 18, 2009
at University of Phoenix Stadium, Glendale, Arizona
First Half
Second Half
Template:Linescore Amfootball
at Heinz Field, Pittsburgh, Pennsylvania
First Half
Second Half
Template:Linescore Amfootball