Article:Tecmo-izing The '09 Playoffs: Conference Championships
Talk

0
Ad blocker interference detected!
Wikia is a free-to-use site that makes money from advertising. We have a modified experience for viewers using ad blockers

Wikia is not accessible if you've made further modifications. Remove the custom ad blocker rule(s) and the page will load as expected.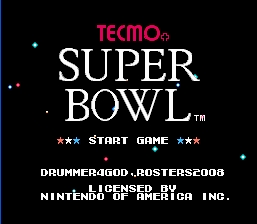 Welp, another week, another 1-3 showing by Tecmo. Like one commenter said, you could probably make some money betting against the results of these COM-vs-COM simulations at this point... Even so, it's all in good fun, so we're going to keep cranking them out anyway.
First, the usual shoutouts:
Okay, now get ready to wager heavily against these predictions...
Conference championships
Sunday, January 18, 2009
at University of Phoenix Stadium, Glendale, Arizona
First Half
Second Half
Template:Linescore Amfootball
at Heinz Field, Pittsburgh, Pennsylvania
First Half
Second Half
Template:Linescore Amfootball