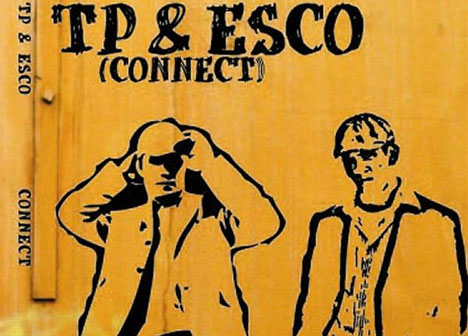 It's more diverse than you thought, admit it.
Among the notable alumni listed upon The Citadel's web site are a former CEO of the nation's largest newspaper chain, a CEO of North America's largest spun yarn manufacturer, dozens U.S. military heroes and a former Miss USA.
In time, you might eventually find on the notable alumni page the Bulldog wrestling tandem of Travis Piccard and Michael Arias.
Piccard, a 2007 graduate, and Arias, a 2008 graduate petitioning for a sixth-year of eligibility, have taken a campus hobby and made it a potential profit center in the music industry.
Known as "TP & Esco," the pair are a quick study in hip hop and find themselves nominated for four Grand Rapids Hip Hop Awards which take place on May 23.
The event, sponsored by Scion, features local artists from the Grand Rapids, Mich., region, an area Piccard calls home.
Already, with their first album, Connect, released in small pockets of the upper Midwest, Piccard likes the chances of taking home a few awards.
"We've got 85,000 listeners, the radio station would just play it," explained Piccard of the single Comma Suit Rah. "All my friends love it. We had a release party; that was awesome … 200 something people showed up.
"Just getting started and obviously with the awards coming up, we're nominated for four of them and winning in all of them so far, see what happens," he said.
But how does a hip hop group emerge out of a staunch military college like The Citadel? It's all about styles meshing. Much like a wrestler can mesh with a teammate and coach, Piccard and Arias meshed musically.
"We started pretty much my sophomore, his freshman year," explained Piccard. "He introduced the recording program to me and where we were at the time, we couldn't get off campus too much because of how (the school) is structured.
"We got (Mike) off campus the next day and I checked out the program on his computer and we started messing around with hit. Since then, we've recorded 300-something songs," said Piccard.
"Obviously, we've stepped up the quality and the technology of the recording, but that's how it all started."
Arias, the younger brother of former Oklahoma State All-American Jimmy Arias, arrived at The Citadel with an interest in hip hop and the two quickly progressed from wannabes to actual potential.
"He's improved so much since when we first started," said Arias of Piccard. "Lyrics, flow, even with the recording program. He's learning the ins and outs, the effects, changing up the way he raps and sings, just everything (has improved)."
Much of the success in Michigan has come as a result of Piccard's communication skills. The pair of three-time high school state champions have been receiving heavy radio airplay on WSNX 104.5 FM and have been blasting fans with information on the internet via social networking sites like MySpace and Facebook.
"Travis is the one who's made this all possible," said Arias. "This kid has drive like I've never seen before."
Perhaps one of the few, if only, correlations between hip hop and wrestling?
"It relates back to wrestling, as like the things the sport teaches you, but he does a really good job of pushing it. He's online pushing it; posting bulletins and he's also a real good people person. Everyone likes him and I think that's why we have a strong base in Michigan."
Piccard agrees with the progress the pair has made.
"He's my best friend and music is a big part of our lives," said Piccard. "We have similar tastes and that's really how it started.
"Every year, we got better," said Arias. "We learned a few more things and throughout the years."
But when it came time to put Connect together, Piccard and Arias had a lot of work to do.
"We had so many songs, and when I graduated last May after wrestling, I sat down that whole summer and recorded close to 30 songs with Mike just before I left," said Piccard.
The work wasn't just sifting through the over 300 lyrical collections, it was dealing with the distance. Piccard was in Michigan, Arias was finishing up in Charleston.
"We used the internet," Arias said. "We'll take a beat and I'll put a verse and sent it to Travis and see what I'm talking about. We don't have to be at the same place all the time. We make better songs when we're together because we make better ideas."
While Arias points to Piccard's determination as a wrestling-influenced trait which shines through in their music, that could be about it in regards to influences "I think we have big potential in wrestling," said Piccard despite acknowledging the lack of a glaring hip hop element within the sport.
"The wrestling community is a tight-knit group," said Arias. "When I read a MySpace bulletin … and I've seen things about joining this group to save ASU wrestling on facebook, and I see other wrestlers doing something for the sport, I want to help out."
But will wrestling fans take to TP & Esco's musical stylings?
"I think they'll be into it," said Arias. The group's most popular track, at least among the wrestling community, was the wrestling-based "Just Break' Em."
"We made (Just Break 'Em), like three years ago, and since then it's had two or three thousand downloads," said Piccard. "People still ask me for it a couple times a month."
"We're going to market for entrance themes and we're going to try to get it played at NCAA's next year," explained Piccard. "It's such a rarity about wrestling, no one ever talks about it. It's not in the mainstream. It's a good opportunity for us to do that.
"We don't come off cheesy either," he continued. "It's trending, but not as fast as basketball. The thing we have is we keep it clean, which is how we are. We're not thugs or anything, but we can keep it clean and everyone can listen to it. It's really for any audience."
Mixed-Martial Arts is also an opening for TP & Esco to get the word out – former Oklahoma high school three-time state champion Joey Gorczynski uses one of the pair's songs as his entrance theme in a small Midwestern-based MMA circuit.
Jorge Gurgel, a past cast member on the UFC's reality TV show, The Ultimate Fighter, has also used TP & Esco's sound for an entrance theme.
There is still a bigger break potentially looming … a chance to open for one of hip hop's most influential artists – Snoop Doggy Dogg.
"At the Rothberry Festival on July 3, we are one of the local 14 acts trying out and they select one of those 14 to open up. There are only two hip hop groups (of the 14) and we're one of them," explained Piccard.
Should they get chosen, which is still in the details stage as Arias points out, it will be a coup for the pair.
"That would be like a dream come true," said Arias. "Snoop is a veteran, that would be a huge step for us."
The pair has survived the knob years, wrestling practice, graduation, injuries, family sickness and death close to them, but Friday's Grand Rapids Hip Hop Awards could be the launching pad TP & Esco need to be situated on The Citadel's alumni page between the former Miss USA and a spun yarn mogul.
Vote for TP & Esco
Best Group
Album of the Year
Radio Single of The Year
Club Single Of The Year

Ad blocker interference detected!
Wikia is a free-to-use site that makes money from advertising. We have a modified experience for viewers using ad blockers

Wikia is not accessible if you've made further modifications. Remove the custom ad blocker rule(s) and the page will load as expected.