The NBA All-Star Weekend used to be one of the marquee events of the NBA season, whether it was seeing your favorite stars go head to head, or who will dazzle everyone in the Slam Dunk Contest. However, since then, the NBA All Star weekend has lost its luster, the big names refuse to participate in the dunk contest, none of the newer contests have the feel of the old ones and of course the game itself lost all competition level especially on the defensive end, its merely a Denver Nuggets playoff game. So, now let's take a look back on previous AllStar game weekends the highs, the lows, and the did you knows... this is the True Hardwood Story of the NBA All Star Weekend.
1998
The All Star Weekend started to jump the shark in 1998. It's also the first game I can vividly remember, so we'll start there. It was held in the legendary Madison Square Garden and anyone who was anyone was there. However, the first screw up came when Kobe Bryant, who had dazzled everyone winning the 1997 contest, was denied a chance to repeat because the Slam Dunk contest was cancelled in place of the NBA/WNBA All-Star 2Ball competition where one NBA player and one WNBA player formed a team to take shots from various spots in the halfcourt. This, of course, was to help promote Stern's latest creation: the WNBA. There were eight teams altogther with the Houston team of Clyde Drexler and Cynthia Cooper won the first 2Ball competition.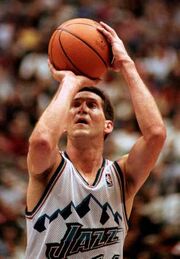 The 3 Point Contest was pretty lackluster, as Utah Jazz sharpshooter Jeff Hornacek blew away competition, including Indiana Pacers star Reggie Miller. As for the game itself, it turned out to be one of the best in recent memory. It was Kobe's All star game debut, and suddenly a weak weekend became an "Air vs. Heir" matchup. The (then) 19 year old Bryant put up a valiant effort with 18 points, but Jordan refused to be upstaged, and went off for 23, 6 rebounds and 8 assists and sat most of the 2nd half, but still was able to win his 3rd All Star MVP award.
1999
As you know, this was the lockout season, so the All Star Weekend was cancelled for this year.
2000
The city was Oakland, Californi-a for the 2000 All Star weekend, and due to the large outcry of fan dislike, the Slam Dunk competition was reinstated. It came back with a bang as well featuring Vince Carter, Steve Francis, and Tracy McGrady. It wasn't even a competition, as Vince Carter was 2 points shy from a perfect score and had everyone hopping out of their seats with a 360 windmill, which is one of the most memorable dunks since MJ's free throw line slam.
The 3 point contest was, once again, taken by Hornacek as well as the 2Ball competition, with Dirk Nowitzki finishing in a close second. Now for the game itself, it was hyped around Oakland natives Jason Kidd and Gary Payton, but it quickly became Allen Iverson versus the West All Stars. The West led for the whole game, but AI led a comeback attempt and had the East within 2. The West would go on another run though, and never looked back. AI finished with 26 points as well as 9 assists, but Shaq, KG, and Tim Duncan combined for 70 points and 33 rebounds and completely overwhelmed the smaller Eastern conference. Shaq and Tim Duncan would win co-MVPs, the 3rd co-choices ever and the first since Karl Malone and John Stockton in 1993.
2001
The 2001 gala was held in Washington DC for the 50th anniversary game (even though it would've made sense to bring it to Boston, seeing as it originated here). Many were disappointed when Vince Carter turned miva-esque and didn't want to defend his title, T-Mac and Francis would follow suit, so then the contest was filled with a bunch of C-listers and Baron Davis. It was embarrassing, as there were misses left and right, rule violations and the highlight/lowlight was when Baron Davis tried to dunk with his signature headband over his eyes and didn't even come close to the rim. It was hilarious to watch, but still it was clear something wasn't right here. Desmond Mason emerged as the best of the worst taking the crown in one of the worse competitions EVER.
With Hornacek now retired, it was time to crown a new 3 point king. Peja Stojakovic looked to have the competition well in hand, but that was until Ray Allen showed up. Allen would hit his last 10 shots in the final round to snatch the title from right under Peja.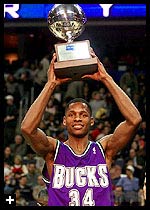 As for the game, it was uncharacteristically competitive. Like last season, the West was too big for the East, and quickly went up by 21, but Allen Iverson (once again) held down the fort and went off for 15 in the 4th quarter, Stephon Marbury would hit some clutch three pointers as well. With the game on the line, Kobe passed on the game winner and gave it to Tim Duncan who missed and the East pulled off the upset. The celebration was so intense you would forget that this game was really supposed to be fun. Iverson won the All Star MVP.
2002
After last season's horrendus showing, the Slam Dunk contest was limited to 4 participants instead of 6, and fans were allowed to vote in the hope to revive interest in the event. Steve Francis made his return to the contest, but was ousted in the first round along with the defending champion, Desmond Mason. That led to a matchup between two relatively unknowns: Golden State's Jason Richardson and Sacramento's Gerald Wallace. Richardson won the competition easily to go along with his Rookie-Sophomore game MVP.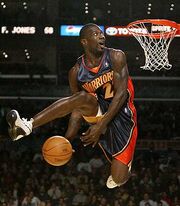 In the three point contest, Peja would not be denied and won the 3 point contest over Ray Allen this time around. The game itself was meh. Considering the game was held in Philadelphia, many expected Allen Iverson to put on a show for his home crowd and notably wore the #6 in honor of Dr. J. However, he would have an abyssmal 5 point game, as Kobe Bryant went off for 30 points getting booed all night long (wait isn't Kobe FROM Philadelphia?). Regardless Kobe won MVP honors in a 135-120 Western conference victory. Kobe would also be the first player since Jordan to drop over 30 in an All Star game.
2003
We go to the A-Town for the 2003 event, which already had a glimmer of hope because 1) they finally came up with matching unis for the all stars and 2) Michael Jordan would be playing in yet another All Star game. The dunk contest was another so-so one as Desmond Mason and Jason Richardson battled for another slam dunk competition, Richardson would retain his title easily over Mason. Amare Stoudemire and Richard Jefferson provided some star power but both were 1 and doned after lackluster showings.
The three point contest was another deja vu, as Peja would win his second 3 point shootout, and Antoine Walker went and made a damn fool out of himself. Now for the game itself, it was one of the ages. It went to overtime and Michael Jordan gave Shawn Marion a facial with 4.8 seconds left in the first overtime and the crowd exploded on what was thought to be yet another Michael Jordan game winner. However, the zebras would call a foul that sent Kobe to the line with a chance to tie the game with free throws. The game went to a second overtime where the West pulled away. Kevin Garnett would win the All Star Game MVP.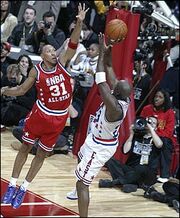 2004
Los Angeles was the place to be for the 2004 All Star weekend. However there were no stars for the first 2 events. After the 2003 NBA Draft, brought the likes of LeBron James, Dwyane Wade and Carmelo Anthony they didn't participate in anything beyond the Rookie-Sophomore game which was dominated by Amare and the Sophomores. It introduced the Shooting Stars competition, which was basically the 2ball competition except they added a legend to the mix. The LA team of Derek Fisher, Lisa Leslie and Magic Johnson won.
Those hoping to see King James throw down in the Slam Dunk contest... not happening. Instead, it was Jason Richardson going for the 3 peat over a bunch of whatshisnames. He didn't get the 3 peat, as he lost to Indiana's Fred Jones in a very plain contest. Peja was going for his own 3 peat in the 3 point contest, but was denied by Voshon Lenard. As for the game itself, it was like most games in the Staple Center; Shaq, Kobe, and the rest. The East made a game out of it, but Tim Duncan finished them off, as the West won 136-132....Shaq won the MVP.
2005
The following year, it was Denver. Carmelo Anthony dazzled the home crowd en route to an MVP in the Rookie-Sophomore game. It also introduced the NBA All-Star Celebrity game: basically a knockoff of the Rock N Jock games that used to be on MTV, nothing special. The three point contest was another meh with Quentin Richardson pulling off the upset over Ray Allen and Kyle Korver (oh so thats why he never stopped shooting 3's now).
The dunk contest was one of the better ones in recent memory, it had everything alley oops off the head, "Birdman" looking like a damn fool, and homage to past winners. Josh Smith wins after a tribute dunk to Dominique Wilkins coincidentally in the audience. Why doesn't everyone do tributes? It's like a guarenteed winner.
Now the game was hyped as Shaq versus Kobe, and with Shaq back in the East, they looked to finally beat the Western conference. The game featured seven players 25 or younger but did not produce a 20-point scorer for the first time since 1981, Iverson's all-around performance was what stood out. He scored 15 points on 4-of-13 shooting, but handed out nine assists and collected five steals, to win his second All Star MVP barely beating out Shaq.
2006
It was down to Houston, Texas for All Star Weekend 2006. The dunk contest was a close contest </objectivity> The contest was straight bulls***, The Knicks 5'9" guard Nate Robinson and 76ers guard Andre Iguodala battled in what was the first ever tie in the slam dunk contest. Robinson secured victory by dunking over past winner 5'6" Spud Webb; despite missing numerous dunks, Robinson took the title.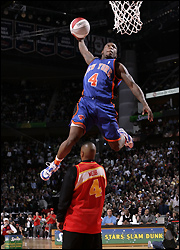 In the three point contest, there was a lot of star power, but not a lot of treys made. Dirk Nowitzki would take the 3 point contest over Gilbert Arenas, Ray Allen, and defending champion Quentin Richardson. Now the game was like the All Star games we know and don't watch: the West was dominating as McGrady put on a show for his home crowd, this time it wasn't Iverson who the East: it was Lebron James, who would drop 29 points as well as contest McGrady's potential game winner to become the youngest All Star Game MVP at only 21 years old.
2007
The next year was in Las Vegas, the first year that it was held in a non-NBA city. And while a lot of "off the court" back stories overshadowed the event, it wasn't that bad. The Slam Dunk Contest finally featured some big names--as judges. Past winners Michael Jordan, Kobe Bryant and Vince Carter were amongst those judging this year. There was also a "Nate Robinson" rule after plenty of people were upset that Robinson got so many chances. This was a more controversial contest, first starting with a clever Dwight Howard dunk where he placed a sticker atop the backboard, but no one really caught on to it until after he was given a low score. This led to Gerald Green versus Nate Robinson, and Green won easily with a off the side of the backboard dunk and dunking over Robinson himself.
The three point contest had Jason Kapono set a contest record with 24 points in the final round to beat out Gilbert Arenas. The "marquee" event was really Charles Barkley racing a 67 year old referee for $5,000 which stemmed from a comment Barkley made about him during a telecast. Barkley won easily and started to run backwards as Bevetta tried to dive for an upset and made us all go to hell for laughing at the old man.
For the game, the Western Conference set All-Star records with 69 field goals and 52 assists on its way to an emphatic 153-132 win over the Eastern Conference All-Stars at the Thomas & Mack Center in Las Vegas. Amare Stoudemire racked up 29 points and nine boards and Kobe posted 31 points, grabbed 5 rebounds, and dished out 6 assists and steals. For Kobe's performance, he was selected as the MVP of the All-Star game receiving a more favorable reception fom the crowd than 2002.
2008
Alas, here we are at 2008. The NBA goes to New Orleans, LA (three years after Hurricane Katrina). The Dunk contest was given full control by the fans, even though judges were still present to vote. The competition was pretty average, it included Jamario Moon, a former Harlem Globetrotter, taping down a spot on the court but dunking a foot closer than where he actually marked. Gerald Green would do the same dunk three times, one time blowing out a candle, one time without shoes on, and Rudy Gay, who allowed fans to give him ideas via YouTube vids, was quickly reminded there's a reason he's in the NBA and they are just on YouTube and Dwight Howard brought some much needed excitement to the contest dressing as Superman and literally throwing the ball down into the rim and won easily taking 78% of the votes.
The three point contest was supposed to be a Kobe Bryant versus Gilbert Arenas shootout but neither was able to participate due to injuries. Instead it became a battle of three former winners, Dirk Nowitzki, Peja Stojakovic and Jason Kapono. In the end Kapono repeated as champion for the first time since Peja himself did it in 2002 and 2003.
Now the game itself, The East led early but blew a 16-point lead in the fourth quarter; Ray Allen scored 28 points in the game, 14 of those points coming in the deciding quarter and James finished with a near triple double 27 points, nine assist and eight rebounds. While many presumed a co-MVP for Allen and James the fan vote gave the more popular James MVP award, his 2nd in 3 years.
So why does it suck so much...
The NBA doesn't know what to do with the All-Star game. Why not give incentives so a star player may want to participate in the Slam Dunk competition? I mean seriously, wtf is 25K to someone like LeBron James. Maybe they should do like baseball and give the winning conference home court advantage. Give an incentive for players to play harder and for fans to want to root for their conference. As for the dunk contest, after 30 plus years, it may be getting stale. Everything humanely possible has been done, or maybe move it to the end of the season, in the midst of a playoff hunt a lot of players are afraid to risk injury.
Something has to be done, I remember when I couldn't wait for All Star Weekend, I remember when the "Read to Achieve" celebration used to be simulcast on 3 different networks back when it was called something else that I can't quite remember. Now I had to actually look up 2006 and 2007 because I just didn't care to watch. Soon enough the players are going to stop caring altogether, they are going to say thanks but no thanks to the All Star game and it's going to become the new Pro Bowl. The reason the NBA is losing interests its not because of players catching cases its piss-poor marketing for its events, such as the All Star Weekend.
Ad blocker interference detected!
Wikia is a free-to-use site that makes money from advertising. We have a modified experience for viewers using ad blockers

Wikia is not accessible if you've made further modifications. Remove the custom ad blocker rule(s) and the page will load as expected.