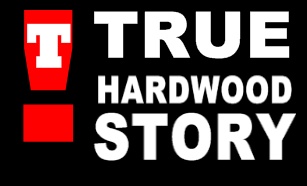 Before LeBron, before Kobe, and before A.I. there was Penny. Michael Jordan himself said that if he was to pass the torch down to anyone it would be Penny Hardaway. But instead Penny never was there at the relay, the torch of greatness was left sitting there as Kobe, Lebron, AI supporters all fight saying who should hold the coveted "greatest since Jordan" title. Needless to say had it not been for the injuries, Stephon Marbury and of course the inevitable thing called aging, Penny could be now regarded as one of the greatest. Instead, he is a iffy choice for Springfield and is forgotten amongst alot of people even though he was a trendsetter for many. But this is the Penny Hardaway story....
The Early Years....
The nickname "Penny" was coined (get it coined) by his grandmother, who played a huge role in his upbringing. She most notably banned him from playing football which led him to try basketball to begin with. As time went on he became a local celebrity in Memphis and even before the fame he did whatever he could to help out the community. In high school he averaged 36, 10 and 6 and easily won High School Player of the Year. Needless to say that sent scouts flocking but homegrown Penny decided to stay close to home and chose Memphis State, (later changed to University of Memphis).
However, he was academically ineligible to play his freshman year, something that is a rarity nowadays. He was also robbed and shot and his blossoming career almost ended before it began. Penny bounced back not only from his injury but also academically making the Deans List with a 3.4 GPA. So Penny was allowed to return to the sport he loved and in his first season led Memphis State to the Elite Eight and his junior season was a Naismith runner up with 23, 8 and 6 on the season. With rumors that he could very well go number 1, Penny bailed for the draft. His #25 was later retired.
Do you Believe In Magic
The Orlando Magic had the number one pick and many presumed they would take Penny, but they took Chris Webber, Penny would fall to number 3 and be drafted by the Golden State Warriors and then the Warriors traded Penny along with 3 future first rounders for Webber, so Orlando got their guy plus interest. Penny & Shaq would average 50 points combined as they reshaped the image of the Orlando Magic. They would only get better the next season and led the Magic to the NBA Finals only to be swept by Hakeem Olajuwon and the Houston Rockets
Penny the Superstar
The following year, Shaq would miss the first 22 games, but Penny would lead the Magic to 17-5 record in his absence and also launch his celebrity to the next level as well. Shaq was known for doing commercials, rap albums, movies and just about anything to keep himself in the limelight but Penny was the sidekick, and thats how Shaq liked it. But when Shaq went down Penny showed that he could lead the team by his lonesome and grabbed everyone's attention while doing it. Nike started the "Air Penny" series, which also introduced "Lil' Penny" a wise cracking marionette voiced by then up and coming comedian Chris Rock. The pair quickly launched each others careers
Also Penny is credited with starting "posterizing", a homage to the other guy in the poster usually with their hands covering their head or their face in someone's crotch. Suddenly guys like Shawn Bradley and Gheorge Muresan were no longer feared in the paint, they became targets. Players like John Starks started getting credit for past posterizes, such as one on Michael Jordan (clearly Jordan wasn't being posterized he just happened to be in the area but don't tell a Knick fan that)
Shaq didn't seem all to comfortable with sharing the spotlight with Penny, and later admitted that if he was older he probably would've stayed but Shaq decided to leave to Los Angeles and bask in even more glory leaving Penny to take command by himself.
The Decline of Penny
In his first Shaq-less season, Penny despite injuries fared pretty well but his spats with then coach Brian Hill, started to give him a "Miva" (male diva) image. In the playoffs, he quickly fell 0-2 to the Miami Heat but battled back with consecutive 40 point games to assure a game 5(he was the first to do so), which he ultimately lost. The next year he had surgery on his knee and missed most of the season but was selected as a starter in the All Star game(because you know the voting system sucks) Penny played in the game and got criticism for playing hurt in what is basically a recreation. He missed the rest of the season.
Thanks to a lockout, Penny was given extra time to heal and returned to play all 50 games in the shortened season but was ousted in the first round by the Iverson's Sixers. In the offseason, Jason Kidd urged the Suns to bring Penny to Phoenix and they obliged sending Danny Manning and draft picks for Hardaway. However, injuries to both only allowed Kidd and Hardaway to play 45 games together where they won 33 of them. Kidd would miss the first round that season leaving Penny to lead the Suns into the second round and right into Shaq and the Lakers. The Lakers won easily in five and then it came...the MICROFRACTURE SURGERY. Penny would only play 4 games the next season and it looked like his career was over then
The Part Where Stephon Gives his career the Final Blow
Penny once again bounced back but returned to the Suns with a new point guard, Stephon Marbury. Marbury was alot like Hardaway they were point guards, but they shot more than passed so obviously there would be trouble there. Marbury also expressed problems sharing the backcourt with Hardaway. The Suns decided to take Marbury's side and traded for Joe Johnson sending Penny to the bench for the first time in his career. This move didnt last long as Johnson was too inconsistant and the Suns needed some veteran leadership in the starting 5.
The Marbury-Hardaway spats went on non stop but instead of separating the two, they were both shipped to the Knicks. The Knicks suddenly had more guards than a Dick's Sporting Goods so playing time played a huge role in Penny's drastic numbers drop. He averaged under 10 points for the first time, and battled numerous injuries over his 3 year tenure in New York.
The Part Where he's bounced around
Penny was then shipped back to Orlando in the Steve Francis deal but was quickly cut by the team he helped lead into relevance. He signed back with the Knicks was cut again, had a couple tryouts never made a roster and it was presumed that his career was done. He signed with the Miami Heat, reuniting him with Shaquille O'Neal but it was obvious that this wouldn't be the same dynamic duo in Florida. Penny was a shell of his former self, he didn't even have his beloved #1 anymore and he had a respectable 16 point game on 6/6 shooting but afterwards he was just a roster slot. He was cut by the Heat for 2004 lottery pick Luke Jackson, ending what seems to be his final comeback attempt. Luke Jackson was cut weeks later.
The Aftermath
Looking back you can't help but wonder what if? What if Shaq was willing to stay with the Magic, would Kobe had won a title without him. What if the Suns had stuck with a then 25 year old Steve Nash and sent Marbury elsewhere. What if Penny stayed on the team long enough to be sent back to Phoenix in the Shaq trade. You could go on and on but at the end of the day, what happened happened a promising career destroyed....
It would be a huge stretch to say he's a hall of famer, for his final 2 years with the Knicks as well his comeback stint with the Heat dropped his career averages to a mere 15, 5 and 5. Despite being 6'7 he showed that he could run the point as well as any small guard. In his prime he was one of the most dominant PGs since Magic and he was a role model to many of today's stars he is still considered one of the greatest college players of all time.
Ad blocker interference detected!
Wikia is a free-to-use site that makes money from advertising. We have a modified experience for viewers using ad blockers

Wikia is not accessible if you've made further modifications. Remove the custom ad blocker rule(s) and the page will load as expected.