7 Time All-Star, 2 Time Scoring Champion, NBA Most Improved Player, 50 games he scored at least 40 points, one of the games most lethal and dynamic scorers despite having health concerns his whole career. But when people think of the lazy eyed assassin, they don't see accolades. Instead, they see 0 playoff series wins in 7 tries, which obviously means 0 championships, and of course, a legacy set just a couple of notches too low due to it.
But why can't one of the league's biggest stars not get it done in the second season? Is it the conference? It can't be, since he has played in both. Was it lack of a supporting cast? Hellooooo... LeBron James has been doing it. Was it lack of college experience? Maybe some March Madness might have helped his killer instinct. Once again, LeBron begs to differ. Or is it mere bad luck? Let's dig in.
Lay-Ups and Letdowns....this is the story of Tracy McGrady.
2000
In McGrady's first playoff experience, he played second fiddle to his cousin and former relevant superstar Vince Carter. His first opponent, the defending Eastern Conference champs, the New York Knicks. The Knicks made light work of the boys from Toronto sweeping them 3-0 and starting what would be a horrible trend to a rising star.
2001
Following the quick playoff exit, McGrady wanted to get away from Carter's shadow and decided to go to Florida to be closer to his family. McGrady was expected to form a dynamic duo alongside Grant Hill, but when Hill went down with an injury, it was all on T-Mac. McGrady stepped up winning the MIP and was handed another quick and painless loss to Ray Allen and the Milwaukee Bucks. Ironically, the Raptors would advance that same year.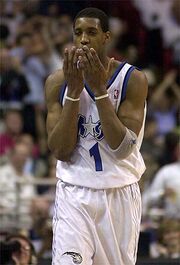 2002
Once again, Hill sat out, and McGrady would lead the team to another postseason. Only this time, he ran into Baron Davis and the then Charlotte Hornets, in what was personally one of my favorite first round playoff series ever. The Hornets outhustled T-Mac down the stretch and inevitably won the series 3-1.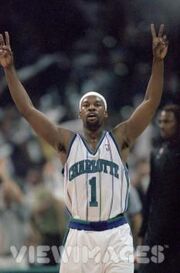 2003
It was about 2003 when word started spreading about T-Mac's playoff failure. He was now a superstar, and it was time to get to the second round. However, most didn't expect it to come this year especially as a number 8 seed going up against the number 1 Detroit Pistons. Surprisingly, the Magic went up 3-1 and McGrady infamously stated "how wonderful it was to finally be in the second round (of the playoffs)". Apparently, someone forgot to tell Tracy that the first round was expanded to 7 games. Orlando would then lose Games 5, 6, and 7 by an average of more than 20 points, and Detroit advanced to the second round. It was as if the rule was made to keep him out the round. What if the Hornets series went 7? Who knows???
2005
T-Mac would have an extra year to think about why the series expanded to 7 games, as the Magic missed the playoffs in 2004. In 2005, T-Mac went west in a blockbuster trade sending him to Houston for Steve Francis and a bunch of other guys to make the deal balanced. T-Mac was paired with Yao Ming and people quickly drew comparisons to Kobe & Shaq and the Laker dynasty of 1999-2001. They would then meet the Dallas Mavericks in a Texas Showdown which went to 7 games. In Game 7, the Rockets barely showed up and they were throttled by 40 and T-Mac was given another long offseason.
2007
After an injury riddled 2006 campaign, the Rockets found themselves back in the playoffs against the new-look Utah Jazz. The Rockets won the first two games and T-Mac went and opened his mouth again telling Steven A. Smith if the Rockets didn't win, it was "on him". The Rockets would suffer a crushing Game 7 loss by 4 points and even though McGrady accepted the blame, coach Jeff Van Gundy was the lightning rod and was fired shortly after.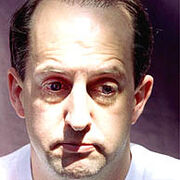 2008
T-Mac was injured for the early parts of the season and some expected another 2006-esque year, but McGrady bounced back. Coincidentally, Yao went down later on in the season, with that being the reason why many presumed the Rockets would miss the playoffs. However, McGrady led his Rockets to 22 consecutive victories and saw themselves jump from #7 to #1 in the conference. Never mind first round, the Rockets were being compared to championship teams, and T-Mac was in the hunt for his first MVP. Eventually they cooled off and slipped to number 5 in the conference, but still won home court for the first round once again against the Utah Jazz. T-Mac couldn't do it with Yao and couldn't do it without him either. The Rockets made the series competitive but was bounced in 6....
So what now? Are more changes to come in Houston, or does McGrady decide to go to a team like the Detroit Pistons or San Antonio Spurs, who are sure fire playoff sucesses. Maybe he just never makes it to Round 2 he remains an NBA punchline. Now for some fact facts:
Pau Gasol won his first round playoff series, and Kobe won his first sans-Shaq playoff series

Robert Horry has never lost in the first round he's 15-0. He's like the bizarro T-Mac.

Carmelo Anthony has lost all 5 consecutive first round series since he's come into the league, including 2 sweeps

Shareef Abdur-Rahim, a former all star, made the playoffs one time in his 12 year career and never made it to the second round

If the Boston Celtics were to get their head out their ass, Doc Rivers will finally make the second round as a coach.
Ad blocker interference detected!
Wikia is a free-to-use site that makes money from advertising. We have a modified experience for viewers using ad blockers

Wikia is not accessible if you've made further modifications. Remove the custom ad blocker rule(s) and the page will load as expected.