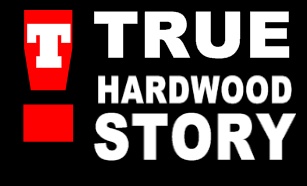 It is hailed as one of the greatest drafts EVER. It introduced young stars like LeBron James and Dwyane Wade. So 5 years later, how great was that draft which teams went from pretenders to contenders, which teams still find themselves in Secaucus. Let's take a look back at some of the notable choices, where are they now, how they affected the team and who really blew it. This is the T! True Hardwood Story: The 2003 Draft.....5 years later
The Top 5
1. LeBron James, St. Vincent St Mary HS, When the Cleveland Cavaliers won the NBA draft lottery in April, they wasted no time in raising a #23 jersey. They let it be known they wanted their local superstar, after winning an abysmal 17 games they had a complete overhaul sending players like Darius Miles and Ricky Davis packing as well as their token black, orange and blue uniforms and built around King James.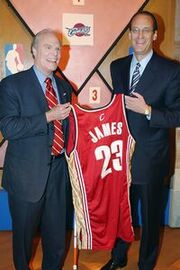 Aftermath: The Cavs would win 40 games that next season merely missing the final playoff spot. They would make the playoffs the following 4 seasons including winninf an Eastern Conference Championship in 2007. However, it is widely speculated that the King may opt out in 2010 and teams will give their left leg to bring the King to their court. Will he stay???
2. Darko Millicic, Serbia, The Detroit Pistons despite being a perennial playoff team found themselves with the 2nd pick. With Lebron locked up, it was a toss up on who the Pistons would grab having no true needs. The Pistons took a risk and grabbed Milicic as Toronto and Denver let out sighs of relief that one of their top players would still be there.
Aftermath: The Pistons would win the championship that next season, however Milicic would only average 1.2 minutes a game. Milicic would never find his niche in Motown and was later traded to Orlando where he improved greatly but 5 years later, it's hard to validate him as the 2nd pick.
3. Carmelo Anthony, Syracuse, Like Cleveland, Denver went through a complete overhaul and wanted to build around their new star but after a tough decision they passed on Chris Bosh and went for freshman standout Carmelo Anthony. Anthony quickly made a name for himself after leading Syracuse to a National Title in his only season there and was regarded as one of the greatest college players EVER. Will his game transfer into the pros
Aftermath: Despite having better averages, Anthony lost the Rookie of the Year to James but did lead the Nuggets to the playoffs in each of his 5 seasons, despite not making it out the first round. In 2006, he was paired with Allen Iverson and despite being the highest scoring tandem in the NBA they haven't had the success many fans had hoped.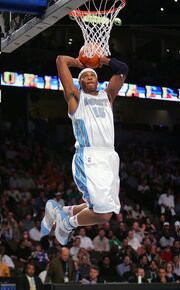 4.Chris Bosh, Georgia Tech, The Toronto Raptors found their man waiting for them on a silver platter at #4. They were tempted to grab Chris Kaman at this spot but in the end stuck with Bosh to mixed results.
Aftermath: The Raptors would find themselves with top 10 picks the next 4 seasons, including a #1 but in the past 2 seasons Bosh and the Raptors improved. They would shock everyone winning the Atlantic Division in 2007 and making the playoffs in 2008 but failed to reach the second round both times. Bosh is now regarded as one of the top big men in the league today.
5. Dwyane Wade, Marquette, This pick was actually considered a reach back in 2003. The former Golden Eagle had a tremendous upside and they felt he would be the next great point guard for the Heat
Aftermath: Wade would lead the Heat to the playoffs in his first season but the following year was paired with Shaquille O'Neal and would win a championship in 2006 winning the Finals MVP as well. He has since become one of the NBA's biggest stars even overshadowing Carmelo Anthony. But since has struggled with injuries as the Heat finished last in the standings this season.
Other Notable Picks
Ad blocker interference detected!
Wikia is a free-to-use site that makes money from advertising. We have a modified experience for viewers using ad blockers

Wikia is not accessible if you've made further modifications. Remove the custom ad blocker rule(s) and the page will load as expected.