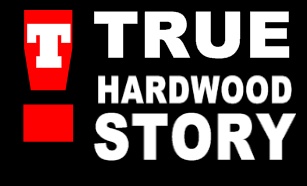 This is a story of rags to riches and back to rags. One of the most athletic and versatile players to ever play but his career is now tainted by ugly incidents, and tooting his own horn at the wrong time. This is the true hardwood story of Latrell Sprewell.
Early Years
Latrell Sprewell didn't play organized ball until his senior year of high school. James Gordon, the basketball coach at Washington High, saw Sprewell in the hall and because of his height (6'5) and due to lack of divesity within the school (seriously, how many black people are in Milwaukee) and invited him to try out for the team. Despite having no experience playing in a system, Sprewell made the team and ended up averaging 28 points per game. However he wasn't recruited by any school and it looked like his basketball career was over before it begun. But Spree grew a fondness for the game and enrolled at Three Rivers Junior College and spent two years developing his game at the junior college level.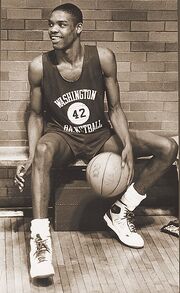 Sprewell transferred to Alabama where he developed a reputation for being a hard worker and a defensive stopper. Alongside Robert Horry, Sprewell averaged 17.8 points, 5.2 rebounds, and 1.8 steals in his senior year and was named to the All-Southeastern Conference team.In his final year in college Sprewell put together a solid season, but he was still not well known.
The Golden State Warriors select...WHO???(1992-1994)
The Warriors made Sprewell the 24th pick of the 1992 NBA draft. Sprewell became a starter at shooting guard almost instantly. Though almost no one knew who he was before the season, he quickly changed that situation during his rookie year when he was named to the second team of the 1992-93 NBA All-Rookie Team. Sprewell became the first rookie in Warriors history to achieve 1,000 points, 250 rebounds, 250 assists, 100 steals, and 50 blocks in a season. He also led his team in minutes played with 2,741.
With several of his teammates injured throughout the season, Sprewell carried the team. At the All-Star break he led the Warriors in scoring with 22 points a game and led the NBA with an unheard of 44.8 minutes played per game. Though he was not on the All-Star ballot, Western Conference coaches thought so highly of the second-year player that he was named as a reserve to the All-Star game. He finished the season averaging 21 points, 4.9 rebounds, 4.7 assists, and 2.2 steals per game. At the age of 23 Sprewell was selected to the All-NBA First Team. He also ended up playing 3,533 total minutes, the most by an NBA player in 16 years.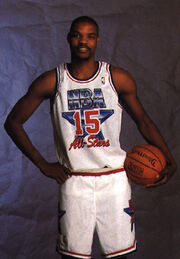 The Latrell Sprewell Show(1994-1997)
The 1994-95 season marked a turning point in Sprewell's career. The Warriors traded two its two star players, Billy Owens and Chris Webber, who were also very close friends of Sprewell and decided to build the franchise around him. His third season in the NBA also marked the first time Sprewell entered the public eye for an incident unrelated to basketball. Sprewell's daughter, Page, was bitten several times in the face and ears by one of his pitbulls. Sprewell later told a reporter from the San Francisco Chronicle, "That sh** happens." This didn't go too well over with the public of course but Sprewell quickly let his game distract from the controversy and returned to start in the All-Star game and led the Warriors in minutes-played and in scoring with 20.6 points per game. But there was also well documented issues within the team as Sprewell was ticked off with management for trading Webber and Owens, he was suspended twice for conduct detrimental to the team.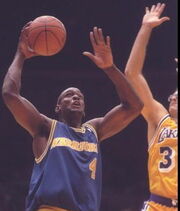 Like Webber and Owens, Spree was also not too fond of head coach Don Nelson. He was later fired in the 1995-1996 season as the Warriors once again catered to Spree's every demand. In return, Sprewell again led his team in scoring, steals, and minutes played, but the Warriors failed to make the playoffs and the club's star guard missed the All-Star game. Regardless, the Warriors were committed to Spree leading the team to greatness and signed him to a huge new contract, a four-year deal worth $32 million.
Sprewell's 1996-97 season seemed to justify the team's decision as Sprewell finished fifth in the league in scoring with a 24.2 points per game average and scored in double figures in 78 of his 80 games. Aside from his scoring, he also led the team in minutes averaging 41.9 minutes per game, three-pointers, and tied for the team lead in steals. Sprewell made it back to the All-Star game as a coach's selection and led the Western Conference team in scoring with 19 points.
Does Latrell Sprewell Have to Choke A Coach
Despite Spree, the Warriors once again failed to make the playoffs and a new coach, P.J. Carlisimo was brought in. PJ Carlisimo had a reputation as being very tough on his players, and plenty of sports analysts predicted that he and Spree would clash and was against the hiring. Regardless he was brought in and he and Sprewell immediately clashed. In November Sprewell was benched during a game for laughing during a timeout when the Warriors were losing badly. According to various sources, including Sports Illustrated 's Phil Taylor, he called his coach "a f***ing joke." He was thrown out of practice two days later and then was fined for failing to arrive in time before a game at Utah.
Spree quickly grew tired and demanded either Carlisimo goes or he does. Because both of them were under new contracts they ignored his requsts and hoped that the issue would resolve itself. It did but obviously not in the way that they intended...
On December 1, the team was practicing and Sprewell was doing a drill with teammate Mugsy Bogues. Carlisimo then told Sprewell to "put some mustard on those passes," Sprewell told Carlisimo "I don't want to hear it today." Carlisimo came up to Sprewell who told the coach, "Don't come up on me." Carlisimo continued to approach the Spree who would snapped and yell "I'll kill you" and began to choke the coach. Teammates quickly broke it up as Spree headed to the showers, got dressed came out and charged at PJ again punching him in the mouth.
The story made headlines everywhere, The fallout from the incident was immediate and intense with fans loudly calling for serious consequences for Sprewell. The Warriors suspended Sprewell for ten days initially, and then after two more days terminated his contract, which had $25 million remaining. Due to the PR hit, Sprewell also lost his shoe contract with Converse. NBA Commissioner David Stern suspended him for one year whereby he could not be paid by any NBA team. It was the first time in NBA history that a player's contract was cancelled for insubordination.
And it gets worse....
Sprewell though he claimed he only grabbed his former coach and did not hit him, he publicly apologized to his fans and his family, but not to Carlisimo. Two days after Sprewell was fired, the players association filed a claim against the NBA and the Warriors for the excessive punishment. Twenty one witnesses testified before Feerick who concluded that the Warriors could not terminate Sprewell's contract and reduced the NBA suspension from one full year to the rest of the 1997-98 season.
Unfortunately for Sprewell, three days before the decision he was involved in a car accident and was charged with reckless driving. Prosecutors were promising jail time for Sprewell and Court TV, hoping to capitalize on the player's popularity, promised gavel to gavel coverage of the trial. Despite the hype surrounding the case, Sprewell settled out of court and was sentenced to three months home detention, placed on two years of probation, fined $1,000, and ordered not to own a gun.
Two months after his reinstatement Sprewell filed a lawsuit against the NBA and the Warriors accusing the league of civil rights and anti-trust violations and asking for $30 million in damages. The lawsuit was dismissed on July 30 by a federal judge, but Sprewell continued to pursue the matter. He refiled his lawsuit claiming that NBA officials shredded evidence that would be helpful to his case. Sprewell then sued his ex-agent Arn Telen, who had defended his client throughout the whole mess, for not protecting the star guard from suspension when negotiating his contract. However this controversy was quickly forgotten about as the NBA lockout took place in the 1998-1999 season.
He's Back...(1999-2003)
In January 1999, Spree was finally traded to the New York Knicks for John Starks, Terry Cummings and Chris Mills. The Knicks of course was scrutinized for taking a chance on such a controversial player. Spree would once again let his game do the talking as he rallied past the Miami Heat, Atlanta Hawks and Indiana Pacers to lead the Knicks to the NBA finals as an 8th seed(of course this accomplishment is marred by the short season). Spree would average 26 points in the NBA Finals including a 35 point, 10 rebound performance in game 5, but it wasnt enough as Tim Duncan and the San Antonio Spurs would win the championship in 5 games.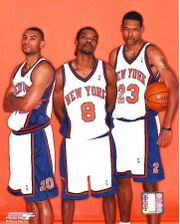 Following the finals, Spree had finally became a superstar, his number 8 jersey flew off the shelves and it appeared the choking incident was well behind them. He would lead the Knicks to the Eastern Conference finals in the 1999-2000 season losing to the team they beat the previous season, the Indiana Pacers. The following year, his numbers would slightly dip but he would make his 3rd All star game in Madison Square Garden, where he would help the East pull off the huge upset in front of the home crowd, he would finish 4th in All Star MVP voting. They would also make the playoffs but was bounced in the first round by Vince Carter's Toronto Raptors.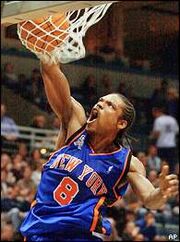 In the 2001-2002 season, the Knicks would suffer as coach Jeff Van Gundy unexpectedly quit and the team seemed to suffer without him, as they would miss the playoffs the next two seasons. Spree would average a respectable 17 pts a game those seasons, including a career high 49 point game against the Boston Celtics. He would also set a then record by going 9-9 from behind the arc in a 2003 game against the Clippers he would scored a season high 38 that game.
Off to Minneapolis (2003-2005)
The Knicks would trade Spree as part of a blockbuster trade that sent Keith Van Horn to the Knicks from Philadelphia. As for the Wolves, tired of being one and doned in the playoffs sought out to get Kevin Garnett some help. The acquired Spree, Sam Cassell and former No. 1 pick Michael Olawokandi. He would average 19 points, second behind KG as the Wolves would soar to the top of the conference and not only made it past the first round they would make the conference finals, ultimately losing to the Lakers led by their 4 headed monster of Shaq, Kobe, Payton and Malone.
The Wolves trying to cut costs offered Sprewell a 3 year/$21 million contract, substantially less than the 12 million he was making. Spree would make headlines with his public outburst about the contract now infamously declaring, "I have a family to feed." He declined the extension. Once again he found himself as that guy everyone hated and this time he didn't silence critics on the court by having his worst season ever only averaging 12 points a game.
And Since (2005-Present)
One month into the 2005-2006 season and without a contract, Sprewell's agent, Bob Gist, said his client would rather retire than play for the NBA minimum salary, telling Sports Illustrated, "Latrell doesn't need the money that badly. To go from being offered $7 million to taking $1 million, that would be a slap in the face." Several days later, Gist said that Sprewell planned to wait until "teams get desperate" around the trade deadlinein February, and then sign with a contending team (an eventuality that never materialized).
Spree was actually offered contracts by the Spurs, Lakers, and the Mavericks all of which never got done due to reluctance on Spree's part to swallow his pride and take a deal. As time wore on his dug himself into a deeper and deeper whole and went from a miva to simply an aging veteran who hasn't been in the game for years. In 2007, there was talk of a Spree comeback as well as for Allan Houston, Reggie Miller and Penny Hardaway, Penny was the only one who got a deal and his comeback stint was ended quickly. Sprewell now at 38, seems unlikely to ever come back into the NBA and considering other issues he would kill for that veteran minimum...i mean seriously he just might KILL for it...
More Issues than Spiderman comics...
On August 30, 2006, police investigated a claim by a 21-year-old female who claimed that she and Sprewell were having consensual sex aboard his 70-foot yacht, named "Milwaukee's Best," when Sprewell began to strangle her. Police allegedly observed red marks on the woman's neck. Police investigating the allegation searched Sprewell's yacht for evidence. A week later, police indicated that he would not face any charges from the alleged incident. Sprewell is seeking a restraining order against the woman as well as suing for damages.
THS says: Spree is a kinky one...and he is suing HER lmao

On January 31, 2007, Sprewell's long term companion sued him for $200 million for ending their relationship agreement. She claims Sprewell agreed to support her and their four children since they were in college.
THS says: The things people say to get laid....tsk tsk tsk and since when it cost 200 mill to support 4 children

On August 22nd, 2007, it was reported by multiple news agencies that Latrell Sprewell's yacht was repossessed by federal marshals after Sprewell failed to maintain payments and insurance for the vessel, for which he reportedly still owed approximately $1.3 million USD.
THS says: And to think earlier that year he turned down a 5 mill contract with the Spurs(who also won a ring that year)

In February 2008, Sprewell's yacht was auctioned for $865,000 after he defaulted on a $1.5 million mortgage, and in May 2008 a Milwaukee area home owned by Sprewell went into foreclosure status.
THS says: Congrats to whoever spent 865K on Spree's Poke-N-Choke express...hope you got it cleaned first
Final Thought
Yeah....he really facked this one up. He had it all and blew it got it back and blew it again, theres not too many people that can pull off such a feat. Unlike most where are they now stars, it wasn't because of drugs, or an injury or even jailtime, he simply got too damn cocky. He went from a tall black guy in a hallway who didn't care much about basketball, to an arrogant player who felt he was bigger than the game and in the end he's learning the hard way. He's now 38 years old,no rings and career averages of 18, 4, and 4 so the closest he's getting to the Springfield is going to Six Flags New England. KG said that the last he seen Spree he looked like the NBA iron man that led the league in minutes played year after year but then again KG is too nice so its hard to take his testimony.
But down and out can Spree come back? Maybe he can coach, or do broadcasting or get a VH1 reality show(tune in to see who Spree chokes next). Maybe there is a team who doesn't care enough to bring him back (coughcoughGrizzliescoughcough). Maybe he could track down one of his illegitimate kids and hope that they got his genes. Maybe we haven't heard the last of Spree...who knows. Its just a sad thing to see such a promising career ended by stupidity.
Ad blocker interference detected!
Wikia is a free-to-use site that makes money from advertising. We have a modified experience for viewers using ad blockers

Wikia is not accessible if you've made further modifications. Remove the custom ad blocker rule(s) and the page will load as expected.