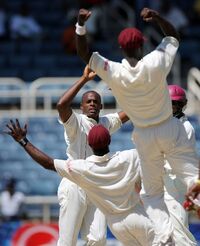 Australia came into bat with their innings in disarray. West Indies had finished Day 3 strongly reducing the aussies to 17/4, and now looked to continue the demolition. Night watchman Johnson didn't last long and Hodge was soon by danger man Symonds, who had got an unbeaten 70 in the first innings. The two started the rebuilding process but Hodge was soon dismissed for 27. New wicket keeper, Brad Haddin had a tall task ahead of him but supported Symonds well with a well made 23. Symonds continued to impress but was running out of partners at the other end and was finally dismissed for what could be a match winning innings of 79. Australia were finally all out for 167 with the West Indian fast bowlers sharing the wickets. With a target of 287, the West Indies had to bat with care knowing the pitch could be dangerous on day 5. They finished the day at 46/1. I'm definitely going to be supporting the West Indies in this one.
Ad blocker interference detected!
Wikia is a free-to-use site that makes money from advertising. We have a modified experience for viewers using ad blockers

Wikia is not accessible if you've made further modifications. Remove the custom ad blocker rule(s) and the page will load as expected.