BBB15 here bringing you the last of the first round matchups. The '02 Bucs, '03 Pats, '07 Pats, and '03 Panthers have already advanced to round two of the tournament. Today, four more teams will advance, completing the second round matchups. Here's the results:
Game 5 (winner's bracket)
2007 Giants 23, 2004 Pats 20 OT
New England, not surprisingly, dominated the time of possession, but New York kept the ball out of Brady's hands long enough to score 20 points in regulation. Eli Manning led the Giants to a 23-20 overtime win, thanks to Lawrence Tynes' short 21-yard field goal halfway through the period. Brady didn't throw a single interception, but was sacked a total of six times (twice by Michael Strahan, and twice by Osi Umenyiora). Eli's two TD passes was enough to knock off the fiesty Pats. Plaxico Burress came up big, catching just 6 passes, but accumulating 134 yards and a TD off the six catches, and was named player of the game.
Game 6 (winner's bracket)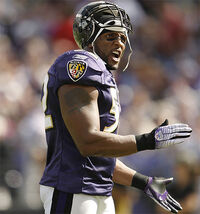 Talk about an upset! Not only did the 2000 Ravens beat Peyton Manning and the Colts, but they pounded them into the ground. For once, Manning threw more INT's than TD's (1 TD, 2 INT), and was sacked by the fierce Baltimore defense, led by Ray Lewis, four times. Dilfer had less pressure on him thanks to rookie Jamal Lewis' 115 yards on the ground. Jermaine Lewis even got into the action on offense, taking an end around 10 yards for a TD in the second quarter. Lewis' end around gave B-More the 17-7 lead, as Baltimore never looked back. It's true, defense DOES win championships, and they proved just how good their defense was after Duane Starks returned Manning's second interception of the contest to the house for 69 yards. That was pretty much the icing on the cake, making it 38-7. But Matt Stover did kick a 38-yard FG to top off the Ravens big day.
Game 7 (loser's bracket)
The greatest show on turf makes it's long-awaited return to action, and comes away with a one-point win over Shaun Alexander's 13-3 Seahawks, who are still trying to get over the fact that they lost the '05 Super Bowl. Alexander managed just 51 yards on 20 carries, and 1 TD. Matt Hasselbeck didn't throw an interception, but also wasn't able to capitalize on Kurt Warner's only mistake, a third quarter interception. Seattle failed to get a single first down on their last possession, which ended with 6:50 left in the game. Yes, that's right, St. Louis was able to hold onto the ball for nearly 7 minutes in the fourth quarter, preserving the win. Josh Brown hit three important field goals throughout the game, but missed a very costly 49-yarder in the first part of the fourth quarter. The greatest show on turf will continue for at least one more game...
Game 8 (loser's bracket)
2002 Raiders 20, 2004 Eagles 35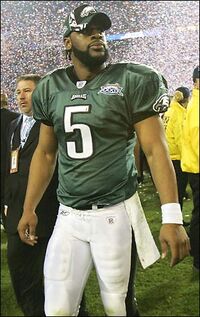 What a great way to end the first round...with a Rich Gannon versus Donovan McNabb matchup. How exciting. Well, I know the Philly fans will be excited. McNabb leads the Eagles to a big win over Gannon. McNabb has a career day, completing 21 of 29 passes for 396 yards, and 4 TD's (with one INT). Greg Lewis caught 2 of McNabb's TD passes, both going for 70+ yards. Lewis finished with three receptions for 158 yards, and 2 TD's. Oakland took advantage of McNabb's only mistake, an interception which Eric Barton returned 56 yards for a TD in the second quarter. Barton also made 9 total tackles for Oakland, but Gannon's poor play (12 for 24, 140 yards, 0 TD, 0 INT) didn't help Oakland much.
Note: Sorry, but the computer I used this time didn't allow me to add the box scores, but I should be able to add them for my next article.
Semifinal Matchups
Winner's bracket: '07 Giants/'02 Bucs, '00 Ravens/'03 Pats
Loser's bracket: '03 Panthers/'07 Pats, '04 Eagles/'01 Rams
Ad blocker interference detected!
Wikia is a free-to-use site that makes money from advertising. We have a modified experience for viewers using ad blockers

Wikia is not accessible if you've made further modifications. Remove the custom ad blocker rule(s) and the page will load as expected.