Duel in the Desert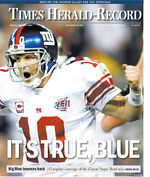 Most every football pundit and their brother came into Super Bowl XLII thinking that the New York Giants would be the last hurdle cleared in the quest for the New England Patriots 19-0 season.
How do you think those guys feel now?
Big Blue and the Pats provided 97 million viewers in the US with more drama than any writers' strike-postponed TV drama could have provided as the Jints pulled off one of the biggest upsets in Super Bowl history, 17-14, and denying the Pats the chance to move into the 1972 Miami Dolphins' neighborhood. Eli Manning, the game's MVP, threw for 255 yards and two scores, two of his completions coming on an amazing catch by wide receiver David Tyree and the game-winning touchdown to Plaxico Burress.
The Fave Five: Super Bowl Ads (in no particular order)
Calls to the Hall
Across the Pond
UFC 81: Brock's Breaking Point
The above is by no means the official title, but this event marked the UFC debut of former WWE and University of Minnesota champion Brock Lesnar. But, his first MMA go-round didn't go so well, as he submitted to Frank Mir's armbar submission a minute and half into the first round of their heavyweight match.
Meanwhile, Tim Sylvia is the heavyweight champion pro tempore of the UFC, defeating Brazilian Antonio Rodrigo Nogueira in almost the same ending as the aforementioned Mir-Lesnar match. Sylvia was also the HW champ in the late PRIDE Fighting Championship series.
Takin' it to the hizzy
Kudos (neat how we segue here)
...to Eddie Sutton, who notched his 800th career win on Saturday. The once and former head coach at Oklahoma State, who resigned that post after his involvement in a DUI charge, reemerged at San Francisco and reached the milestone with an 85-82 win over Pepperdine.
...to Robert Montgomery Knight, for a career that saw three NCAA men's basketball titles, over 900 wins, and a good deal of controversy on and off the court. Knight reportedly stepped down as men's head coach at Texas Tech as this was going to press.
...to thoroughbred jockey Russell Baze, who scored his 10,000th career win in a photo finish in the third race aboard Two Step Cat at Golden Gate Fields on Friday. As this reporter resides in the home of the historic Saratoga Race Course (upstate New York, that is), it's rather odd that GGF is located in Albany, California (out near Oakland and Berkeley 'n'at...)
The Big D's (one last time for a few weeks)
The aforementioned Plaxico Burress: it may not have been 23-17, but you called it, and you sure look like Stephen Hawking for that!
Also, much love goes out to the Maras and the Tisches; this reporter is sure that Wellington and Robert were watching from the skybox...
The advertising agencies that almost ruined Super Sunday with a dearth of funny, laugh-out-loud ads for the second year in a row. Good thing there was a lotta drama in the fourth quarter...
I'm off
Until we reconvene three weeks from now, let's all be good sports...
Ad blocker interference detected!
Wikia is a free-to-use site that makes money from advertising. We have a modified experience for viewers using ad blockers

Wikia is not accessible if you've made further modifications. Remove the custom ad blocker rule(s) and the page will load as expected.