Phoenix (AGM) - Planet Orange is about to get a little bigger. Shaquille O'Neal is a physical away from becoming a Phoenix Sun.
When I first heard the "rumor", I was returning from a daytrip to beautiful Sedona, Arizona and listening to FM radio. Now, I originally brushed it off as "you don't buy into NBA rumors you hear on FM radio". But it got me and the biggest Suns fan in the world (my wife) thinking...
Some people may scratch their heads and wonder why this is happening. Some people are shocked and surprised. Many people say this makes no sense. Most people haven't been watching the Suns all year like I have!
This deal is unbelievable!!! I love it! I love it!!! And yes, I CAN DIG IT!!!!
Let's break it down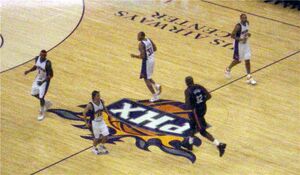 Shaq
The common perception- He's 842 years old. He's 470 lbs and out of shape. He's banged up with a bad hip, an enlarged prostate, liver spots and he probably has cataracts. Playing for worst team in the Association's history and not an All-Star for the first time in 361 years.
PLEASE debate me on this - Shaq is the best passing Big Man in the game. I would even venture to say that the only guys All-Time who could be considered better are Wilt and Bill Walton.
On a team that predicates ball movement - Do you think a great passing big man will fit in with Nash, Amare, Grant Hill and Boris Diaw (ALL excellent passers)?
On a team that shoots the three more than any other - So let's say Amare and Shaq are down low... WHO are you gonna double? Well, you just left a shooter (or two) open - Are you SERIOUSLY going to leave Raja Bell, Steve Nash or Leandro Barbosa open for three??? I am salivating at this!!!
I've only been saying it since July - The Suns NEED a big man to free up Amare and to get rebounds. Shaq takes up more space than anyone and he gets rebounds even when he's not trying.
Two Man Game - Now Nash can pick and roll with Shaq and/or Amare. Or just use Shaq as the largest screen this side of a drive-in theatre.
December - I watched Shaq and the Heat come into PHX and beat my hometown Suns. I said at the time - "I don't know why everyone is down on Shaq - He looks good!"
April - Do you THINK that Shaq doesn't know what time of year it is? The Suns are just going to let him gear up for the playoff run.
But Manny, Shaq can't run!!! - 94 feet in 6-7 seconds? If Krazy Eyez Kurt can do it, so can Shaq. But guess what? The Suns don't run EVERY time down the court... and when they do get into a half-court, say like... in the Playoffs, the Suns will be able to bog it down with the best of them. Or when they bench Shaq, slide Amare back to C and run 'em off the court!
The Suns will have to abandon the running game now - Says who? NOW, the Suns can go at any speed! Even with Shaq on the floor, they can still fastbreak - the Suns fastbreak when they get rebounds, Shaq will help the Suns rebounding just by being there, taking up space.
Downside risk - Shaq is an injury risk, no doubt. But I would never ever question his motivation and I can't wait until he is out leading the break for the Suns - because you know Shaq, it will happen eventually - and I'm going to cry tears of joy and laughter.
Money - People are pointing to the Suns' owner's recent cheapness and knowledge that the Suns didn't want to spend the money on re-signing Marion and wondering "Where are they gonna get the money for the next 2 years of Shaq?". Well, Shaq's contract is essentially the same as Marion's and Banks putrid deal put together, so as far as money goes it's status quo.
Shaq makes a sacrifice - He is going to lose millions in income taxes moving from Florida to Arizona. I'm sure he'll survive. But it's not to be overlooked in today's NBA. Shaq could have said "No, I'd rather go to Dallas and not get taxed as much." Plus, he needs a clean start in his personal life with his divorce and all...
Marion
Fact - Shawn Marion wanted out. I still think he should have talked to Joe Johnson first. But if he wanted out - GET HIM OUT!!!
Funny - By trading Shawn and Marcus ("S&M", heh heh) together the Suns eliminated 90% of their missed easy layups!
Seriously - Banks and Marion were the two most frustrating players on the team.
Myth - Marion get so many rebounds for his size and was a an intregal part of what the Suns were doing. They will miss him.
I wonder - How many hundreds of Marion's rebounds in his career are putbacks on his own misses? Man, as athletic as he is, he is frustrating. He misses so many easy layups in his career, it's astounding!
Interesting - Marion was out of position at the 4, but Grant Hill and Boris Diaw were clogging the 3. So removing Shawn and getting a legit center adds more flexibility for D'Antoni to work with.
I also wonder - Has anyone shot as many airballs than Marion over the past 5-7 years?
All-Star - Marion sulked when he wasn't added to the All-Star roster. Guess what? He did not deserve it this year, at all.
Frequent Flyer Miles - Marion has a lot of miles on his wheels too.
South Beach - Off the court, Marion is a well-noted nightlife creature. South Beach might get the best of Shawn...
Playoffs - Compare what Shawn did in the playoffs to what Shaq will...
The Suns
Anyone who sees how this doesn't add up is a fool or just plain isn't paying enough attention to what's going on here in PHX.
1) The Suns were NOT going to re-sign Marion to a max extension.
2) With Shaq on the floor makes Amare impossible to guard. Everybody's game will open up. With Shaq in the lockerroom, the Suns have a leader that doesn't need to be anything but big. It will help Grant Hill's game, Shaq will get Boris Diaw to grow some confidence and Raja Bell's gonna get back on track with the open looks he's gonna get. I like this roster so much more now.
3) The clubhouse will be fun and energized with Shaq's personality coming in and pouty Marion's attitude and Banks' whatever-he-did-to-make-D'Antoni mad going out.
4) The Suns are now a team of four letter names! Shaq, Nash, STAT, Bell, Diaw, Hill, Blur, even Skin, Eric (Piatkowski), Sean (Marks). The rookies need good 4 letter nicknames!
5) The Spurs don't like this AT ALL!!! Every other year they are in the Finals, and every other year, Shaq is!
6) 6 - How many times Shaq has been to the Finals. 0 - how many times the Phoenix Suns have (Raja Bell is the only Sun that has appeared in a Finals). Experience matters!!! When Shaq walks in the clubhouse with his 4 rings, the Suns will listen. Best part - Shaq knows who team this is.
Remember when he said this a few years ago - "I have seen the future of the NBA and his name is Amare Stoudemire. He reminds me of a young me."
7) The Suns still have a trade exception and picks to deal!!!
8) This is the first article I've written about the Suns since when I said that dealing Kurt Thomas was the wrong thing to do. The Suns NEEDED a big man - Shaq's the Biggest Man!
9) I gotta give owner Robert Sarver and GM Steve Kerr some props. We knew Banks and Marion were goners, but this move took a set of steel balls.
10) In a slight way, - keep in mind, I grew up in the Philly burbs - this reminds me of Moses Malone joining Dr. J to win a title in 1983.
In Summary
Addition by subtraction. The Suns made a daring move and I love it!
They are going to be fun to watch and I know that the guys will express more smiles and happiness than the past few weeks when everyone has seemed "on edge".
Shaq is getting ring #5 and either returns to defend it or retires into the Sunset and frees up $20 mil when he does, allowing the Suns to make a huge move in the future. Love it!
And the Suns are not done making moves yet!!!
For more Manny Stiles articles with titles that make more sense than this one [CLICK HERE].
Ad blocker interference detected!
Wikia is a free-to-use site that makes money from advertising. We have a modified experience for viewers using ad blockers

Wikia is not accessible if you've made further modifications. Remove the custom ad blocker rule(s) and the page will load as expected.