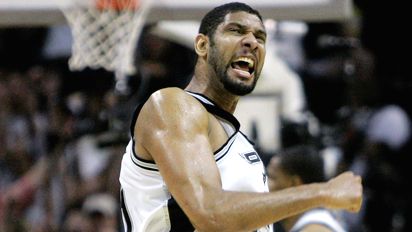 It was a game that had everything: a comeback, a duel, buzzer-beaters and huge shots. It was a game you could write a thesis on.
And it was only the first game of the series.
For four quarters and two heart-stopping overtimes, the Phoenix Suns and the San Antonio Spurs faced each other once again, in what is maybe the most heated – and most hotly anticipated – series in recent memory. It didn't disappoint.
Leading by as many as 19 in the first half, and by as many as nine in the fourth, the Suns struggled late, under the oppressive settings of San Antonio's AT&T Center. But this wasn't another Phoenix playoff collapse. They battled in OT and it came down to San Antonio taking the final shot, twice. Problem was, they hit it twice.
This was a duel. Steve Nash and Tim Duncan, battling again. Duncan would finish with 40 points, 15 rebounds, and five assists. Nash finished with 25 points and 13 assists. But the numbers almost don't matter; it's their shots that will be remembered.
Duncan, nailing his first and only three of the game, tying it at the end of the first OT.
Nash, hitting a three while falling sideways, tying the game with 15 to play in the second OT.
It's a cliché to say it's a shame one team had to lose, that they both played so well, and nobody deserved to lose. And it's surely a cliché that could be applied here.
But there's another that fits a lot better: the team that wanted it more, won. It. The win.
Item: Late in the second OT, there was a struggle under the Phoenix basket. One missed layup, then another. Bodies flying all over the place. Duncan reaches up and stuffs it in on the Spurs third chance.
Item: With 15 to play in the second overtime, San Antonio rolls the dice, taking the ball upcourt and went for the win. No timeout, no set plays. No waiting it out, going for a third OT. End it now. Manu Ginobili hits a layup with 1.8 to play. Nash takes a half-court shot that sails wide as the final buzzer sounds.
It's scenarios like that, where they had to grind it out, that showed how determined, how dedicated, how good San Antonio is. They played hard, they didn't let up and they kept the pressure going, attacking the basket and Shaquille O'Neal, who with five fouls, often shied away from drawing contact under his own basket. Yet it was O'Neal who tied the game in the second overtime, stuffing a rebound to make it 112 all.
About halfway through the game, ESPN flashed a little statistic. Over 80 per cent of the teams that win game one win the series. But here's something else. Last year, San Antonio won game one, 111-106, and won the series in six. In 2005, they won game one 121-114, and the series in five.
If this series goes to form, it should go to seven. And if it goes that far, all bets are off. Especially if it's as tense as game one.
Ad blocker interference detected!
Wikia is a free-to-use site that makes money from advertising. We have a modified experience for viewers using ad blockers

Wikia is not accessible if you've made further modifications. Remove the custom ad blocker rule(s) and the page will load as expected.