Just a day after the Kansas Jayhawks Men's Basketball team defeated the Memphis Tigers to capture their first National Title since '88, the Tennessee Lady Vols won their 8th national title under head coach Pat Summitt, by defeating the Stanford Cardinals 64-48. Tennessee's star 6 foot 4 forward, Candace Parker, who was drafted number 1 overall in the WNBA draft earlier today (drafted by Los Angeles Sparks), led the way for the Vols with 17 points scored, and 9 rebounds (which also led the team). The headline coming into the game was the big matchup: Candace (Parker) v.s. Candice (Wiggins). Wiggins, Stanford's 5 foot 11 Senior Guard, was second in scoring for the Cards, with 14 points. The game started out close, and eventually, Tennessee pulled away after taking their first lead of the game with 16:36 left in the first half (Shannon Bobbitt with a 3 point jumper).
Tennessee went into the half with a 37-29 lead, and never looked back. Summitt's Vols rolled on to win the title easily, though they did not play perfect ball in the second half. Both teams looked pretty sloppy, turning the ball over just a bit too much. Tennessee did bad enough for Summitt to get in their face, and question their pride. Her pep talk seemed to have worked, as they continued to fight, and ended up cutting down the nets for the second consecutive season.
Parker, who was the AP Player of the Year, left Tampa with a second award, the Tournament's Most Outstanding Player award.
Though she didn't win it all, Stanford's Candice Wiggins should be proud of herself. Wiggins finished with 151 points in all 6 of the games in the tourney, which is the 4th most in history. Wiggins is the first player to have two 40-point games in the NCAA Tournament, and led Stanford to their first Final 4 appearance since 1997. Wiggins was drafted number 3 overall in the WNBA draft today (by the Minnesota Lynx).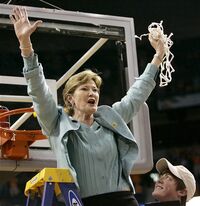 "I'm sad that it's over because of how much I love this program, this institution, this team, and my coaches and teammates. It's that amazing. This season, I could not have dreamed of this, so it's more than I could ever ask for" Said Wiggins after Stanford's loss. I have to agree with her, she has had an amazing season, but I think she could have dreamed for better. Let's see...maybe a Championship?! But, I believe Wiggins will make herself right at home in Minnesota.
"Defense Wins Championships"
This game, once again, proves that defense does win championships, and not just in Football. Tennessee forced Stanford to turn the ball over 24 times, and blocked 2 of Stanford's shots. Not to mention Tennessee fouled a whole lot less (14 personal fouls compared to Stanford's 21). Tennessee clearly just outplayed Stanford, and the win was well-deserved. Here is what Coach Summitt had to say about the win:
"They came out with a great mentality to play hard, especially on the defensive end. On offense, we got more people involved, but it was our defense that got it done. I'm proud of our Seniors, and I'm going to miss them."
I couldn't agree with you more, Coach. Tennessee played tremendous D, and it payed off. I feel that Parker is going to have a great Rookie year alongside 2-time WNBA Finals MVP, Lisa Leslie, who is the WNBA's icon. Just imagine: Leslie, and Parker as teammates. I smell Championship in LA!
http://sports.espn.go.com/ncw/boxscore?gameId=284000063
Congratulation Tennessee!!!
Ad blocker interference detected!
Wikia is a free-to-use site that makes money from advertising. We have a modified experience for viewers using ad blockers

Wikia is not accessible if you've made further modifications. Remove the custom ad blocker rule(s) and the page will load as expected.