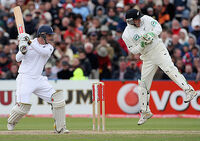 Andrew Strauss hit a brilliant 106 to lead his team to victory and also a 1-0 lead in the best of three series. People thought it would be really difficult getting 294 runs on the last day due to the turning wicket, but all of the English batsman had other ideas. Strauss was ably supported by Vaughn(48) and Pieterson(42) and there were useful contributions by others. England reached their target with the loss of just four wickets. Monty Panesar was adjudged man of the match because of his six wickets in the New Zealand second innings that  gave England their chance. England now go into the last test knowing a draw will give them a series victory.
Ad blocker interference detected!
Wikia is a free-to-use site that makes money from advertising. We have a modified experience for viewers using ad blockers

Wikia is not accessible if you've made further modifications. Remove the custom ad blocker rule(s) and the page will load as expected.