If you're a hardcore baseball fan, the odds are (no pun intended) that you've played a "simulation" of the sport. Some folks play homemade dice baseball or Strat-O-Matic, while some computer-savvy fans get into OOTP or Baseball Mogul... But if you're looking for a fun, free, easy-to-use baseball simulation program, you can't go wrong with the Strategic Baseball Simulator, which uses players' real-life stats to simulate every plate appearance of a game (you can read about how it works here). In preparation for the upcoming Rays-Phils World Series, I'm going to simulate the games in SBS the same way I simulated the NFL Playoffs using Tecmo last January. Click the links for the box score and scorecard from each game, or just skip down to see who ended up winning our simulated 2008 World Series. Enjoy!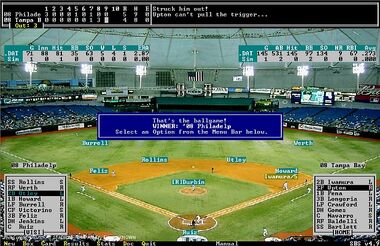 R  H  E
08 Philadelp 300 010 100   5  9  0
08 Tampa Bay 000 000 130   4  8  0
WP: Hamels
LP: Kazmir
SV: Durbin


                           R  H  E
08 Philadelp 000 001 000   1  4  1
08 Tampa Bay 100 033 10-   8 11  0
WP: Shields
LP: Myers
SV: Howell


                                   R  H  E
08 Tampa Bay 000 030 100 000 000   4 11  1
08 Philadelp 030 100 000 000 001   5 12  3
WP: Durbin
LP: Jackson
SV: -


                           R  H  E
08 Tampa Bay 000 140 020   7  6  0
08 Philadelp 012 030 02-   8 17  1
WP: Condrey
LP: Percival
SV: Lidge


                           R  H  E
08 Tampa Bay 000 000 010   1  3  1
08 Philadelp 002 000 01-   3  7  0
WP: Hamels
LP: Kazmir
SV: Lidge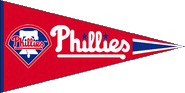 2008 World Series Champions:

Philadelphia Phillies
162-Game Sim
Okay, so that was fun, but it was also a mere 5-game sample. Are the Phils really the better team? Well, another neat feature of SBS is its "Two Team Multi-Game Mode," which is pretty self-explanatory: you can sim 2 teams head-to-head in as many games as possible. Here are the results for 162 Tampa Bay-Philly matchups, with 81 home games for each team:

Team             W     L   Pct    RS     RA   
08 Tampa Bay    72    90  .444    713    774
08 Philadelp    90    72  .556    774    713

For the full stats of the 162-game sim, click here.
So, there you have it -- the venerable Strategic Baseball Simulator has spoken, and it says that the Philadelphia Phillies will win the 2008 World Series in approximately 5 games. Of course, on the other side of the ledger is an epic pro-sports title drought, a Rays squad that the stats and the bookmakers say is superior, and the fact that worst-to-first Tampa feels like a team of destiny. But I guess that's why they play the games... in fact, don't be surprised if this series requires the full 7 games to decide a champion. One thing's for sure, though: it's going to be the most entertaining World Series in years.
Ad blocker interference detected!
Wikia is a free-to-use site that makes money from advertising. We have a modified experience for viewers using ad blockers

Wikia is not accessible if you've made further modifications. Remove the custom ad blocker rule(s) and the page will load as expected.