Some things seem bad until you put them into proper context.
Last night the East end of Phoenix, north part of Tempe and South part of Scottsdale, Arizona got stomped by a vicious Monsoon storm for the ages. Monsoon Season in Central Arizona is known for it's ferociously threatening yet typically whimpy storms. They come into the Valley of the Sun with dust and bluster but usually aren't so bad.
But this has been a not-so-ordinary Monsoon Season. We've already had two "Once a Decade" storms this summer. Last night, wind gusts were over 75 miles per hour, rains were torrential, large hail was reported throughout the area and lightning was near-nonstop. It was a storm that was more akin to a hurricane than a Summer Monsoon.
Damage in the area was heavy as trees and power lines were snapped in half or torn from the ground completely. Personally, my home was subject to having some of the roof shingling shorn of as well as flooding in my "Arizona Room" (an indoor-outdoor game/recreational room that is not intended to be used as a wading pool). Last night as the storm was occuring I could tell it was going to be ugly in the morning.
I assessed the damage and after some wet/dry vaccuming, a box of nails,some replacement shingling and about 2 gallons of sweat (Arizona SUCKS when it's humid), we'll be able to move on with our lives with only the memory, some crazy videos of the lightning storm and awe of nature's power.
Arizona State University was not as lucky.
ASU's nearly completed temperature-controlled domed football practice facility was basically destroyed. At a cost of over $8 million to construct and not yet completed, it has been reported that it will cost an estimate of $1 million dollars to repair. From the looks of it, it might cost more than that just to clean up the mess.
The Town of Tempe is in shambles. Power has been restored to most areas but street lights are twisted, business signs are shattered or missing and trees and vegetation has been leveled across the area. Debris from the dome -, mostly insulation - was strewn about the area and across the street to Pat Murphy Stadium, ASU's home baseball field. Credit to the workers who cleared the roads and have begun to clean the debris because it is no easy task.
This is really poor timing for ASU as an institution. There was already a loud outcry that the School spends too much on some of it's athletic teams while crying broke and attempting to eliminate other sports. Now the cost of the damage will be another potential nail in Athletic Vice President Lisa Love's tenuous career.
Some say it's the Curse of Chief Tontozona (Tontozona is the name of the team's training camp upstate in the cooler temperatures of the Mogollon Rim), some say it's just another fine example of how much "ASU blows". Certainly, students, alumni and fans of University of Arizona are revelling and yucking it up today at ASU's expense - so it goes with in-state rivals.
The "good" part of this story is the amazing fact that only one person in the area was injured in the storm - a man broke his leg when a tree snapped and fell on him during the storm. There's plenty of damage, still 12,000 homes without power and ruined three-day weekends lost to the clean up, but it could have been much worse.
Then again, Monsoon storms are expected tonight AND tomorrow, so it just might get worse...

I decided since it's only a couple miles from my house to go and investigate the disaster for myself. Here's some pictures: Click on them to see in full size.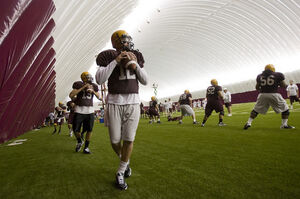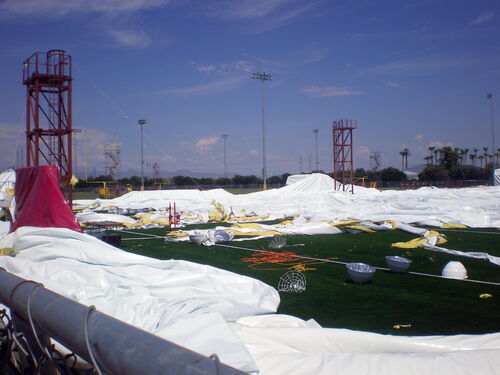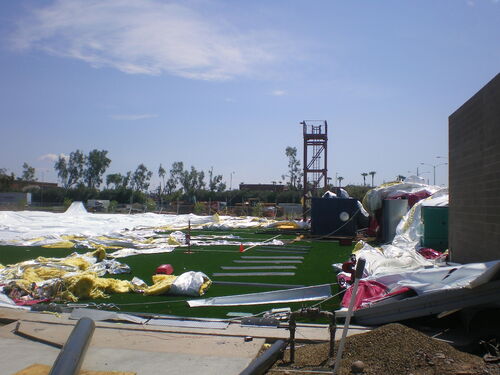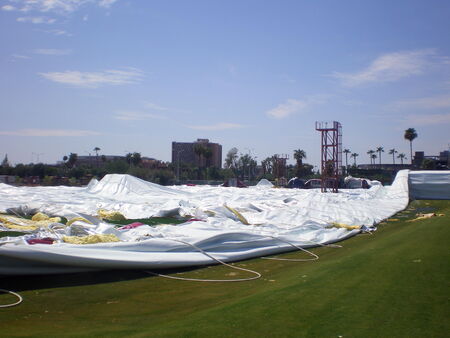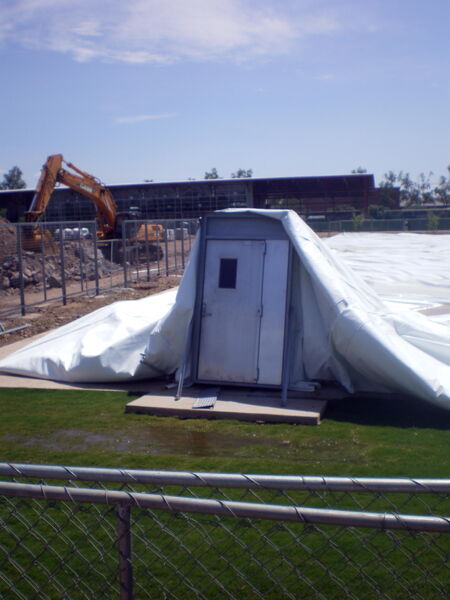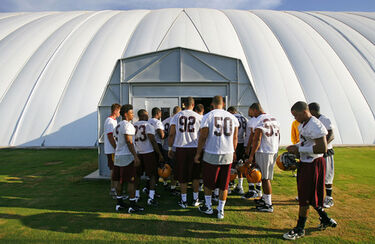 Ad blocker interference detected!
Wikia is a free-to-use site that makes money from advertising. We have a modified experience for viewers using ad blockers

Wikia is not accessible if you've made further modifications. Remove the custom ad blocker rule(s) and the page will load as expected.