Having finished the 2006 season 8-8, many were optimistic about the Rams chances going into 2007. Isaac Bruce and Torry Holt were yet again returning, along with newly crowned elite back Stephen Jackson. Not that anyone goes into an NFL season expecting the worst, but this particular Rams team had a lot of weapons and it was safe to assume they would contend for the NFC West title.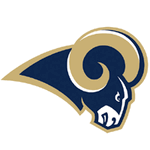 Unfortunately, they did not.
In fact, it wasn't even close. Not only did they not contend, but through various injuries they finished second worst in the entire NFL. Marc Bulger had his worst season since he came into the NFL in 2001. The defense wasn't one of the best in the league, but it at least wasn't the sole reason for their disappointing season. Through poor play and even poorer placed injuries, the Rams just never got it started for the 2007 season.
Luckily for them, one of their key weaknesses of the season can be easily remedied through the NFL draft. Sitting at number two in the first round, the Rams have a fantastic shot at Jake Long, the premier offensive lineman of the draft and a sure shot to make an impact for years to come.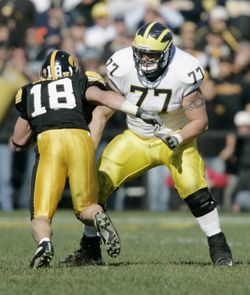 The key thing for the Rams to build upon in the upcoming draft is the offensive line. Marc Bulger was actually knocked out for a couple of games for broken ribs in 2007. He broke these ribs because the offensive line failed to protect him on multiple plays. Yes, he had already injuried them the previous week and still decided to play (which is commendable, but come on) -- aggravating the injury -- but guess who's fault the injury was in the first place? That's right, the offensive line.
Are you noticing a pattern here? Assuming the Dolphins do not take Jake Long, the Rams would and should take him at number two. Never has such a prized prospect fit such a glaring weakness so perfectly in all the years that I could remember. With new rumors that Vernon Gholston might go number one to the Dolphins, the Rams still must be a mess. Just a week ago, it was reported that Jake Long was in contract talks with the Dolphins, should they choose to draft him.
Their entire franchises fate appears to hinge on how this plays out. Obviously, they can still succeed without him but it would still hurt if they failed to land him. It almost seems to be too good of a match and that in a perfect reality, the Dolphins would take J. Long, the Rams would be stuck between a rock and hard place and their entire draft strategy would be destroyed. Yes, there are many, many great O.L. prospects that will be available in the middle rounds but they would fit in all the better should the Rams acquire Jake Long. I don't think I've ever been so excited about an offensive lineman going to a particular team in the Top 5 in my history with the game. Then again, I have Marc Bulger in my keeper league, so having Jake Long be his new bodyguard would make me all the more biased.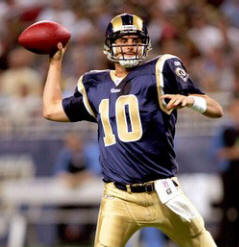 Much has been said about the offensive line in regards to pass protection, but let's look at the obvious here: They aren't very good at run blocking either. Yes, 2006 saw them block their way towards Stephen Jackson becoming a league icon. But through different departures and here it is again, injuries, the offensive line took a step backwards in 2007. A fresh young recruit with the potential to be the anchor for the line for many years to come should add a spark to an otherwise anemic unit.
Although they lost Issac Bruce to free agency, the Rams did sign WR Reche Caldwell and TE Anthony Becht. Reche Caldwell obviously isn't a premier receiver, but as he showed with the Patriots -- if he's with a skilled quarterback (I'm looking at you Bulger, stay healthy!), he can put up some decent numbers.
Stephen Jackson looks to return from an injury riddled 2007 and build upon his previous dominance. Look for him to be a candidate for comeback player of the year.
Looking at the NFC West, the Seahawks would appear to be the early favorite, but with the 49ers and Cardinals rounding out the division, the Rams have to feel good about their chances.
If they can get back to their previous years' form they could easily be a contender for the division title. Also, if the Rams can solidify their leaky O-line and build upon their defense, they could easily remedy their 2007 season. While they might not achieve the previous title of Greatest Show on Turf, they have the potential to put up some points when everyone is on and healthy. Key word healthy.
Prediction: A respectable 8-8 finish, 3rd place in the NFC West. Interaction: Add your prediction and why in the comments.

<pollembed title="Which team would you like featured next?"></pollembed>
Ad blocker interference detected!
Wikia is a free-to-use site that makes money from advertising. We have a modified experience for viewers using ad blockers

Wikia is not accessible if you've made further modifications. Remove the custom ad blocker rule(s) and the page will load as expected.