The
Mike Nolan
era in San Francisco began in 2005. He being the son of former
49ers
head coach
Dick Nolan
, many in San Francisco were thrilled to see the legacy being passed down before their very eyes.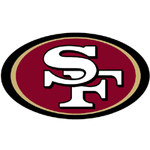 After an initial 4-12 record, the 49ers would improve to 7-9 in 2006. Going into 2007, the 49ers were a trendy sleeper pick due to the strong way they finished the previous season. However like many trendy sleeper picks, things didn't quite work out the way everyone thought they would. Surprise, surprise!
After narrowly winning their first two games against the Cardinals and Rams in 2007 the 49ers proceeded to drop their next eight games, effectively ending their season by Week 11. Both the offense and defense fully contributed to the streak, with the defense giving up an average of 24 points per game. The offense, led by an anemic QB Alex Smith didn't fare much better while he was healthy and when Trent Dilfer took over the reigns things didn't get much better. The normally impressive Frank Gore was unable to carry the team to any wins since there was practically no passing game at all to speak of. And you couldn't really blame him.
The season reached a low point on a Week 10 Monday night match up in Seattle. The 49ers put up a laughable 173 total yards in the game and it was generally regarded as one of the worst performances in the history of the franchise. I'm sure the 49ers would have liked to rally around such a loss and turn their season around and at least finish respectably. They did not. A 3-4 record to finish the season set their final record at 5-11 which was a severe disappointment considering all the pre-season hoopla.
Below average defensive play and an inconsistent offense contributed to the poor 2007 season. An injury to starting quarterback Alex Smith would usually be a focal point in excusing such a performance. Smith however, again failed to live up to the expectations placed on him by the 49er organization. In only seven games Smith threw for 914 yards, 2 touchdowns and 4 interceptions with a 48.7% completion percentage.
One highpoint of the 2007 season was QB journeyman Shaun Hill's impressive debut. A career bench warmer until he got to San Francisco, Hill showed that if given the shot he could be the starting QB for the team. Perennial backups everywhere rejoiced.
Mike Nolan, knowing the offense needed a complete and utter overhaul has brought in Lions castoff and offensive play caller extraordinaire Mike Martz. It is believed that if Alex Smith doesn't flourish in Martz's system, than he won't flourish in any at all and will likely be released.
It's not been all bad since Nolan took over in 2005, though. Frank Gore has shown he is one of the most complete, dynamic backs in the league. Linebacker Patrick Willis won defensive rookie of the year last year and looks to shore up the inside of the 49ers line backing corps for many years to come. The reemergence of the suit and tie as head coaching attire can be attributed to Nolan's request to the league for it to be allowed, which was a tribute to his father.
The biggest weakness for the 49ers, the offense, looks to improve immediately with the arrival of Mike Martz and the complex yet effective playbook that comes with him. Martz's main calling card has been his success in quarterback tutelage. He has helped mentor and improve Trent Green, Kurt Warner, Marc Bulger and most recently Jon Kitna.
Another underperforming 49ers first round draft pick that should blossom thanks to Martz's arrival is Vernon Davis. Although Martz is known for not utilizing and/or not being too big a fan of the tight end position, it's being reported that Martz plans using Davis in multiple ways to better utilize his speed and talent. It's even been said that he'll line up at receiver on some formations. It's also safe to assume that Martz would probably be untouchable in a game of Madden.

Heading into the pre-season things are at looking up for the team to say the least. They didn't have any significant departures unless you consider Darrell Jackson significant (and you shouldn't, he never did much). Addition Bryant Johnson and Isaac Bruce should start immediately, with Bruce reuniting with former coach Mike Martz since when they were in St. Louis together. Bruce understands all the intricacies of a Martz offense as well as a little something about the receiver position. Even though his career may be on the decline, the knowledge and veteran leadership he gives is immeasurable -- not too mention how much he can teach whoever ends up throwing him the ball.
Defensive end Justin Smith should add relevance to the defensive line and cornerback Allen Rossumshould instantly improve the kick returning game. Former Panthers started DeShaun Foster will spell Gore if and when he gets tired and provide a suitable backup should he get injured (which will likely happen). Many of the weaknesses and questions about last years team have been answered with the free agency signings and the arrival of M&M. However one major question remains: who's going to quarterback the team?
The stage is all set up for the pre-season: The quarterback battle between the inconsistent Smith who's failed to live up to his #1 draft pick billing and the career backup Hill who showed everyone last year with 501 yards, 5 touchdowns, 1 interception and a 68.4% completion percentage that he just may be the real deal. Each has the opportunity to succeed should they win the job with an array of weapons and an improving defense now present. Not to mention, a competent play caller whose known for the quarterbacks that have played under him.
Has Alex Smith just been on the wrong system and lacked the capable weapons to succeed? Or is he a career backup who can't translate the skills he showed in college into the pro game? Although many are high on Shaun Hill, it's worth noting that he only played in three games last year, all of which came at the end of the year when many teams were looking ahead to the playoffs. Was Hill's performance in his first taste of the NFL just beginners luck? Or does the guy have legitimate talent?
Regardless of the answers to those questions, Smith likely has a slight lead heading into the pre-season fight to be starting quarterback . Unless Hill impresses Martz greatly before the season starts, the offensive guru will likely want to take the former first overall pick under his wing rather than the untested Hill.
If Smith can study the new complicated system and implement it with some of the skill he's shown in the past than there's no telling what the 49ers can do. Like the Lions last year, they could likely come out of no where and steal a couple games early -- surfacing on everyone's radar only when they're something like 5-1 and are on a constant loop on NFL Live. Or they could have yet another season of mediocrity with players failing to live up to expectations and their record becoming unrecoverable early on.
With an improved team, an offensive coaching legend and a little luck the 49ers could easily get over the hump this year and become the talent everyone's been predicting the past couple years. The timing has never been better with the NFC West as unstable as it may be for a long time. Can the 49ers do the unthinkable and claim the NFC West crown? The opinions vary but we'll all have to wait and see. Twenty five days until pre-season!
Ad blocker interference detected!
Wikia is a free-to-use site that makes money from advertising. We have a modified experience for viewers using ad blockers

Wikia is not accessible if you've made further modifications. Remove the custom ad blocker rule(s) and the page will load as expected.